Photos reveal beauty of Korean landscape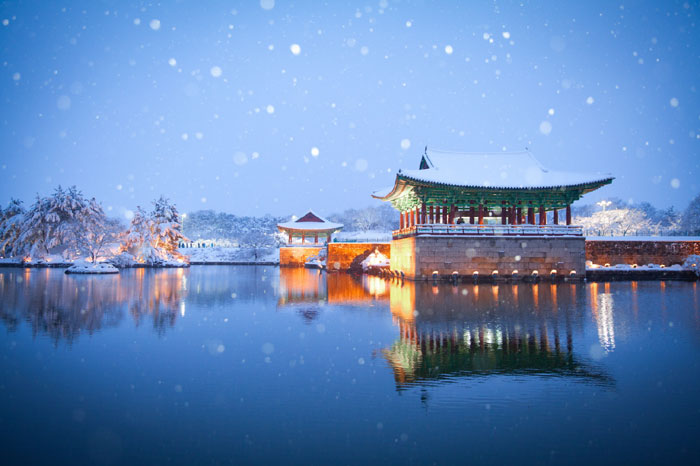 This photo of the Anapji Pond blanketed in winter snow is the winner of this year's Korea Tourism Photo Contest.

Snowflakes fall on the lake and over the palace, creating an enveloping and peaceful scene.
This is a photo of snow falling on the Anapji Pond in Gyeongju, where the royalty of Silla (57 B.C.-A.D. 935) used to enjoy the beautiful view and cultivate their artistic spirit. This photo has now become the winner of the Korea Tourism Photo Contest 2015, run by the Korea Tourism Organization (KTO) and marking its 43rd year this year.
The theme of this year's contest was the so-called "five K keywords": K-Food, K-Wave, K-Spirit, K-Place and K-Style. About 10,000 applications were submitted in the contest.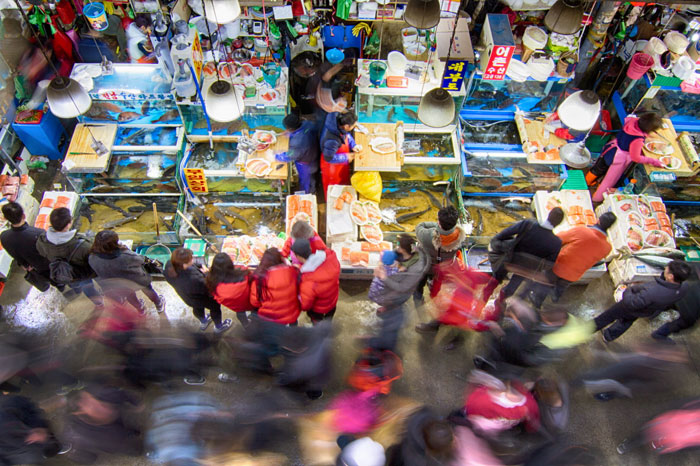 Winning second place in the food category,'Colors of Life' captures the dynamic movement of people at the Noryangjin Fisheries Wholesale Market.
In the food category, the runner-up photo captured the dynamics of a market and merchants at the Noryangjin Fisheries Wholesale Market in Seoul. Titled "Colors of Life," this photo won second place.
The other seven winners mostly took picturesque shots of the Korean landscape. Among them, two silver prize winners focused on the one-of-a-kind and stunning landscape of Jeju Island.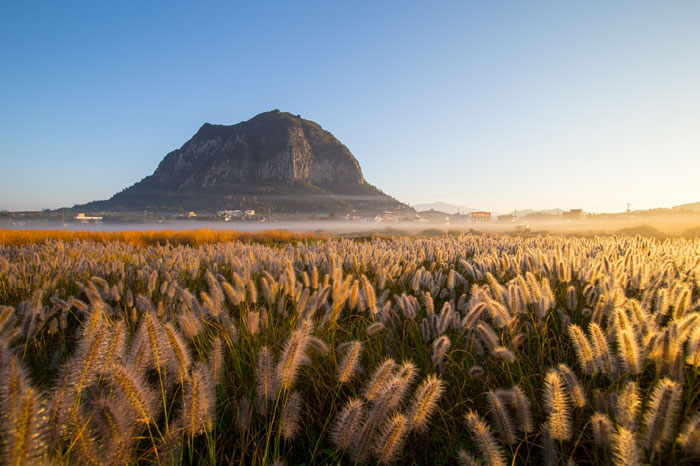 A silver prize winner, 'Morning of Sanbangsan Mountain,' shows Sanbangsan Mountain on Jeju Island against a field of reeds.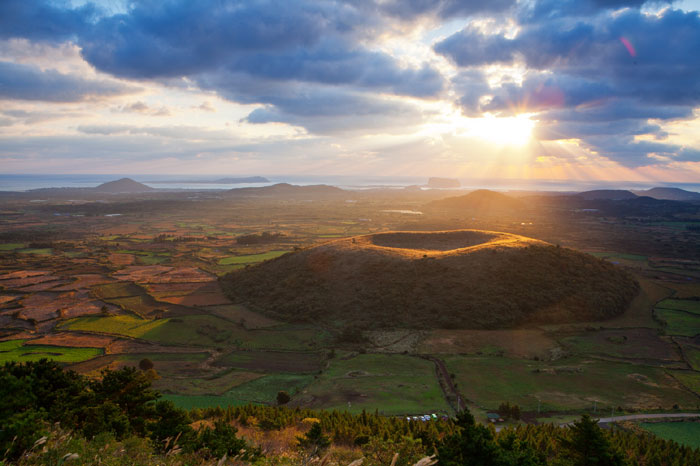 'Akkeundarangswi Oreum' ("아끈다랑쉬 오름") is another silver prize winner. It captures the shape of the volcanic cone
as the sun emerges from behind the clouds. In the Jeju dialect, an oreum is a tiny volcanic cone and akkeun means 'small.'
Unlike past years' events, this year's contest introduced two new prizes in the categories of "foreigners" and "Internet users." Photos that won the new prizes show a canola flower festival and snow falling at Naejangsa Temple in Jeongeup, Jeollabuk-do (North Jeolla Province).
The nine prize-winning photos will be used to promote Korean tourism through many channels, including at the KTO's online photo gallery. https://gallery.visitkorea.or.kr
By Yoon Sojung
Korea.net Staff Writer
Photos: KTO
arete@korea.kr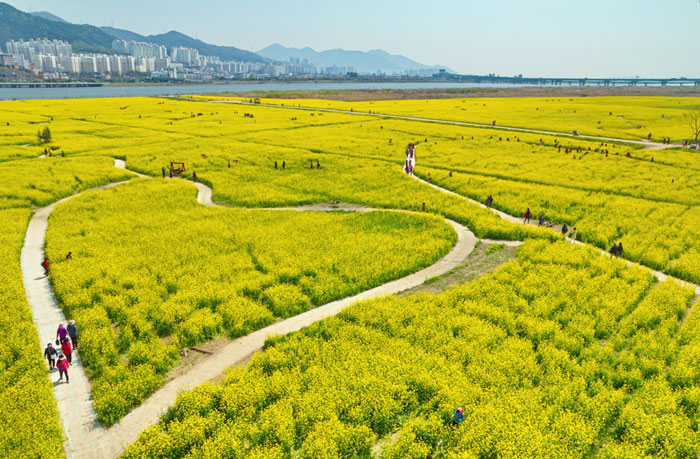 A picture of a canola flower festival taken by a non-Korean photographer wins a special award in this year's Korea Tourism Photo Contest.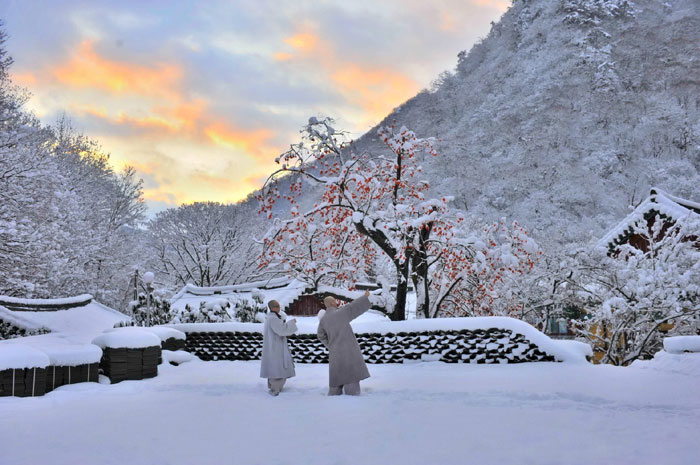 A picture of the snowscape at Naejangsa Temple in Jeongeup, North Jeolla Province, is selected as the winner of a special award for Internet users.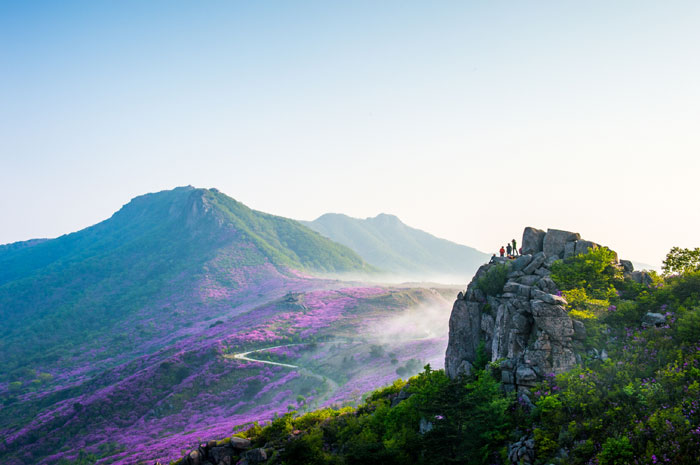 A photo of Hwangmaesan Mountain shows a breathtaking view of the mountain in Hapcheon-gun County, Gyeongsangnam-do (South Gyeongsang Province). It is one of the three bronze prize winners.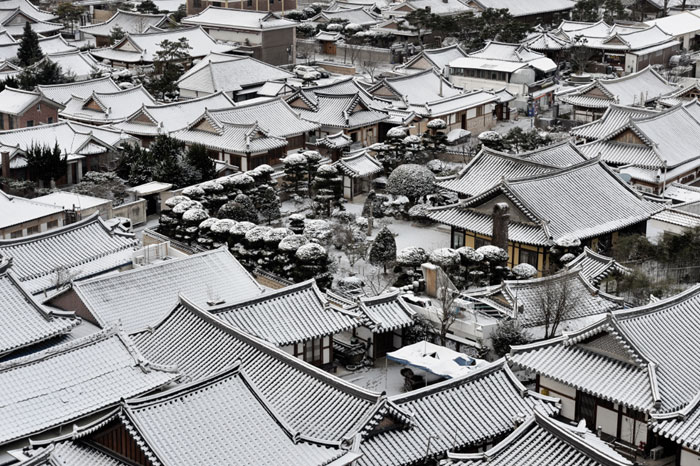 Another bronze prize winner, 'The White World,' shows a snowy scene of the Hanok Village in Jeonju, North Jeolla Province.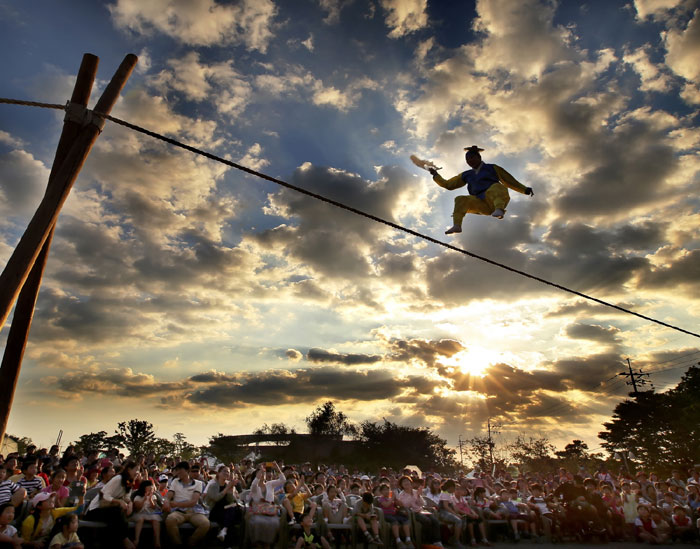 A photo of a tightrope walker is also one of the bronze prize winners.
RELATED TOUR

Afternoon Korean Folk Village Tour
Full Day Palace & Suburb Tour
Jeju Island Tour