Tourists to benefit from nation-wide sale
Discounts on a wide range of items are now on offer for tourists flying to Korea.
The Visit Korea Committee has kicked off its nation-wide "Korea Grand Sale," an event that continues until Oct. 31. During the period, 12 regions nationwide will provide non-Korean shoppers and tourists with a cheaper price when they hit a select range of hotels, restaurants, department stores, duty-free shops, shopping malls, amusement parks, convenience stores, musicals and festivals.
The official poster for the ongoing 'Korea Grand Sale' offers non-Korean tourists discounts on
shopping and on admission fees to musicals and festivals. The sale will continue until Oct. 31.
Jeju Air, an airline, has cut prices on some of its seats by up to 80 percent, while Korail, the nation's largest train operator, offers up to a 50 percent discount on some of its KTX high-speed trains. The Everland amusement park, too, will sell one-day tickets at half price.
Cosmetic brands, including Olive Young, Innisfree and Etude House, are offering their shoppers up to 50 percent off on certain products. Shoppers can also get up to 80 percent off on brand-name items at the Lotte Duty Free Shop.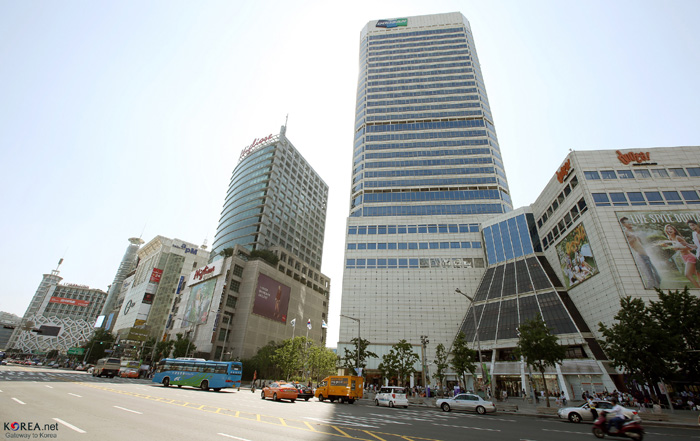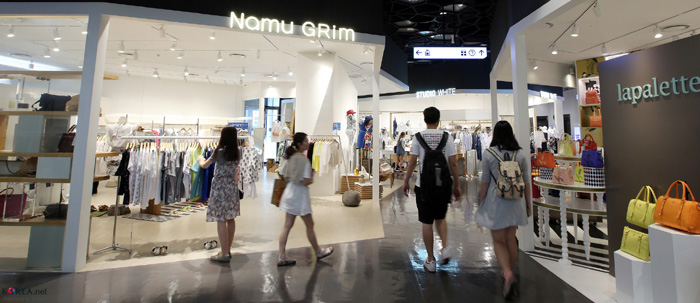 The neighborhood of Dongdaemun in Jongno-gu District is one of the most crowded shopping districts in Seoul. During the
'Korea Grand Sale' event, the Doota Shopping Mall has set up booths where non-Korean shoppers can get translations and tourist information.
Nature Republic, a cosmetics brand, is offering a five to 10 percent discount on some items, depending on total purchase amount, at its 120 branches across the nation. It is also giving away an abundant range of free samples. Its busiest branch in Myeongdong, Seoul, is providing free delivery to customers' hotels or even to their home countries via express mail.
Discounts ranging from 10 to 50 percent on dance, drumming and other theater shows, such as "Original Drawing Show" and "Nanta," are available, too, allowing tourists to enjoy stage shows at a cheaper price.
Finally, traditional markets are part of the event, too. Approximately 300 major traditional markets nationwide, including Seoul's Gwangjang Market and Busan's Gukje Market, are offering up to a 10 percent discount on some of their daily goods, as well as giving away gift certificates.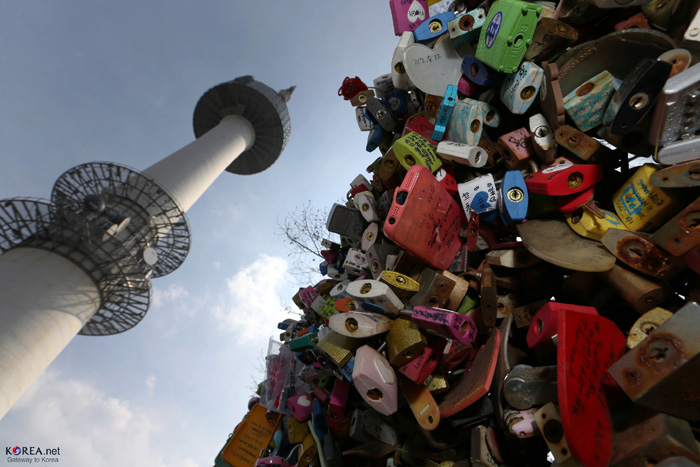 Non-Korean visitors to the N Seoul Tower can benefit from a 40 percent discount on admission to the observatory platform and
to exhibitions there during the 'Korea Grand Sale' event.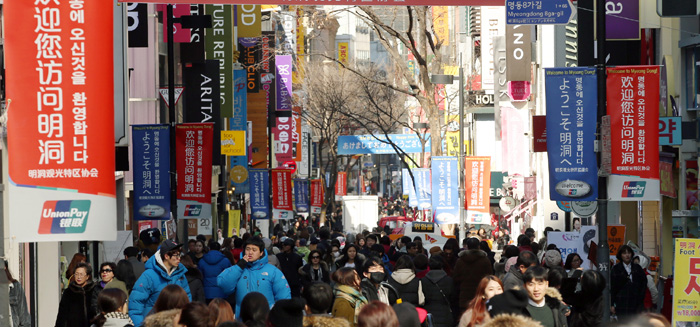 The Myeongdong shopping district in downtown Seoul is crowded with shoppers from both home and abroad.
"The 'Korea Grand Sale' is a good opportunity and a new challenge that gives the tourist industry here a new wave of hope," said an official from the Visit Korea Committee. "Hopefully, tourists coming to our nation will have as many experiences as they can during their time here, not only shopping, but also enjoying other activities involving music, the arts and performances."More information about discounted items and sites during the event can be found at the website below. The site is available in four languages: Korean, English, Japanese and simplified Chinese.
https://www.koreagrandsale.co.kr/
RELATED TOUR

Full Day Shopping Tour
Night Shopping Tour