Muslim Seoul City & Palace Tour
TOUR DURATION
TOUR TIME
TOUR COURSE
THE PRICE
MINIMUM PERSONNEL
INCLUDES
1 DAY
09:00 – 17:30
Hotel – Blue House (pass by) – Changing of the Guard Ceremony – Gyeongbokgung Palace(Deoksugung Palace on Tuesdays) – National Folk Museum – Ginseng Center – Itaewon Mosque – Lunch at 'Eid' (Kervan on Mondays) – Korean Folk Village – Hotel
* We pick you up from your hotel one by one.
KRW 130,000
4 People
Well-trained tour guide, Vehicle, Admission fee, Hotel Pick up service, Halal meal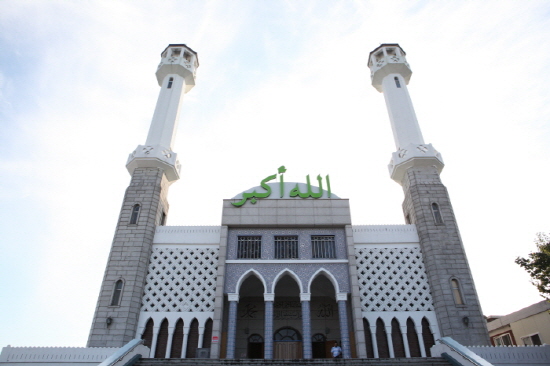 Itaewon Mosque (Islam Korea Seoul Central Masjid)
Seoul Central Masjid was established by the Muslim community in 1969 is the first mosque in Seoul, South Korea. This mosque is located in Itaewon and they worship in English, Arabic and Korean.
In Seoul Central Masjid, located in between Hangang River and Namsan, there are an office, a classroom, and a reception room on 1st floor, a men's prayer hall on 2nd floor, and women's one on 3rd floor.
In the Islam center of the side part, there are Islam shops, Prince Sultan Islamic School from on the ground to the third floor.
Outside of this mosque, many Islam stores, Halal restaurants, Islamic bookstores, and supermarkets are located which you can watch a lot conveniently.

Lunch in Korean Cuisine 'Eid', Halal Certified Restaurant
'Eid' is the first Korean Halal Restaurant in Korea. This restaurant was officially certified by the KMF (The Korean Muslim Federation) as well. They started to manage this restaurant for Muslim who would like to enjoy Korean food. All family working in this restaurant have become Muslim, so 'Eid' customized Muslim not only Foods but also plates and interior. Also, they prepared a private room for ladies who wearing a hijab.
'Eid' uses Halal Meat which is slaughtered by regulations and they buy and cook green vegetables only for the day. They never use artificial additives, colors and flavors with their cuisine.
'Eid' is located right near Itaewon Mosque, so after prayer at noon in the Mosque we will have lunch.
* Child Fares : 30% Discount under 10 years of age
* If you cancel your reservation on tour day, you won't get a refund.
* We have no responsibility for your personal incidents and losses during all the tours.
* Pick up times may change depending on the traffic.
* All major credit cards are accepted at our travel agency.
The Blue House
Official residence of the president is called "The Blue House".The symbol of the Blue House, which is at the center of Korean politics, is the blue tiles. The first thing that catches your eye when you arrive at the Blue House is also the blue tiles of the main building. The blue tiles and the smooth roof are in beautiful harmony with Mt. Bugaksan behind it..
Gyeongbokgung Palace
Gyeongbokgung palace is the largest one among the five palaces built in the Joseon dynasty Also, it the one of the most popular place where tourists visit. If you experience the special attraction of Gyeongbokgung palace which is in harmony with the nature, let's visit this time.
The National Folk Museum
The National Museum of Korea (NMK) endeavors to preserve, to exhibit, and to interpret our cultural heritage in a manner that befits the museum's international scale. It also strives through international cultural exchanges to become a world-class institution that serves the Korean people.
Korean Folk Village
The Korean Folk Village is home to numerous collections of Korean cultural artifacts, providing an opportunity for Korean children to experience and learn the culture of their ancestors firsthand. The site provides a venue to promote traditional Korean culture to both domestic and international visitors, and provides and open-air learning place for succeeding generations. The village has been developed to convey the wisdom and the spirits of our ancestors to both domestic and international tourists.