Music, dance festival expands to Silla capital
sfd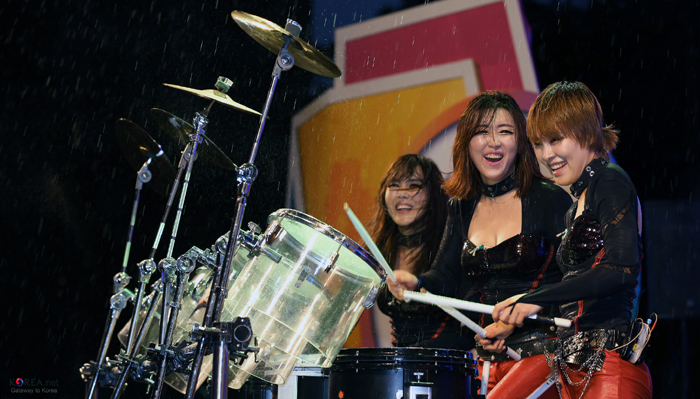 The percussion group Drum Cat wows the crowd during the opening ceremony of the 2013 Korea in Motion festival, held along the Cheonggyecheon Stream in central Seoul. The festival this year is being held in Seoul and Gyeongju, North Gyeongsang Province.
A wide range of discounts on performances and stage shows will soon be available to people in both the capital region and in the historic Silla capital of Gyeongju, Gyeongsangbuk-do (North Gyeongsang Province).
The 2015 Korea in Motion festival kicked off on Sept. 11 in both Seoul and Gyeongju and offers a wide range of performances for travelers both domestic and international.
Under the theme of "Reaching Audiences More Closely, Reaching Further out to the World," the festival runs events in both cities until Oct. 11. During the month, visitors can enjoy musical performances such as the well-known "Nanta," "Bibap," "Jump" and "Painters: Hero" troupes at almost half price.
Those who take advantage of the package tickets available at the festival's official website (https://www.koinmo.kr/index.jsp) will get discounts on tickets to two shows, while at the same time they will be given small gifts, such as coffee mugs or backpacks. On Fridays, there are chances to enjoy the shows for just KRW 10,000 on a first-come-first-serve basis.
This festival marks its 10th year this year, aiming at giving more chances to tourists, particularly visitors from overseas, to enjoy Korean performing arts and music at an affordable price.
More information about Korea in Motion 2015 can be found by visiting its official website.
By Sohn JiAe
Photos: Jeon Han
Korea.net Staff Writers
jiae5853@korea.kr
More Information of Performances
Drum cat Season Two "The Festival"
Fanta-stick
NANTA