2018 Olympics, a turning point in tech history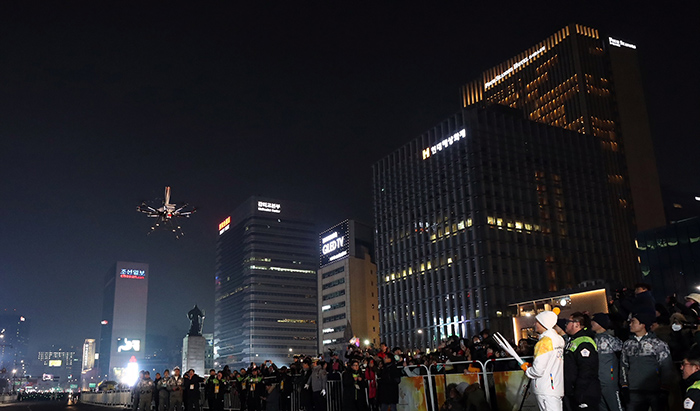 The torch for the PyeongChang 2018 Olympic and Paralympic Winter Games flies onboard a drone powered by Korea's newest 5G technology, in Seoul on Jan. 13. (Jeon Han)
By Xu Aiying and Sohn JiAe 
Information and communications technologies have grown and evolved on par with the Olympic Games over the past many years.
Korea, host country of the PyeongChang 2018 Olympic and Paralympic Winter Games this month, is showing off its high-tech prowess at the world's biggest sporting competition, turning the Games into a true "IT Olympics," with leading cutting-edge technologies that will help expand the popularity of winter sports around the world.
A future that the world has so far only envisioned or imagined is unfolding in real time at the PyeongChang Games.
Ever faster with 5G networks
The 5G mobile networks available at the PyeongChang Games, a first in Olympic history, will allow people to enjoy faster data transmission, with connection speeds fast enough to download a 1 GB movie in less than 10 seconds.
Some of the 5G technologies on offer include the "Sync View" service, mainly used in ski jumping and bobsledding, which will broadcast the events as seen through the eyes of the athletes.
This realistic broadcasting service uses ultra-small wireless cameras attached to the athletes' uniforms. Viewers will be able to feel the titillating thrill of the race, as if they were really flying from the launch pad or racing through the tunnels of snow and ice.
The 5G-powered "Point View" broadcasting technology, used in competitions with larger groups of athletes like cross-country skiing, will give viewers the chance to watch their favorite athlete by selecting a certain point of view from along the course.
A 5G-equipped bus will run across the Olympic city of Pyeongchang in Gangwon-do Province and across other areas during the Olympic season. The driverless bus, converted from a regular 45-passenger bus, is equipped with a semitransparent display on the windows that allows travelers to see their current whereabouts, speed and certain Olympic events through live-image holograms.
Ever clearer with UHD broadcasts
Major Olympic events will be live-streamed in 4K UHD, a format with greater resolution than full HD, giving audiences a clearer and more realistic viewing experience.
The official Opening and Closing ceremonies, along with the speed skating and ice hockey, will be broadcast in 4K UHD. Viewers will be able to watch every fine detail, such as the athlete's tense muscles, beads of sweat or scattering flakes of snow.
You can also check out this technology at the PyeongChang ICT Pavilion and on a 15-meter ultra wide vision (UWV) screen installed at Incheon International Airport when you arrive in Korea.

Ever easier with IoT connectivity
Mobile apps based on the Internet of Things (IoT) will guide Olympians and first-time visitors from around the world to safely find their way from the airport to their destination.
Such navigation tech can be useful at Olympic venues, too, when users type in their seat number on the app. They need to follow the blue arrow displayed on their screen and then they can find their seat.
A smart mobile wristband not only provides basic information about event times and a daily weather report, but also allows wearers to easily pay at certain accommodations or food trucks, and to use the card reader on the bus.
IoT and big data will also be used to improve the athletes' performance by tracking their pulse and brainwaves and offering customized health care, all while monitoring their training regimens.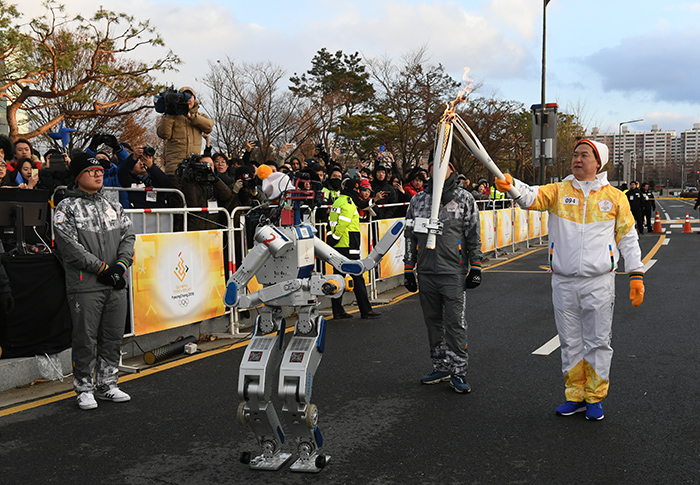 The humanoid robot Hubo carries the Olympic torch in Daejeon on Dec. 11, showing off to the world Korea's leading robotics. (PyeongChang Organizing Committee)
Ever smarter with AI
Non-Korean Olympic tourists will be greeted by new AI-powered interpreter and translator software.
The official mobile translation app GenieTalk will offer translation and interpretation services in nine languages — Korean, English, Mandarin or Simplified Chinese, Japanese, French, Spanish, German, Russian and Arabic — alongside voice recognition features.
An "AI Hotline" will be in operation, too. A robot will pick up your call and give you information in either Korean or English concerning game schedules, venue locations, transportation and shuttle buses.
A total of 85 robots, of 11 different types, will move throughout the venues, press centers, athlete's villages and airports to meet non-Koreans' needs. A robot modeled after Soohorang, the mascot for the PyeongChang Olympic Games, will autonomously step forward to interpret and, more surprisingly, even dance to music and put on a smile for its viewers.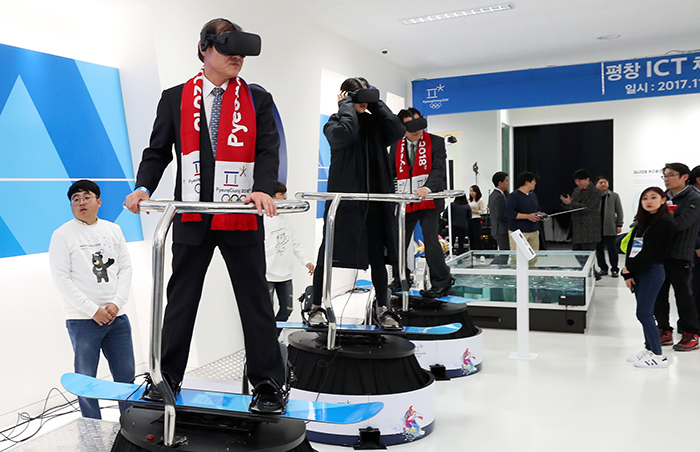 Visitors experience the thrill of virtual snowboarding at the PyeongChang ICT Pavilion, opened at the PyeongChang Olympic Plaza in Pyeongchang-gun County, Gangwon-do Province, on Nov. 29. (Yonhap News)

Ever more enjoyable with VR 
For those who aren't able to visit Korea for the Olympics this time, the organizing committee has scheduled live VR broadcasts of some of the major events.
For example, more than 100 cameras will be installed at the figure skating venue to give viewers around the world the chance to see the competitions in VR from all angles. Audiences will be able to enjoy a realistic and immersive experience viewing the skaters' breathtaking jumps and their every facial expression, all on their own mobile devices.