Enjoy the Korean winter outdoors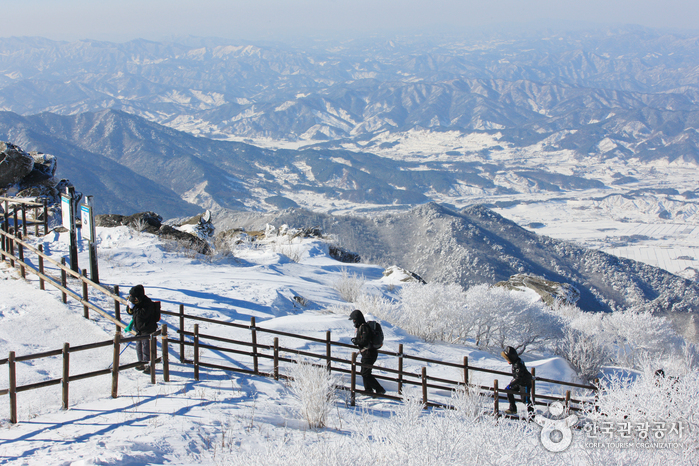 Winter in Korea gets extremely cold and windy. The photo above shows Deogyusan Mountain in Gyeongsangnam-do Province covered in snow. (Korea Tourism Organization)
By Lee Kyoung Mi and Kim Young Shin
This February, all eyes are on Korea, the host of the PyeongChang 2018 Olympic and Paralympic Winter Games.
In December, January and February, the official average temperature in Korea is minus 0.2 C/ 31.6 F, 0.1 C/ 32.2 F and 1.6 C/ 34.9 F, respectively. In the host region of the Winter Games — the beautiful province of Gangwon-do — the average temperature falls further to minus 3.5 C/ 25.7 F in December and minus 3.1 C/ 26.4 F in January.
When the Games begin next week, the temperature will surely stay below freezing all day long. A large amount of snow covers the ground in Gangwon-do in January and February. The capital region around Seoul also freezes every winter. However, the southern province of Jeju Island is relatively warm, with average winter temperatures of around 7.1 C/ 44.8 F, even in January, its coldest month.
If you're visiting Korea for the PyeongChang Winter Games, you're likely to face some bitterly cold weather. However, the slight differences between regions, in terms of temperature and snowfall, will offer you varied travel experiences from which to choose. Here are some must-visit sites to fully appreciate the Korean winter.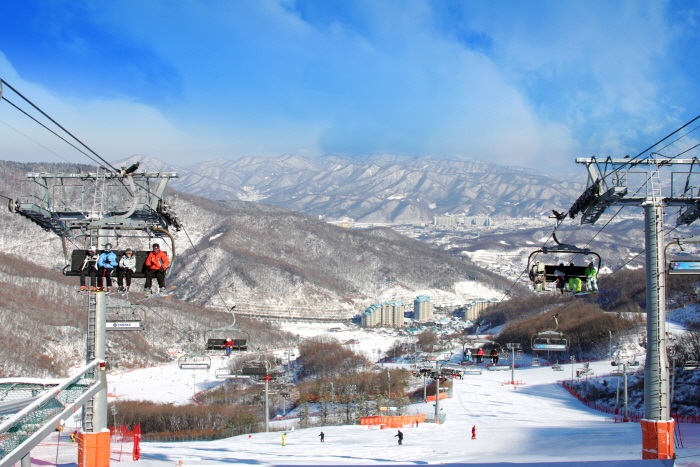 Skiing and snowboarding are two of the must-do activities if you visit Korea in the winter. (Korea Tourism Organization)
Enjoying winter sports on snow-covered mountain tops is one of the must-dos in Korea. Sliding down a snow-white field will let you forget about the chilly weather as you indulge in some exciting moments on skis or a snowboard. Korea's ski resorts have relatively short runs compared to some other ski resorts. However, the beauty of the open snow, in harmony with the natural landscape, makes it worthwhile to take a trip to Korea. Some resorts allow skiers to access the runs in the early morning at dawn, or to ski until late at night, until 4 a.m. sometimes. So take some time to choose your destination.
After enjoying some skiing and snowboarding for a while, you're likely to get a bit hungry. This is when you should try some of the street food sold at most ski resorts. There are delicious eomuk fishcakes in a piping hot broth, tteokbokki rice cake in a spicy sauce and hotteok sugary nut pancakes with delicious gooey fillings, all there to please your palate. These snacks are also one of the charms of many Korean ski resorts.
Another must-do is to visit a Korean spa, a jjimjilbang bathhouse or steam bath. Most ski resorts in Korea have spa and public bath facilities nearby. CNN Travel wrote about Korean public baths and steam baths, saying that they're places where you "can soak and steam your sore muscles, ensuring you're back in shape to hit the powder the following day," and said that, "post slopes, a jjimjilbang session is essential."
There are many ski resorts in Korea. The Star Hill Resort, the Konjiam Resort and the Jisan Forest Resort are in Gyeonggi-do Province. The Deogyusan Resort is in Jeollabuk-do Province. The Eden Valley Resort is in Gyeongsangnam-do Province. The Alpensia Resort, the Phoenix Pyeongchang Resort and the Elysian Gangchon are in Gangwon-do Province. You can get to the Konjiam and the Elysian Gangchon resorts on Seoul's vast subway system. By car, ski resorts in Gyeonggi-do Province are only an hour and a half from downtown Seoul.
It may take you some time to choose a ski resort for your trip to Korea this winter. To do so, there are a few things you should keep in mind. First, most ski slopes in Korea close in March, so you should check ahead if you're planning to ski after February.
Also, the ski resorts in the Olympic host cities will serve as Game venues for the upcoming PyeongChang Winter Games. At the Alpensia Resort, the biathlon, cross-country skiing and ski jumping will take place. The Phoenix Pyeongchang Resort is host to the freestyle skiing and snowboarding, and the Yongpyong Resort will host the alpine skiing. Facilities at the three resorts will be closed to the public, or only operate partially, during the Winter Games. Also, during the Olympics these places will only be accessible by shuttle, so plan your transportation carefully.
If your body is stiff and frozen from enjoying your winter sport out in the cold, the time is ripe for a dip in some wonderful natural hot springs.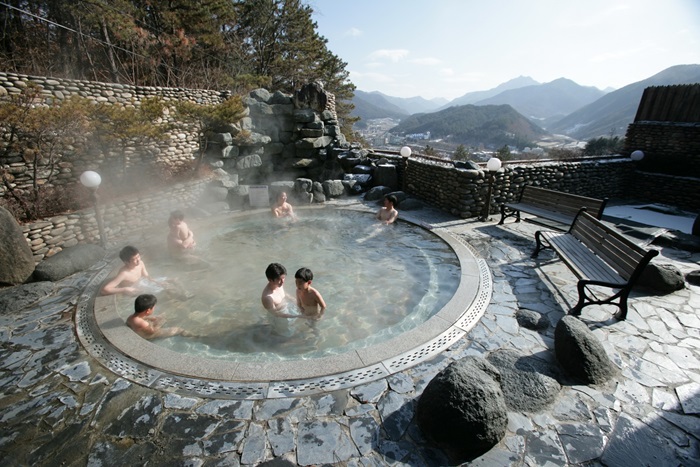 Taking a hot bath in cold weather gives your body and mind a rest. (Chungju-si City Government)
Groundwater warmed by geothermal heat contains a vast range of minerals that have many health benefits. According to historical records, Queen Jinseong of Silla (r. 887-897) was cured of smallpox when she was a child after bathing in a hot springs in Busan. Also, in the "Annals of the Joseon Dynasty," a daily record of the Joseon monarchs' official affairs, it's written that King Taejo (r. 1392-1398) visited the Suanbo hot springs in Chungju to treat his dermatitis.
Warm mineral water instantly heats the body and relaxes tense muscles. As you recover from your day on the slopes, your mind becomes clear and calm. A hot bath at a natural hot springs is highly recommended, not only to those who are tired from their outdoor winter leisure activities, but also to people who want to enjoy a warm and comfortable rest indoors.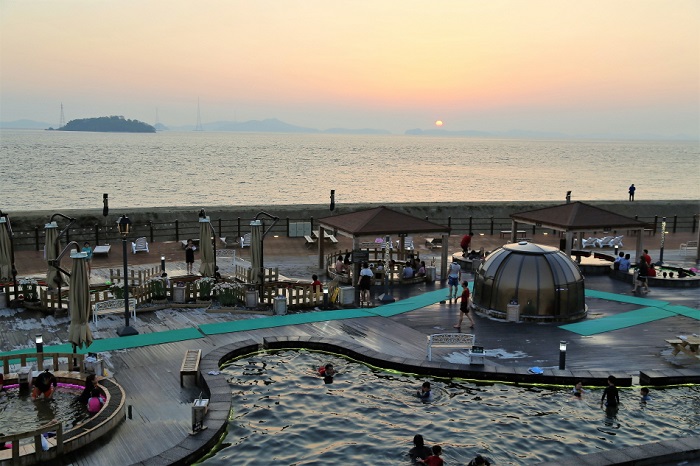 The open-air hot spring pool is on Seokmo-do Island in Incheon. (Korea Tourism Organization)
In the past, hot springs only included a simple hot tub for soaking. These days, however, hot springs come with many different pools or tubs from which to choose, including a large pool with water leisure facilities.
An open-air bath is a special experience, too, especially in the winter, as half your body is above water and exposed to the chilly wind, making your breath visible, but the other half of your body is in the warm water, letting you forget about the cold weather. Such outdoor bathing is impossible in extreme weather, but the Korean winter is just right for outdoor hot baths.
The Seokmodo Mineral Springs on Ganghwado Island near Incheon have some hot spring pools out on the beach. You can take a relaxing bath while enjoying the sea breeze and the beautiful sunset across the sea to the west. There are many hot springs located all across the nation.
Even though most of Korea's winters are freezing cold, you can still enjoy fields of yellow canola flowers down south on Jeju Island. Although this flower blooms elsewhere in the country only during the warm spring, you can see it in December on Jeju thanks to the volcanic island's relatively warmer weather.
The southern half of the Korean Peninsula is not huge, but it's full of many wonderful winter destinations. Many cities host festivals both big and small, too.
■ Snow Festivals
| | | |
| --- | --- | --- |
| Title | Date | Host city |
| Jirisan Namwon Baraebong Snowflake Festival | Until Feb. 11 | Namwon-si City, Jeollabuk-do Province |
| Chilgapsan Ice Fountain Festival | Until Feb. 18 | Cheongyang-gun County, Chungcheongnam-do Province |
■ Light Festivals
| | | |
| --- | --- | --- |
| Title | Date | Host city |
| Lighting Festival at the Garden of Morning Calm | Until March 25 | Gapyeong-gun County, Gyeonggi-do Province |
| Herb Island Light Festival | Until Oct. 31 | Pocheon-si City, Gyeonggi-do Province |
| Byeokchoji Botanical Garden Light Festival | Until March 4 | Paju-si City, Gyeonggi-do Province |
| Taean Lighting Festival | Until Dec. 31 | Taean-gun County, Chungcheongnam-do Province |
| E-World Starlight Festival | Until Feb. 28 | Daegu |
| Haeundae Rockgo Lighting Festival | Until Feb. 18 | Busan |
If you're visiting Korea to enjoy the PyeongChang 2018 Olympic and Paralympic Winter Games, don't miss the chance to experience some of the great winter adventures that await you in Korea.
km137426@korea.kr
RELATED TOUR 
Korea Ski Tour