Gangwon-do invites you to its winter festivals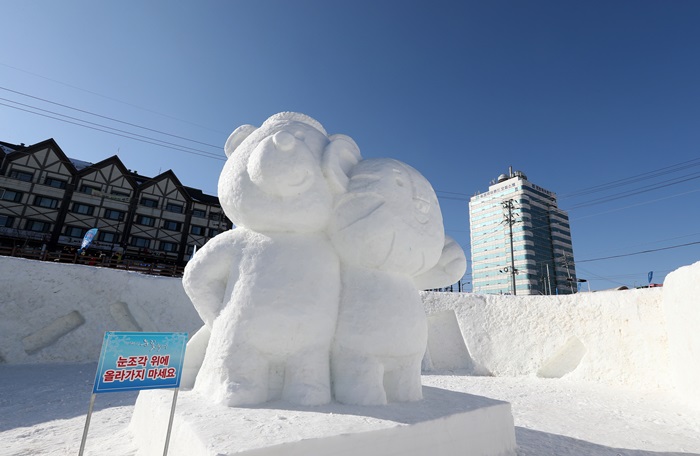 Snow sculptures of Soohorang and Bandabi, the official mascots for the PyeongChang 2018 Winter Olympic and Paralympic Games, stand in a snowy field during the 2017 Daegwallyeong Snow Festival in Pyeongchang-gun County, Gangwon-do Province, on Feb. 3, 2017. (Korea.net DB)
By Kim Young Deok and Yoon Sojung
Gangwon-do Province, venue for next month's PyeongChang 2018 Olympic and Paralympic Winter Games, will host a variety of festivals to help visitors fully enjoy the winter wonderland this year.
From ice fishing and ice sculptures to parades of local hunters wearing traditional clothes and using traditional hunting methodoligies, tourists can have fun in the winter in Gangwon-do. Here's a quick guide to the winter festivals that'll guide you all the things to see and do, and to have a truly unique experience in Gangwon region.
1. Sancheoneo Ice Festival (Hwacheon-gun County, Jan. 6 to Jan. 28)
The Hwacheon Sancheoneo Ice Festival is one of the best-known winter festivals in Korea. Approximately 1 million people visit the annual event.
A lot of media outlets have featured the iconic ice fishing that takes place at the festival, where people make more than 10,000 holes in the ice – ice as thick as 30 cm/ 12 inches – in order to catch the fish underneath.
At the festival, there's a special designated spot to cook your catch, where people can enjoy the roasted or raw meat of the fish. The fish, a type of mountain trout called a sancheoneo in Korean, has a light flavor and is really nutritious. Eating sliced raw trout is also a good way to enjoy the fish, as it doesn't have that odd earthy smell that other freshwater fish sometimes have.
For people who prefer more exciting activities, or for those who get bored while waiting for a bite, the festival also has a special program where people can catch a fish with their bare hands.
There's also a night fishing program where people can catch fish at night under bright lights. Also, many tourists find it interesting to catch a fish while watching the fish swim through the ice.
2. Pyeongchang Trout Festival (Pyeongchang-gun County, Dec. 22 to Feb. 25)
The Pyeongchang Trout Festival began on Dec. 22 last year. Festival-goers can have fun catching trout from the solid-frozen Odaecheon Stream in Pyeongchang-gun County.
Set up your fishing pole, drop the bait through the hole cut in the ice and you're sure to get a bite. It costs KRW 3,000 (about $3) to have your catch gutted and cooked for you there on the spot. People enjoy roasting their catch, or even eating it raw.
Visitors can also have fun skating or sledding. They can try riding a traditional sled or an "ice bicycle" across the frozen river, all of which can help them to better enjoy the festival without getting bored while fishing.
For those who missed the Hwacheon Sancheoneo Ice Festival in January, they can still catch the Pyeongchang Trout Fersival that runs until late February.
3. Daegwallyeong Snow Festival (Pyeongchang-gun County, Feb. 7 to Feb. 22) 
Visitors will be able to enjoy the beauty created by the harmony formed between snowflakes and ice when they visit the town of Daegwanryeong-myeon in Pyeongchang-gun County.
The festival will feature various programs and unique events for all the tourists who will visit Korea for the PyeongChang 2018 Olympic and Paralympic Winter Games.
At the ice park — shaped like the Olympic flag — there will be large ice sculptures to greet the tourists. The ice sculptures will feature Soohorang and Bandabi, the mascots for the Olympic and Paralympic Games, and some all-star athletes, too.
Feeling hungry? Visit the roasting tent where you can enjoy some roasted potatoes, sweet potatoes, corn on the cob and other local produce harvested from across Gangwon-do.
For some Korean food, go to the traditional Korean food tent where you can enjoy some other Korean dishes, as well as local specialties, such as sanchae jeongsik, a Korean set menu with fresh herbs, roasted hwangtae yellow pollack, and a potato bowl called a gamja ongsimi.
You can visit Gangwon-do Province any time of the year, as the region has different charms in each season. The region hosts festivals throughout the year where people can learn and experience Korean heritage and traditions, delicious food and learn a bit of history, too.
See you in Gangwon-do.
kyd1991@korea.kr