Pyeongchang one of best places to visit in 2018: CNN Travel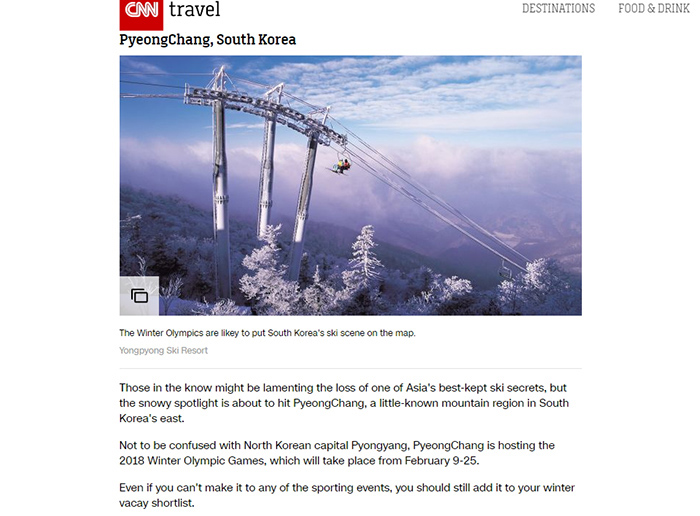 Pyeongchang-gun County is included as one of the 18 best-places to visit in 2018, as published by CNN Travel on Jan. 1. (CNN Travel Homepage)
By Yoon SojungCNN Travel, a tourism website that's part of CNN, on Jan. 1 selected Pyeongchang-gun County in Gangwon-do Province as one of its top-18 best places to visit in 2018.
Dubbing the county as "one of Asia's best-kept ski secrets," CNN Travel advised readers that, "Even if you can't make it to any of the [Olympic] sporting events, you should still add it to your winter vacay shortlist."
The article said, "Pyeongchang's ski and snowboard scene offers a uniquely Korean experience."
"Add in night skiing until 2:30 a.m., world-class beef, non-stop soju and, yes — plenty of K-pop — and you have the makings of an incredible snow holiday," said CNN Travel.
Regarding the improved infrastructure in the county, it said, "travel to/ from/ around Pyeongchang is now easier than ever." The article also mentioned the new high-speed train that opened in December, "which can whiz visitors from Seoul to Pyeongchang in just over an hour."
CNN Travel also recommended that tourists visit a jjimjilbang spa or bathhouse, another unmissable charm of Gangwon-do Province. Saying that, "Post-slopes, a jjimjilbang session is essential," the article said that, "You can soak and steam your sore muscles, ensuring you're back in shape to hit the powder the following day." The piece also added that almost all the resorts in the county have their own jjimjilbang spa facilities.
Other places selected by CNN Travel along with Pyeongchang-gun County in Gangwan-do Province include Nagano in Japan, Yunnan in China, Perth in Australia, and then Malta and Serbia.
arete@korea.kr
RELATED TOUR 
Korea Ski Tour