High-speed train to connect Seoul, Gangneung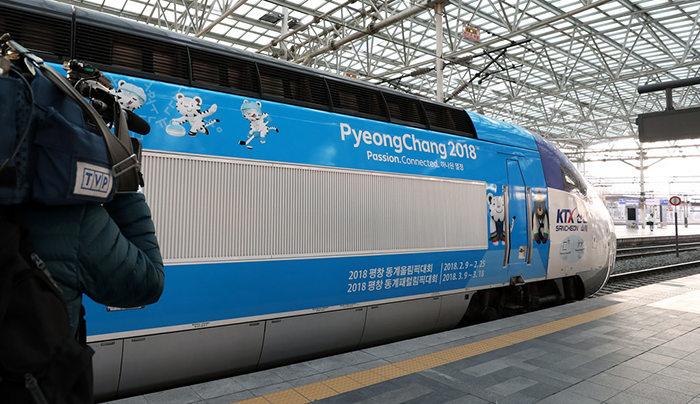 The KTX Gyeonggang high-speed train, which runs between Seoul Station and Gangneung Station in 1 hour and 54 minutes, began selling tickets on Nov. 30. Ticket sales are now three times higher than those at other high-speed train lines in the country. The photo above shows the KTX Gyeonggang train as unveiled to visiting journalists and broadcasters on Nov. 21. (Jeon Han)
By 
Xu Aiying 
and 
Kim Young Shin
The KTX Gyeonggang high-speed train that connects Seoul and Gangneung is growing in popularity.Although the train doesn't start running until Dec. 22, reservations became available on Nov. 30. Of all the seats available between Dec. 22 and Jan. 6, 2018, some 16.6 percent of them have already been sold, as of Dec. 7. This is three times higher than early seat sales along other train lines in Korea.
By date, tickets for trains on Jan. 1 are sold out the most (36.9 percent), followed by seats on Dec. 23 (34.2 percent), Dec. 24 (30.3 percent) and Dec. 25 (29.3 percent).
Korail, the national train operator, explained that the new train line is recording high sales because it travels from Seoul to Gangneung in just 1 hour 54 minutes, which appeals to tourists who want to take a day trip to Gangneung.
"Consumers are really interested in the new KTX Gyeonggang line because it will help them enjoy their trip to Gangwon-do Province during the Christmas and New Year's season," said Yu Jae-young, acting president at Korail. "We will do our best to help passengers take a quick and easy trip on the KTX."
The company also plans promotional events from Dec. 22 to Jan. 31, 2018, for the new high-speed train line.
More information about the KTX Gyeonggang is available at Korail's website (www.letskorail.com). Tickets can be bought at train stations across the nation and on the mobile app Korail Talk.
xuaiy@korea.kr