Fall into autumn at these special sites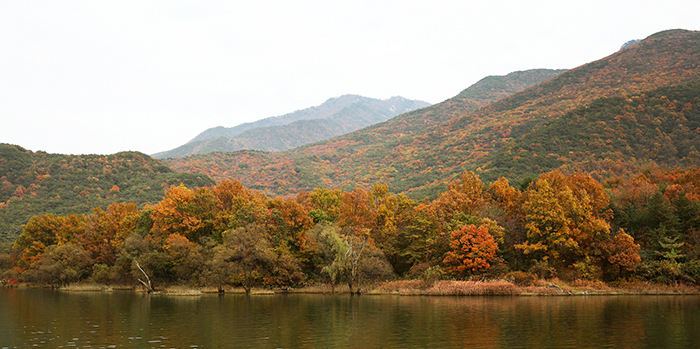 The peak of autumn foliage in Korea this year will begin Oct. 17. People can enjoy the colorful fall foliage at various spots, including some well-known mountain parks. Above is the Sanmagiyet-gil Road (산막이옛길) in Goesan County, Chungcheongbuk-do Province.
By Kim Young-shin and Yoon Sojung
Photos = Korea.net DB
Weather reports from the Korea Meteorological Administration say that cooler weather will continue through this weekend, Oct. 14 and 15.
Amid the temperature drop, autumn foliage, which began to cover mountain peaks, will come down and spread across lower altitudes while deepening its colors.
Most of Odaesan Mountain in Gangwon-do Province is already predicted to be covered with fall foliage. K-weather, a private weather information provider, forecasted that autumn colors will reach their peak at Seoraksan Mountain on Oct. 19, at Jirisan Mountain on Oct. 24 and at Naejangsan Mountain on Nov. 8.
The "fall foliage peak" is the expected day when about 80 percent of the trees in a certain area are covered with colored leaves.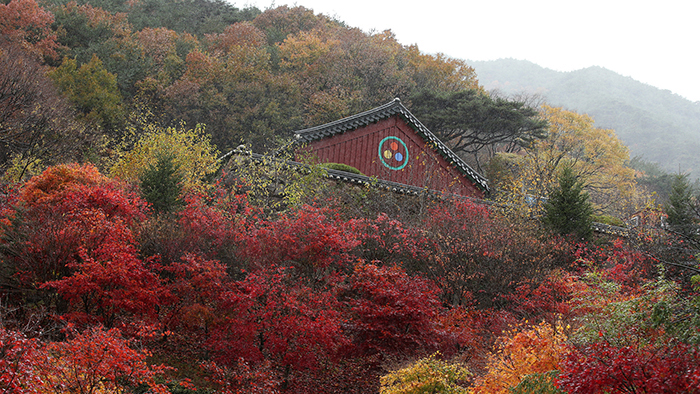 Autumn foliage will reach its peak at Jirisan on Oct. 24. Pictured is an autumn view of Hwaeoms Temple at Jirisan Mountain.
The Korea National Park Service recommended some hiking trails to enjoy the autumn foliage at national parks and in the mountains. The courses include the Baekdamsa Temple Course, which has a harmonized view of the Baekdam Valley and the fall foliage of inner Seoraksan Mountain, the Baekmudong-Jungsanri Course at Jirisan Mountain, Gapsa Courses 1 and 2 at Gyeryongsan Mountain, and the Baekyangsa Temple Course at Naejangsan Mountain, one of the most-loved spots for picturesque fall scenery.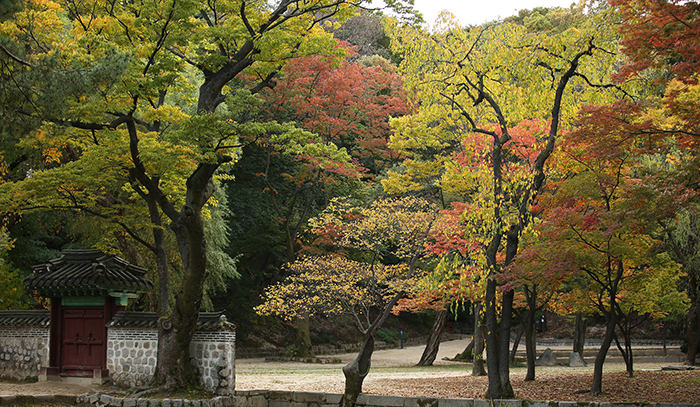 The Cultural Heritage Administration predicts that visitors to royal palaces in Seoul will be able to enjoy the beauty of the fall for about one month, starting Oct. 20. Pictured is an autumn view of Changdeokgung Palace.
According to the Cultural Heritage Administration, visitors to royal palaces in Seoul can fully appreciate the beauty of fall foliage for about one month, starting Oct. 20.
People who visit Deoksugung Palace and Seolleung (선릉, 宣陵), the tomb of the ninth Joseon king, Seongjong, can also enjoy night views and autumn foliage, as they are open until 9 p.m. every day except Mondays.
More information about recommended trails at national parks is available at the homepage of the Korea National Park Service.
https://english.knps.or.kr/
(Korean, English, Japanese, simplified Chinese)
ysk1111@korea.kr