Spanish artist personalizes Jeju haenyeo divers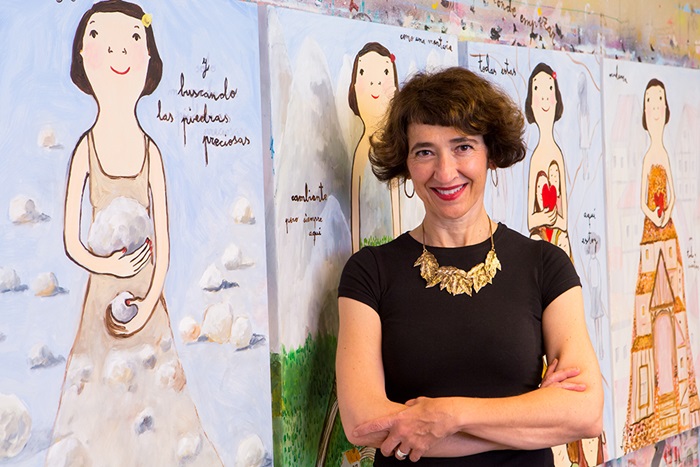 Spanish artist Eva Armisen poses in her atelier in Spain in May 2017.
By Kim Ji Hoe and Kim Young Shin
Photos = Lotte Gallery
An exhibition by Spanish artist Eva Armisen opened in Seoul on June 2.
Armisen is known for her amiable and adorable style. Her works can be spotted fairly regularly across Korea, as they have been printed on some cosmetic products, tumblers and bankbooks.
Under the theme of "Beginnings," 80 works of her art, including paintings, murals and sculptures, are on display.


Spanish artist Eva Armisen has 30 paintings of Jeju's haenyeo divers in her current Seoul exhibition 'Beginnings.'
In particular, 30 of her works are of Jeju's famous haenyeo divers. The illustrations are from a picture book, "Mom is a Haenyeo" (엄마는 해녀입니다), written by director Koh Heeyoung. Koh also made the documentary film "Breathing Underwater" (물숨), which describes the life of the haenyeo divers living on Jeju Island.
"Five years ago when I went to Shanghai, just by chance I saw a photo in a magazine of some haenyeo divers. The moment I saw that image, I decided to go to Jeju and to see them work in person. That's why I went to Jeju in May last year and captured some of the images with my drawings there," said Armisen.
"Director Koh Heeyoung saw my paintings and invited me to Udo Island, just off Jeju Island, in September last year, so that I could spend some time with the haenyeo divers there. It was one of the most beautiful experiences I ever had in my life," she said.
"The haenyeo divers are symbols of respect for nature, independence and a strong team spirit," stressed Armisen.
Armisen's exhibition at the Lotte Department Store in Seoul will run until July 9. It will continue at the Lotte Gallery at the store's Gwangbok branch in Busan from July 13 to August 6.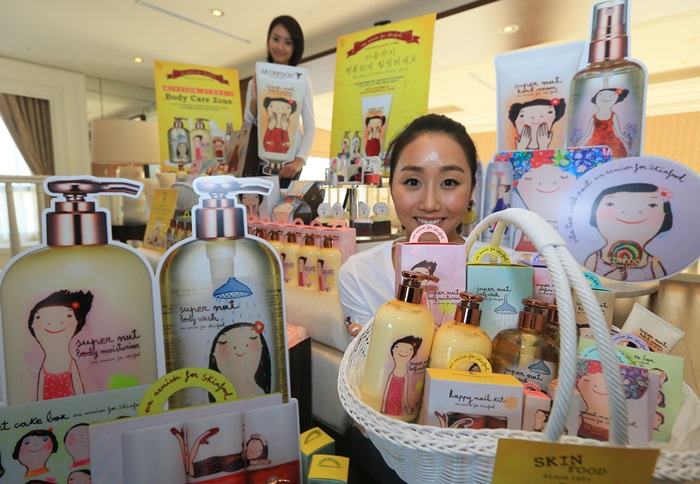 Spanish artist Eva Armisen's works are printed on a line of cosmetic products.
sofia2426@korea.kr
RELATED TOUR 
Jeju Island Tour