Enjoy summer evenings at Gyeongbokgung Palace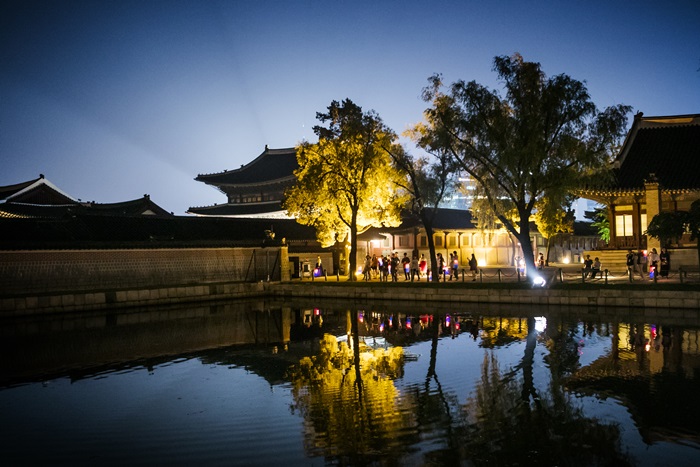 Seoul's beautiful Gyeongbokgung Palace will be open in the evening from June 14 to 29, giving visitors a chance to sample some court cuisine and to listen to some traditional gugak music. (Cultural Heritage Administration)
By Kim Eun-young and Kim Young Shin
Evening tours of Gyeongbokgung Palace, with both court cuisine and traditional music, will be available in Seoul from June 14 to 29.
The evening tour will begin with a door-opening ceremony. Then, the court kitchen will prepare a modern adaptation of a traditional royal dinner, with 12 side dishes. During the meal, a traditional gugak concert will entertain the guests..
The actual tour of the palace grounds will begin after the meal. A tour guide will take the visitors to the queen's bedroom and to her garden, as well as to the rooms of the king's mother and the royal concubines. As a highlight, the tour will stop at the Gyeonghoeru Pavillion to enjoy a daegeum bamboo flute concert.
Evening tours at Gyeongbokgung Palace will take place once a day at 7:40 p.m., and they take two hours, except on Tuesdays when the palace is closed. Each tour can accept 60 people.
Tickets are available at Auction Ticket (https://ticket.auction.co.kr, 02-1566-1369).
eykim86@korea.kr