Our seven cooking difference
By Korea.net Honorary Reporter Aigerim Sadykova
The most delicious way to be acquainted with another country is to taste its national cuisine. However, the best way to understand it is to learn how to cook it.
Months ago, I had the chance to participate in free Korean cooking classes. Every Saturday for the whole month at 11 a.m., I and another 11 students came to the Korean Cultural Center (KCC) in order to be taught by a chef from one of the most famous restaurants in Kazakhstan, Korean House. Gourmets and Koreans who miss the taste of Korean royal court cuisine usually go to Korean House for dinner.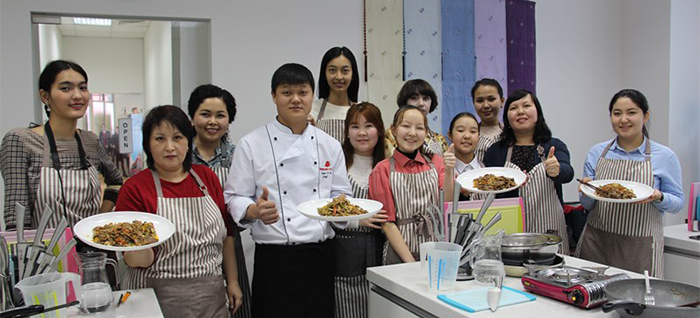 The Korean Cultural Center in Kazakhstan holds cooking classes for people interested in Korean cuisine. (Korean Cultural Center in Kazakhstan)
In multiethnic Kazakhstan, the "national cuisine" today is a mix between Russian, Uzbek, Tatar and the cooking traditions brought to Central Asia by ethnic Korean people. Kazakhstani women like to surprise their guests with various and new dishes. Therefore, they sign up for cooking classes. I enjoy cooking. That's why I was delighted to make some Korean food with an experienced chef.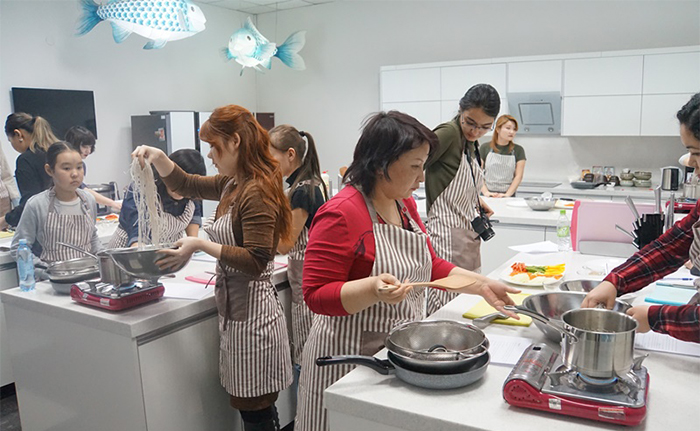 Everybody in the class has fun making some delicious Korean food. (Korean Cultural Center in Kazakhstan)
I had never before seen the kitchen of the KCC and was surprised when I entered a big, spacious and bright room, fully equipped with all the necessary cooking utensils. There were three wide tables, a refrigerator, pots and dishes, all delivered straight from Korea. By the way, the blue fishes hanging from the ceiling made the interior and our mood brighter. Some of us had never tasted Korean food before. Others, like me, had such an experience and were ready for the unusual and spicy taste. However, it was our first time cooking Korean food.
Our chef had come to the KCC some 30 minutes before the lesson started and had prepared the ingredients food for us because we only had one hour to cook and that wasn't enough time to boil some of the ingredients. He randomly divided us into three teams. Then, four people occupied their own table, waiting for instructions and repeating the chef's actions. After the first lesson, we decided not to change partners and were used to each other while cooking. Now, we are friends and often discuss our experiments in the kitchen.
In general, we learned how to make three dishes. There are photos of what my team prepared, following the chef's instructions, watching how he made the food at his table.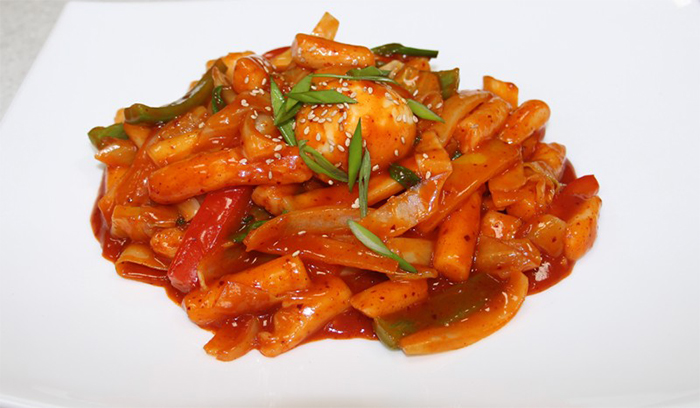 Well-known by watchers of Korean soap operas, the hot and spice rice cake dish tteokbokki (떡볶이) is quite delicious. (Korean Cultural Center in Kazakhstan)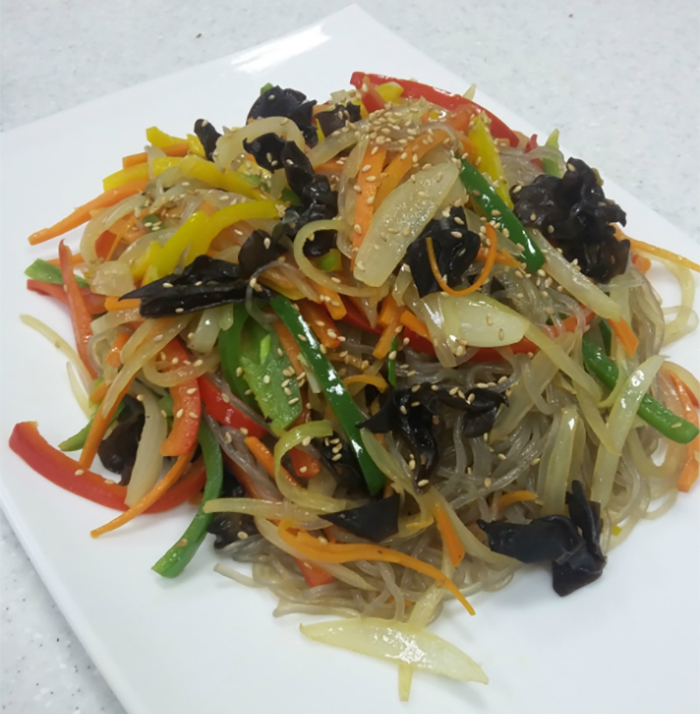 Sweet potato starched noodles, stir fried with vegetables, is called japchae (잡채). (Aigerim Sadykova)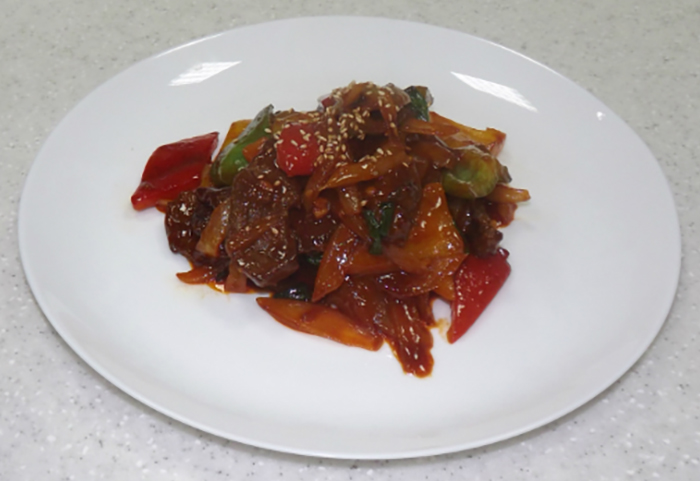 Stir-fried vegetables with beef is a classic Korean dish (소고기 볶음). (Aigerim Sadykova)
During the class, I noticed some differences between Korean cuisine and Kazakhstani and even Russian cuisine.
Soy sauce
While cooking, we used soy sauce as a salt. "If it's not salty enough, add some soy sauce," the teacher said. Frankly, it surprised us because we don't make food with soy sauce instead of salt. My Korean language teacher one day confessed that Kazakhstani food is very salty for him.
Sugar
Some Korean dishes require the addition of sugar. That's why tteokbokki and japchae are sweet and spicy at the same time. I really liked that taste. It was new and a little odd. In Kazakhstan, sugar is used for desserts. Also, my country is famous for its tea addiction and we drink tea with or without sugar, three times a day. Therefore, the chef reminded us not to forget to add sugar to the tteokbokki. We didn't even feel that we needed more sugar and were assured that sugar must be used in tea only.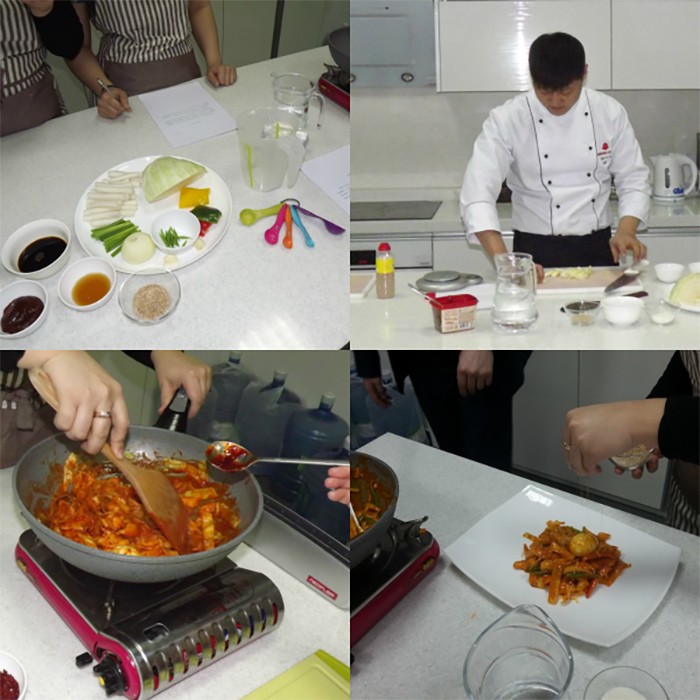 In While making tteobokki, we use sugar to make the taste a bit sweeter. (Aigerim Sadykova)
Sunflower oil
We almost didn't use any sunflower oil in our three Korean dishes. It was a little strange, because Kazakhstanis use oil for all their dishes, even when they make side dishes. When the pan is heated, oil must be added. From this, we can conclude that Korean cuisine is less fatty and more healthy.
Sesame seeds
In the end, we added a tablespoon of sesame seeds for taste and for decoration. Sesame seeds or sesame oil are new ingredients for me. I saw sesame seeds for the first time when my father brought some caramelized sesame seeds, fried in honey, called gozinaki. Then I ate some Korean dishes with sesame seeds, but never used it in cooking. Sesame seeds really made the course more appetizing.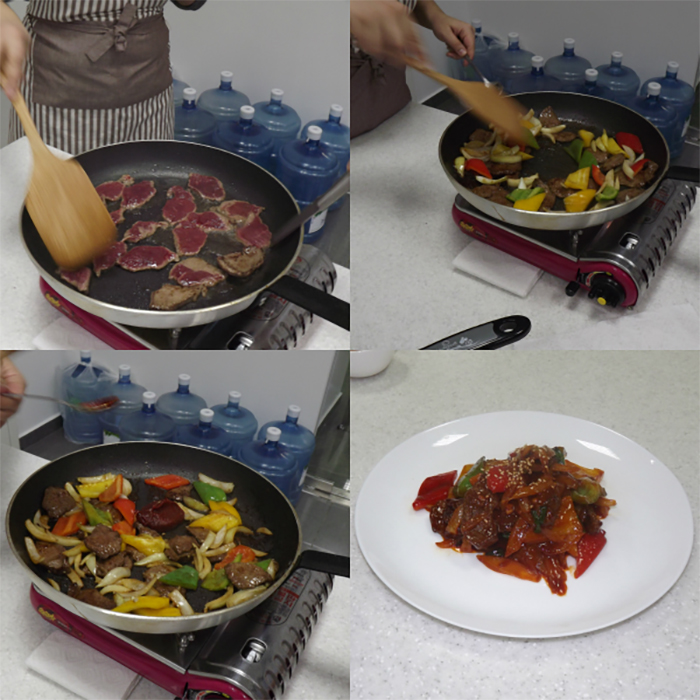 We add some sesame seeds after making some stir-fried vegetables. Delicious! (Aigerim Sadykova)
Half-fried vegetables
When we made the stir-fried vegetables with beef (소고기볶음), the vegetables remained only half-fried. It took one minute to finish with the vegetables. However, I'm used to fully frying the vegetables, boiled or nothing more than simply cutting them.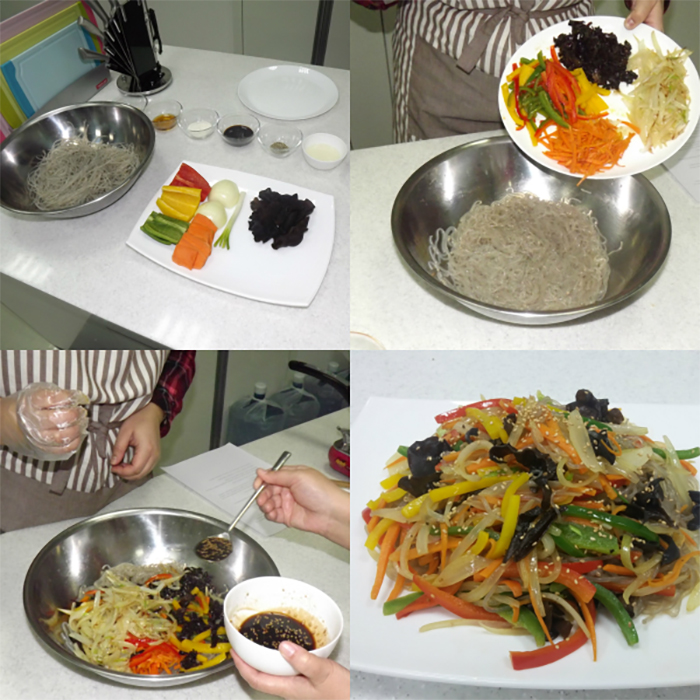 Vegetables in many Korean dishes are normally only half-fried, like in japchae. (Aigerim Sadykova)
Color
All Korean dishes are colorful. We used yellow, red and green peppers, orange carrots, brown mushrooms, the red hot pepper paste gochujang (고추장) and white rice cake. The bright colors lifted the mood and stimulated our appetites, I noticed.
Taste
Finally, the taste of the Korean dishes was amazing, too. Korean food can be sweet, spicy and slightly sour all at the same time, without any lean taste, although initially such a taste may not be liked until you get used to it. Korean food is digestible and healthy because it consists mostly of vegetables and spicy sauces. Also, it's rich and doesn't leave a heaviness in the stomach. Many visitors to Kazakhstan admire the taste of meat, but still consider Kazakhstani food to be fatty. By the way, after our Korean cooking lessons, I began to think that I should add soy sauce or red pepper paste to my dishes, because I missed the unusual, special and delicious taste of Korea.
You need to be patient and attentive while cooking in order to get the sweet and spicy taste. You become healthier after eating Korean food. I think I now begin to understand the history and lifestyle of the Korean people. It was a great experience. Now, I want to cook all three Korean dishes for my birthday party in August.
See you then.
wisdom117@korea.kr
https://koreanetblog.blogspot.kr/2017/06/our-seven-cooking-differences.html