Seoullo 7017 invites you to take a pleasant stroll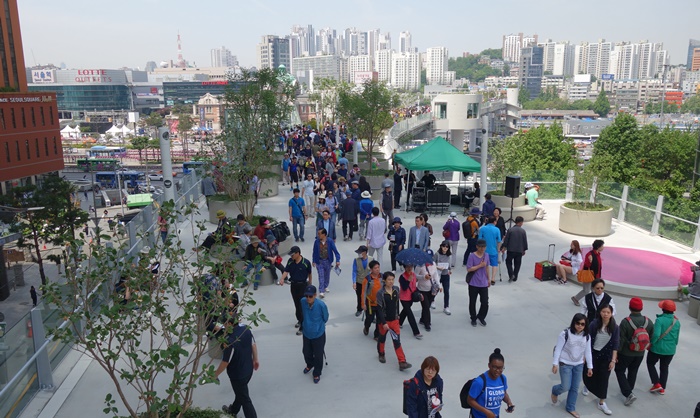 Seoullo 7017, a raised city walkway built on an overpass from the 1970s that was closed to traffic in 2015, opens to the public on May 20.
By Kang Gahui and Kim Young Shin
Photos = Kang Gahui
May 20, 2017 | Seoul
An urban walkway that floats above Seoul, where photos can be snapped with Seoul's landmarks in the background, like Sungnyemun Gate and Seoul Station, opened to the public on May 20.
The name Seoullo 7017 is a portmanteau of "1970," the year the Seoul Station Overpass was built, and "2017," the year the renovated urban park reopened. The eastern end is connected to Namdaemun Market and to Sungnyemun Gate, and the western end leads to 17 smaller Seoul neighborhoods, including Junglim-dong and Malli-dong. The total length of the linear arboretum is 1.2 kilometers.
On the opening day, the raised city park was flooded with visitors. Many were spotted taking pictures with a unique view of Seoul from up in the air. There were cooling foot bath fountains, and foot massage stone walkways, too, encouraging people to take their shoes off and to enjoy the green outdoors.
"It looks much better than I expected," said Kim Kye Suk, who was visiting the new park with her family. "It's so nice to have a relaxing place inside the desolate downtown."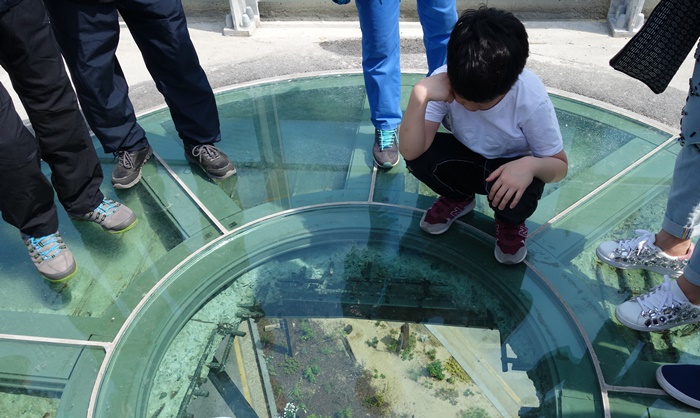 Visitors to Seoullo 7017 look down at the traffic passing underneath, part of the newly renovated Seoul Station Overpass, on May 20.

"With the opening of Seoullo 7017, Seoul has turned from a vehicle-centered city to a people-centered city," said Park Won Soon, mayor of Seoul. "The Seoul Station Overpass, which represented the industrialization of the 1970s, has been transformed into a road solely for pedestrians.""Seoul is a global city that leads the huge change to become a pedestrian-friendly and a human-centered city," he said. "I will continue to make Seoul a city in which people can walk, a city that is truly humane, and a city in which people live."
kgh89@korea.kr