Taiwanese tourists head to Busan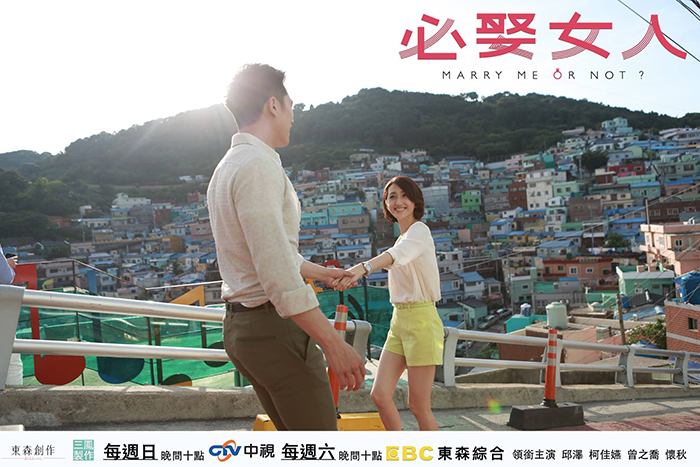 The Taiwanese soap opera 'Marry Me or Not' (必娶女人) was filmed at major tourist spots in Busan. ('Marry Me or Not' Facebook profile)
By Xu Aiying and Kim Young Shin

More and more Taiwanese tourists are coming to Busan after seeing TV shows and movies filmed in Busan.
Also, an increased number of direct flights connecting Taiwan to Korea are contributing to the boost.
The Busan Tourism Organization announced on May 16 that the number of Taiwanese visitors to the city hit 38,377 in the first quarter of the year, 37.6 percent higher compared to the same dates last year.
Taiwanese TV shows are believed to be the biggest reason why more Taiwaneese tourists are choosing Busan as their final destination.
Specifically, the soap opera "Marry Me or Not" (必娶女人), set in Busan, appeals to travelers. Popular actors Ciou Roy (邱泽) and Alice Ko (柯佳嬿) played the two leads. In the show, Busan landmarks like Gwangalli Beach, the Gamcheon Culture Village, the Gwangbokdong Food Street and Marine City all appeared.
The show's influence can be seen in the data. The number of Taiwanese tourists coming to Busan last year was 154,530, 96.8 percent higher than the 2015 figure. The TV show was on air from November 2015 to February 2016.
Another factor that drew Taiwanese tourists to Busan was the movie "Train to Busan," which was recently released in Taiwan.
The zombies-on-a-train apocalypse movie was the biggest Korean movie in Taiwan last year. It saw accumulated sales of TWD 10 million, around USD 332,000, and encouraged many Taiwanese tourists to take the train from Seoul to Busan.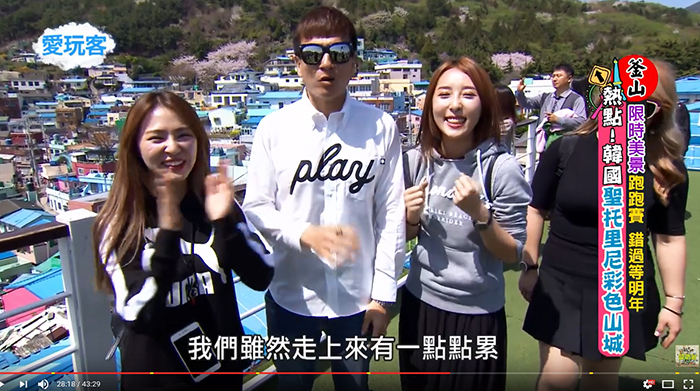 Taiwanese TV channel Set TV's popular travel show 'I Walker' introduces Busan's famous tourist spots in April . ('I Walker''s YouTube channel)
The interest in Busan is continuing this year.
In April, Taiwanese TV channel Set TV visited Busan to tour the city on its popular travel show 'I Walker.' The show aired on May 15 and 22.
Busan will once again appear on the Taiwanese travel show in July, where they filmed at Haeundae Beach and at the Jagalchi Market.
xuaiy@korea.kr
RELATED TOUR

Gyeongju, Busan Tour