Maehwa apricot blossoms welcome spring

The Wondong Maehwa Festival, held in Yangsan-si, Gyeongsangnam-do Province,
will welcome guests with maehwa apricot flowers on March 18 and 19 this year.
In Seoul, people are still wearing thick coats and scarves to block out the cold wind, but in the southern parts of the Korean Peninsula, spring flowers have started to bloom. Yangsan-si in Gyeongsangnam-do Province will host the Wondong Maehwa Festival to celebrate the season with apricot blossoms on March 18 and 19.
The festival site is at Wondong-myeon Village in Yangsan, located on the banks of the Nakdonggang River. Every year, it's full of pink apricot blossoms, performances and delicious food.
There will be a Pungmulnori percussion folk music concert and a pantomime performance. A city choir will sing songs from the soundtrack to the TV show "Guardian: The Lonely and Great God," and Eddy Kim, Bluepaprika and other folk singers will perform near the apricot trees.
A farmers' market will be open, giving visitors the chance to sample some of the town's plum cordials, water parsley, strawberries and mushrooms. Specifically, dishes made with apricot flowers and water parsley will be on sale. Also, there will be food trucks and a food court to please both the eyes and the tummy.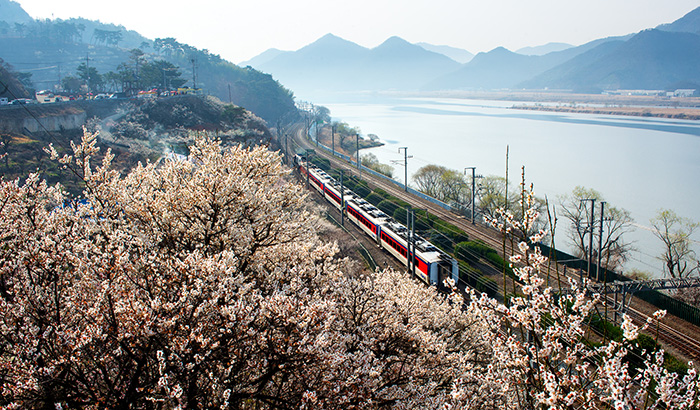 Clouds of maehwa apricot flowers, musical performances and delicious food can be enjoyed at the Wondong Maehwa Festival in Yangsan-si, Gyeongsangnam-do Province.
"To minimize tourist inconveniences, more trains will travel to Wondong Station during the festival, and temporary parking will be provided," said a Yangsan-si official. "The walk from the station to the festival won't be boring either, because small recitals and an artists' market will be situated along the route," she said.
By Kim Young Shin
Korea.net Staff Writer
Photos: Yangsan-si
ysk1111@korea.kr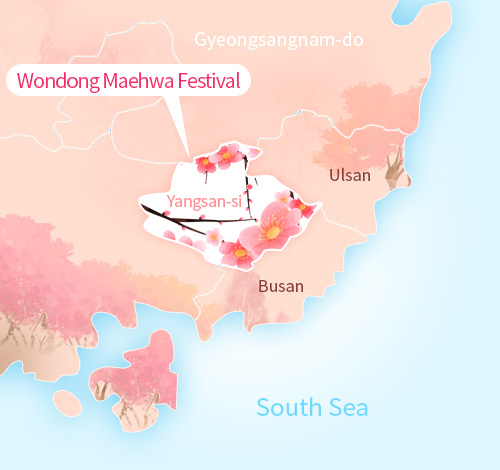 Yangsan-si in Gyeongsangnam-do Province is located near both Busan and Ulsan.