Koreaphiles discover hidden treasures of Busan
"I'm so excited. This is one of the three cities that I most wanted to visit when I was in Korea."
On the train to Busan, you could see how thrilled Nadine Postigo was, a Korea.net honorary reporter from the Philippines, by the look on her face.
On Oct. 26, 12 Korea.net honorary reporters hopped on a KTX high-speed train and headed southward toward the nation's second-largest city, Busan. The honorary reporters had been invited to Korea on Oct. 23 by the Korean Culture and Information Service (KOCIS), part of the Ministry of Culture, Sports and Tourism and publisher of Korea.net. Their nationality varied from Egyptian, Italian, Philippine and British, through to Greek, Pakistani, German and Chinese.
As part of the invitational program, these Koreaphiles embarked on an adventure to explore many parts of the port city over two days. Their tour fell during the 2016 Autumn Travel Week, currently in full swing, a two-week festival where tourists can get a variety of discounts on accommodations and entrance fees from Oct. 24 to Nov. 6. The Busan trip was made possible by the Busan Tourism Organization (BTO).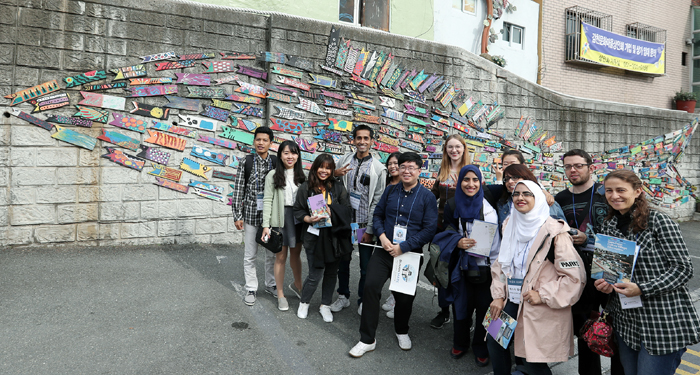 Korea.net honorary reporters pose for a commemorative photo in front of the 'Fish Travels the Alleys' mural by artist Jin Yeong-seop, at the Gamcheon Culture Village in Saha-gu District, Busan, on Oct. 26.
On the first leg of their two-day itinerary, the group arrived at the Gamcheon Culture Village, nestled on the slopes of Cheonmasan Mountain in Saha-gu District. This neighborhood is known for being jam-packed with small homes, cafés and stores, decorated with artistic outdoor murals. When they encountered a series of colorful murals and sculptures, the travelers said in chorus, "The colors in these wall paintings are very lovely." They all seemed so busy posing next to each work of art and taking selfies, immediately uploading the results to their Facebook or Instagram profiles.
"There are small villages such as this back home, too, but what sets this neighborhood apart are these beautiful wall paintings and works of art that you can find in every nook and cranny," said John Paul Vergona from the Philippines, a first-time visitor to Korea.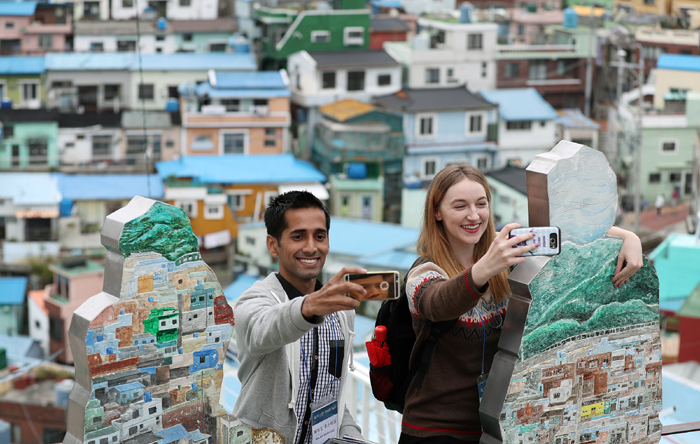 Majid Mushtaq from Pakistan (left) and Elena Kubitzki from Germany have fun taking selfies next to a signature sculpture against the backdrop of colorful houses at the Gamcheon Culture Village in Saha-gu District, Busan, on Oct. 26.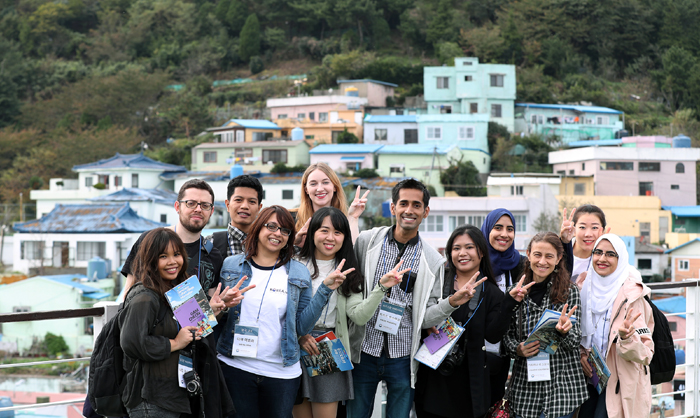 Korea.net honorary reporters pose for a group photo at the Gamcheon Culture Village, home to artistic wall paintings and sculptures, on Oct. 26.
When they reached the next destination, they were wowed at the sight of magnificent cliffs formed with rocks of various shapes, facing the blue sea. The site is called Taejongdae, a natural hilly park about 200 meters above sea level at the southeastern end of Dongsam-dong in Yeongdo-gu District.
"Rocks combine with the blue sea and sky to form a scenic sight here," said Majid Mushtaq, an honorary reporter from Pakistan, snapping away with a volley of camera shutter clicks. "Not to mention the picturesque nature that unfolds before my eyes, the historic stories behind this site are very interesting, like, this was where King Taejong Muyeol (r. 654-661), the 29th monarch of ancient Silla (57 B.C.-A.D. 935), used to practice archery, or the so-called Mangbuseok (망부석), a stone jutting out right there, was where the faithful wife who long-awaited her husband was turned into stone," said Esraa Elzeny Mostafa, who came from Egypt along with her twin sister.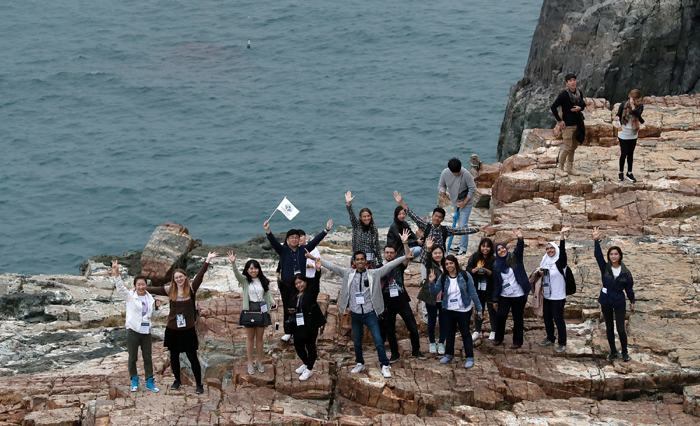 Korea.net honorary reporters wave from Taejongdae, above the blue sea, a historic site where Silla King Taejong Muyeol is said to have practiced his archery.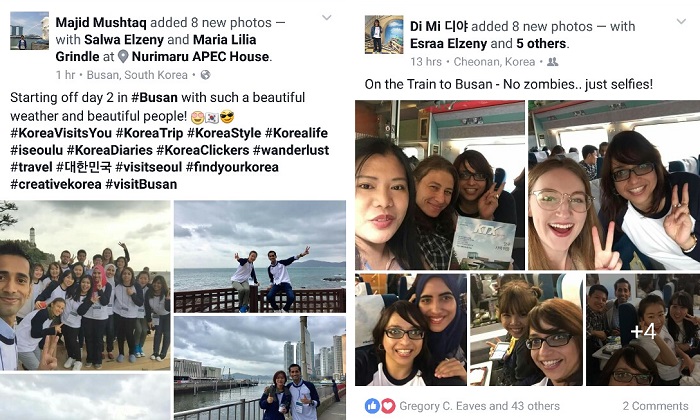 A group of 12 Korea.net honorary reporters, invited to Korea by the Korean Culture and Information Service, upload photos from their Busan trip in real-time to their social media profiles.
Early in the morning on Oct. 27, the group was bussed to another must-visit spot, Haedong Yonggungsa Temple. Situated atop the precipices in Gijang-gun County, this temple dates back to 1376. Walking down the staircase of 108 steps, the temple emerges close to the foaming waves. Befitting its fame — that, "Anyone coming here will see at least one of their wishes come true," — visitors to the ancient site are mostly people praying for good health and longevity, people who wish to have a healthy child, or who're praying for their child's success in an exam.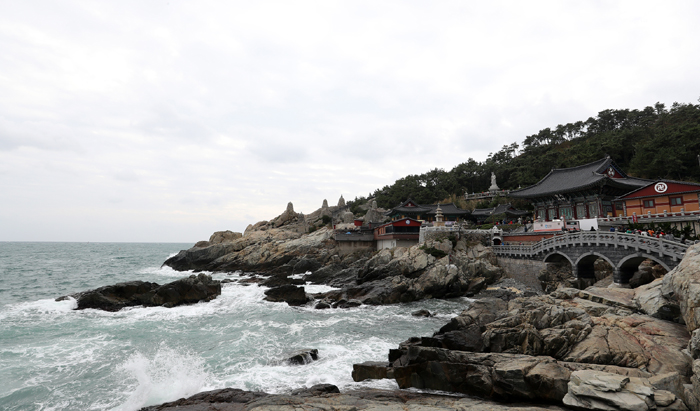 Haedong Yonggungsa Temple sits just above the sea and is one of Busan's major tourist spots.
"Back home in Greece, you can see many parents, like parents here in Korea, praying for good results for their children during exam season," said Katerina Lygkoni, an honorary reporter from Greece. "It would be a good idea to compare this custom in both countries in a blog post when I get back," she added.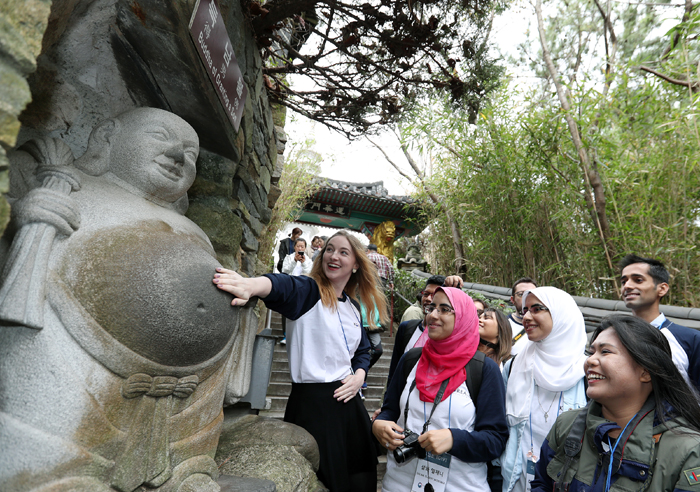 Elena Kubitzki (left), a German honorary reporter, rubs the belly of the Deuknambul (득남불), a statue of Buddha that is said to grant the birth of a son, at Haedong Yonggungsa Temple in Gijang-gun County, Busan, on Oct. 27.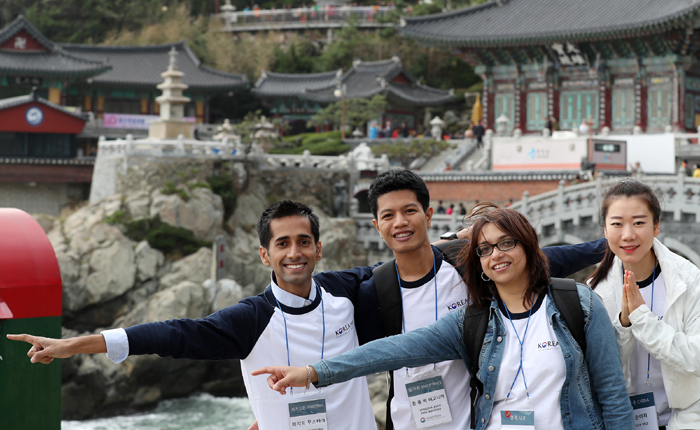 Korea.net honorary reporters pose against the backdrop of Haedong Yonggungsa Temple situated atop the ocean waves, in Busan on Oct. 27.
As the honorary reporters began to get tired from the early-morning tight schedule, what boosted their energy was one of Busan's must-eat foods: delicious eomuk fishcake (어묵).
They visited a branch of Goraesa Eomuk in Haeundae, the city's leading eomuk manufacturer, and sampled various kinds of fishcake made with sesame leaves, abalone, chili pepper and even cheese.
After she took a bite of sushi-style fishcake, Elena Kubitzki, an honorary reporter from Germany, said, "This is what I really wanted to taste when I came to this city. It's really good," giving a thumbs up sign.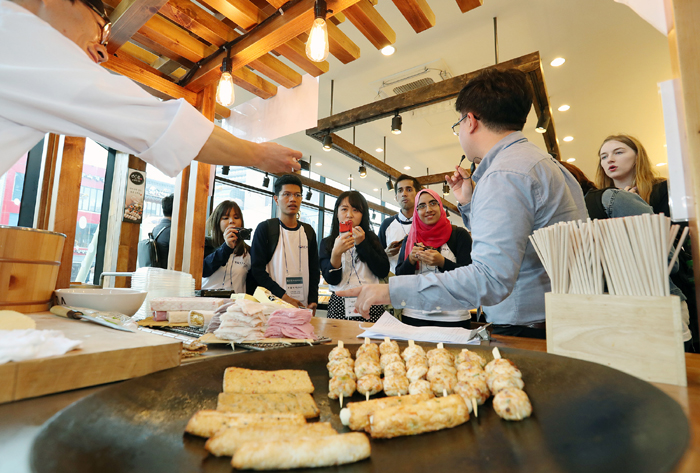 Korea.net honorary reporters listen to an explanation about the characteristics of Busan eomuk fishcake, at the Haeundae branch of Goraesa Eomuk in Busan on Oct. 27.
The honorary reporters also took part in a cooking class and prepared their own eomuk fishcake dishes. Ma Chun Meng (马春萌) from China said, "It's really interesting to make this food in person, which I've only tasted before. The next time I have a chance to come back here, I'll definitely try this again with my friends."
After the Busan tour, the honorary reporters will move on to have a two-day tour in Tongyeong in Gyeongsangnam-do Province on Oct. 28. They'll visit the Yi Sun-Shin Park, a park established in honor of Admiral Yi Sun-shin (1545-1598), the Dongpirang Wall Painting Village, and the waterway between Hansando Island in the city and Yeosu, known as the Hallyeosudo Straits (한려수도, 閑麗水道).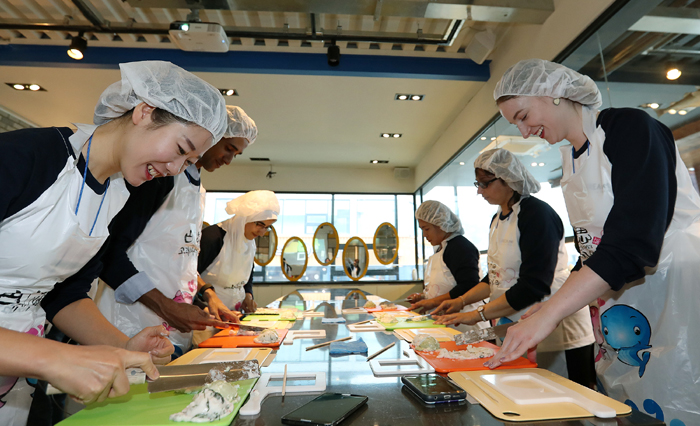 Korea.net honorary reporters prepare eomuk fishcake at the Haeundae branch of Goraesa Eomuk in Busan on Oct. 27.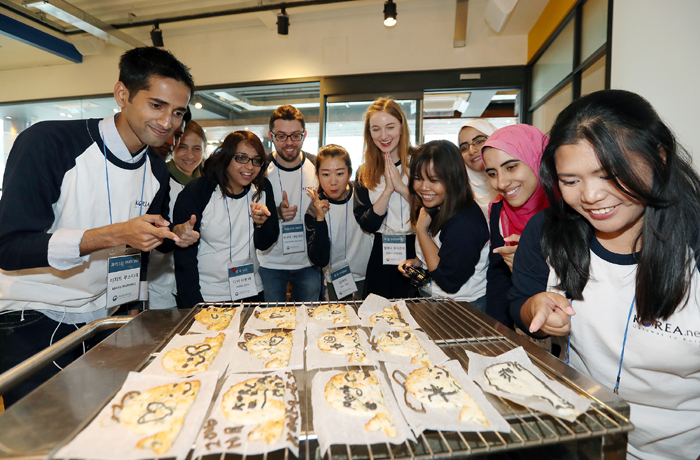 Korea.net honorary reporters inspect the eomuk fishcake they prepared in a cooking class at the Haeundae branch of Goraesa Eomuk in Busan on Oct. 27.
By Sohn JiAe
Korea.net Staff Writer
Photos: Jeon Han, Korea.net Photographer
jiae5853@korea.kr
RELATED TOUR

K-Travel Bus : Southeastern Regions (Busan, Ulsan, Gyeongnam)
Gyeongju, Busan Tour