Autumn Travel Week brings tourist discounts, opens new sites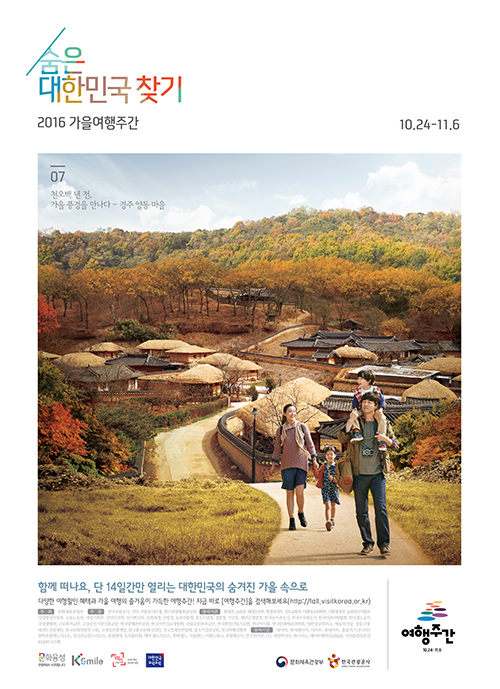 The 2016 Autumn Travel Week offers a variety of tourist options in areas that used to be closed to the public, as well as up to 80 percent discounts on entrance fees and accommodations.
Between late October and early November, as autumn is in full swing, there will be a range of tourist options across the country for travelers searching for short getaways during the beautiful weather.
The Ministry of Culture, Sports and Tourism will kick off its 2016 Autumn Travel Week on Oct. 24 and it will run until Nov. 6, in cooperation with the Korea Tourism Organization, municipal governments and both public and private organizations. The theme for the tourism promotion program is "The Hidden Korea will be unveiled."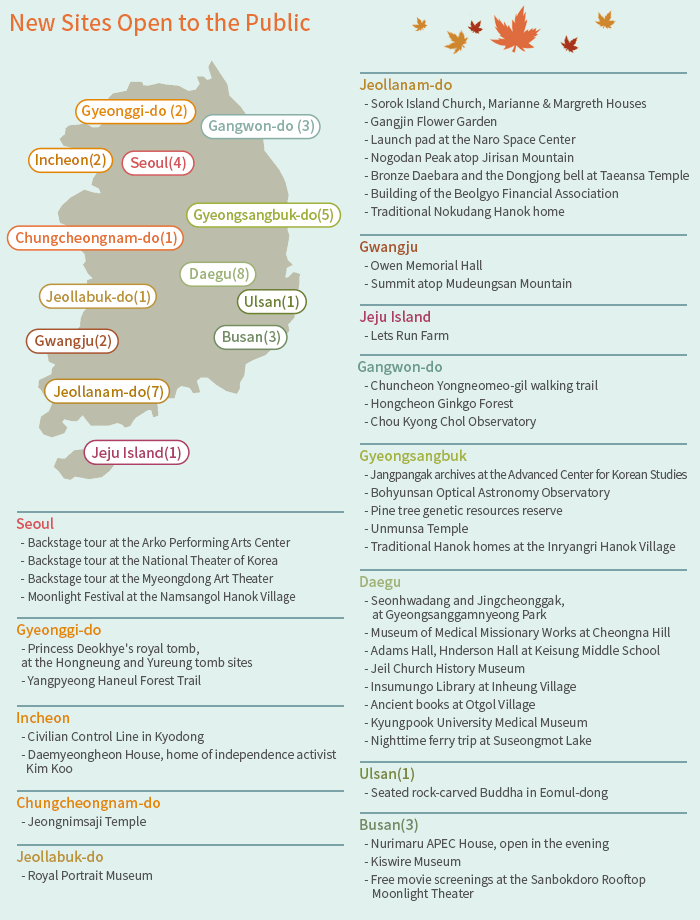 More than 40 spots at 26 regions across the country will be open to the public for the first time during the 2016 Autumn Travel Week.
Throughout the two weeks, venues that have usually been closed to the public — venues both ecological and historical — will welcome visitors to their beautiful sites. More than 500 package tours will be on offer across the nation, for example at officially designated "Travel Cities of the Year" and at national parks. There will be 17 tours run by local governments, as well. About 13,600 tourist spots, stores and accommodations will join the two-week festival by providing up to 80 percent discounts on fees or by welcoming visitors free-of-charge.
For the first time since it kicked off in 2014, the Autumn Travel Week will open about 40 sites at 26 spots nationwide that have so far been closed to the public, whether they be historic sites, cultural facilities or ecological preservation areas. These sites may extend their operating hours or increase the number of visitors they accept, depending. Local governments and private and related organizations agreed to open these spots to the public for the first time; tourist sites that have been out of reach for preservation purposes.
The Advanced Center for Korean Studies in Andong, Gyeongsangbuk-do Province, will make public its Confucian printing woodblocks, including some that are on UNESCO's list of documentary heritage items, at the center's woodblock archive, the Jangpangak (장판각, 藏板閣). The launch pad at the Naro Space Center in Goheung-gun County, Jeollanam-do Province, from which the Korea Space Launch Vehicle-1, known as Naroho (나로호), blasted off, will be open to the public, but people have to apply in advance. So, too, will be the Adams Hall at Keisung Middle School in Daegu, where Taegeukgi national flags were manufactured in secret during the March First Independence Movement. People will be able to climb to the summits of Jirisan and Mudeungsan mountains during the Autumn Travel Weeks, as well, peaks that are normally closed to the public. On top of that, ecological reserves for pine trees in Uljin, Gyeongsangbuk-do Province, the Civilian Control Line across Ganghwa-gun County in Incheon, and a flower garden in Gangjin-gun County in Jeollanam-do Province, will be open to early applicants.
More information about these sites and on how to apply is available at www.fall.visitkorea.or.kr.
Each municipal government will run its own tour packages during the festival, too. Daegu, selected as the "Best Tourist City of the Year," will run a tour program called the "Daegu in Your Imagination," a program where travelers explore some of the lesser-known tourist spots across the city. In Busan, often dubbed the "City of Movies," autumn holidaymakers will be able to enjoy a movie-themed package tour called the "Find the Hidden Treasure in Busan" tour. In this program, people will explore the theater that will host the upcoming Busan International Film Festival, browse a series of domestic and international movies and tour some famous filming sites. The Jeollanam-do provincial government will also run its own set of package tours, called "Stroll Along the Rivers, Seashore and Railroads," a tour that gives getaway seekers a chance to walk together with a storyteller who explains things around Gangjinman Bay. Visitors will also be able to take an excursion to the ecological reserve along the Yeongsangang River, see traditional Hanok buildings and enjoy the reed fields across Suncheonman Bay.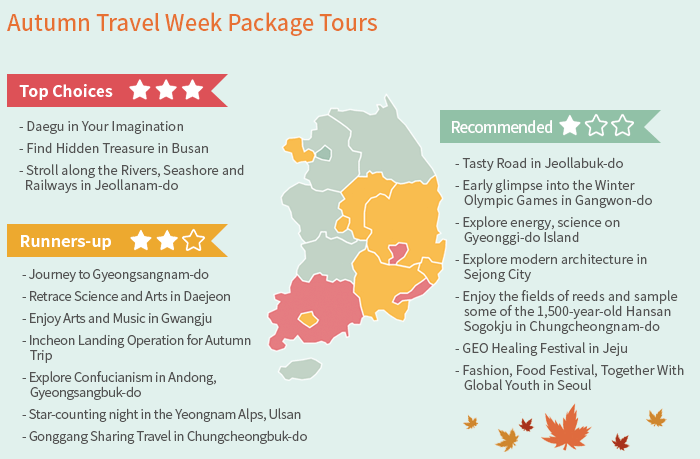 Throughout the 2016 Autumn Travel Week, which runs from Oct. 24 to Nov. 6, governments in places like Daegu and Busan will attract autumn holidaymakers with their own metropolitan tour programs.
A series of "Tour Dure" programs (관광두레) will be on offer in 15 regions across the nation, with support from local communities. Jecheon in Chungcheongbuk-do Province, Muju in Jeollabuk-do Province and Tongyeong in Gyeongsangnam-do Province will greet visitors with their own sets of package tours during the tourism festival.
The Ministry of Environment will host 19 tours that will explore the ecosystem at 12 regions nationwide, while the Korea National Park has also designated the two weeks as its "National Park Week," during which it will offer a total of 125 tours.
There will be festivals to enjoy, too. Sokcho, in Gangwon-do Province, will invite tourists to stroll along the Haeannurigil Road. Icheon, known for its home-grown rice, will host a rice festival. Seocheon in Chungcheongnam-do Province will play host to a festival to introduce its traditional liquor, Hansan Sogokju (한산 소곡주). Visitors to rural and fishing villages will enjoy discounts on hands-on experience programs and accommodation fees.
More than 300 provincial governments and associated organizations will join forces to link their respective package tours together. There will be tours designed to delve into traditions in certain regions, like Gangreung in Gangwon-do Province, which will operate a tour that focuses on two of its historic figures: Shin Saimdang (신사임당) (1504-1551), the mother of Joseon Scholar Yul-gok, and Heo Nanseolheon (허난설헌) (1563-1589), a prominent Joseon poet.
Non-Korean travelers who have an official alien registration card in the country will be offered discounts at tourist sites and accommodations on Jeju Island. A one-day train pass will allow travelers to get where they want to go for just KRW 10,000. Bear in mind that a limited number of KRW 10,000 train tickets are available, on a first come, first served basis. For those who desire to have experiences that are more religious in nature, 83 Buddhist temples across the nation will offer tours, dormitories and meals for only KRW 10,000.
The Let's Run Farm, one of the biggest horse farms on Jeju Island, and the Taekwondowon in Muju, Jeollabuk-do Province, a taekwondo center, will be open for free during the Travel Week. Four major Joseon royal palaces — Gyeongbokgung, Deoksugung, Changdeokgung, and Changgyeonggung — the Jongmyo Shrine, the National Institute of Ecology in Seocheon-gun County, Chungcheongnam-do Province, and the Saneum Recreation Forest in Yangpyeong-gun County, Gyeonggi-do Province, will cut their entrance fees by 50 percent.
Amusement parks, including Everland and Lotte World, will offer up to 40 percent discounts on entrance fees, while branches of Lotte Rent-A-Car nationwide will slash their rental fees by up to 80 percent. There will be good bargains on accommodations, an expense that often takes the biggest share of people's travel budgets. A total of 2,087 lodging facilities, including 79 Goodstay locations, 52 Benikea hotels, Hanwha Resorts, and some traditional Hanok home bed-and-breakfasts, will offer rooms at discounts. Online accommodation services, such as Hotel Njoy and Sale Tonight, will also join in on the discount spree.
Supermarkets and convenience stores, like Emart, Lotte Mart, Home Plus and CU, will give away coupons worth between KRW 1,000 and 3,000.
For more information, type "2016 Autumn Travel Week" into your favorite search engine. More detailed information on the list of tourist sites that will be open to the public or offer discounts is available athttps://fall.visitkorea.or.kr/ and at www.visitkorea.or.kr.
Finally, the official Facebook profile for the campaign (https://www.facebook.com/travelweekly.go/?fref=ts) will be updated on a regular basis, providing information about the less-visited tourist spots and the latest news about certain package tours. If you "like" the Facebook profile, you will receive the latest news, as well.
By Wi Tack-whan, Sohn JiAe
Korea.net Staff Writers
whan23@korea.kr
RELATED TOUR

K-Travel Bus
Local Tour