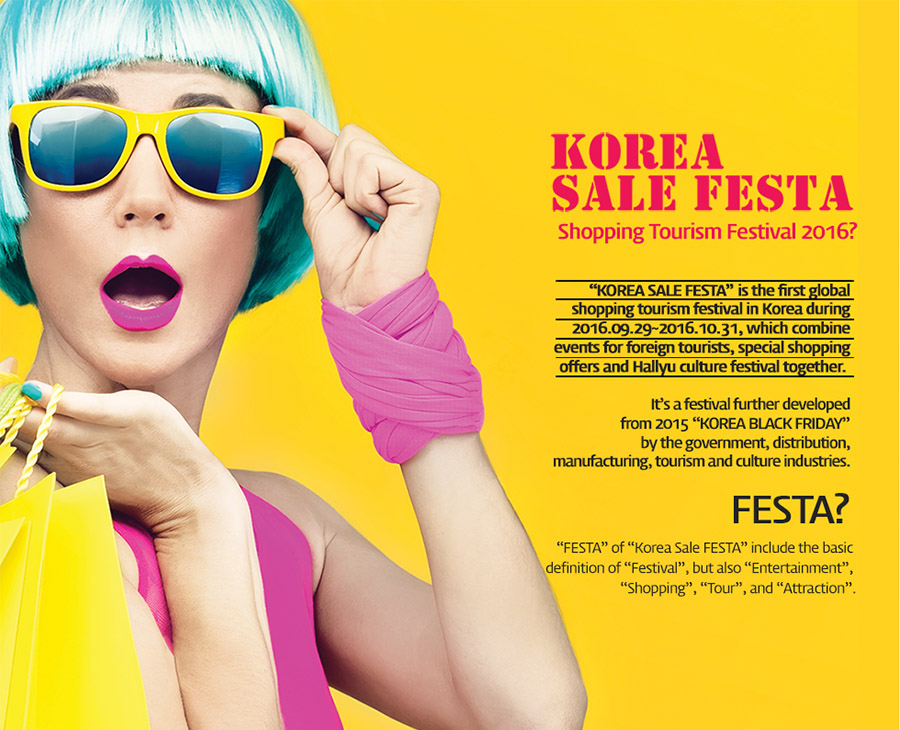 The Korea Sale Festa takes place from Sept. 29 to Oct. 31 across the nation, where visitors can enjoy riding the Korean Wave and experience as much Korean pop culture, shopping and tourism as they like, all at the same time.
To begin, during the month-long sale non-Korean tourists will be eligible for a full range of discounts, benefits and gifts across various sectors of the economy, ranging from shopping malls, flights, bus or train tickets, hotels, cosmetics, healthcare, food and beverages, concerts, cultural events and tourist attractions. They will also be able to enjoy various festivals and other cultural events all across the country.
The Korea Sale Festa includes the Korea Grand Sale and the K Culture Fair, scheduled for Oct. 1 to 31. The K Culture Fair will introduce Korean wave-themed festivals and concerts all across the nation.
Period
Sept. 29 to Oct. 31, 2016
Location
Across the nation
Contact
TEL +82-2-6050-1516, +82-70-4895-3450
FAX +82-2-6925-3412
E-mail since2014@thegrimm.kr
Transportation
The festival takes place at multiple locations across the nation. The use of public transportation, either subway or bus, is strongly recommended during the festival.
Website
www.koreasalefesta.kr (Korean, English, Chinese, Japanese)