Top 10 national park trails to enjoy this autumn
Autumn has arrived, the season for strolling across landscapes booming with red and golden hues.
Word has it that we can expect more colorful foliage this autumn, and the Korea National Park Service has provided its top 10 list of the best national park trails to explore this season with family and friends.
The list is made up of the following trails: Seoraksan Mountain Biseondae (비선대), Songnisan Mountain Sejo-gil Trail (세조길), Jirisan Mountain Samhongso (삼홍소), Woraksan Mountain Mansu Valley Nature Trail (만수계곡 자연관찰로), Chiaksan Mountain Seryeom Waterfall (세렴폭포), Naejangsan Mountain Baegyang Valley (백양계곡), Deokyusan Mountain Baengnyeonsa Temple (백련사), Hallyeohaesang Mountain Boriam (보리암), Juwangsan Mountain Daemundari Bridge (대문 다리) and, finally, the Bukhansan Mountain Uiryeong-gil Trail (우이령길).
The recommended trails aren't very steep and can be enjoyed by adults, children and the elderly alike. They offer a perfect getaway into a wilderness decorated with the colors of fall.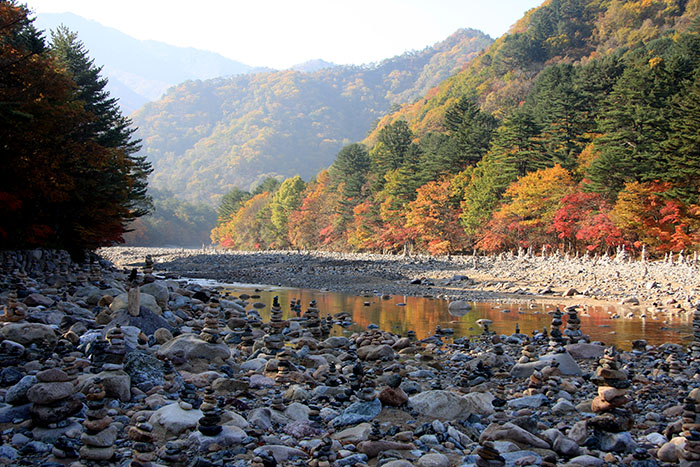 Seoraksan National Park's Baekdam Valley is famous for its picturesque landscapes, especially in the autumn,
as the many hues of autumn paint the surface of the streams that flow through the mountain range there.
As Seoraksan Mountain has already begun to drape itself in fall colors, now is the perfect time to explore the Biseondae trail, a pathway stretching 3 kilometers between the Seorakdong Park Information Center and the Cheonbuldong Valley (천불동계곡). It's possible to push a wheelchair or a stroller right up to the foot of the Biseondae Rocks, so the trail is suitable for grandparents and young children. According to K-weather, a weather forecasting service, Seoraksan Mountain's autumn foliage will peak on or around Oct. 20, so it would be a good idea to plan your trip soon to enjoy the Biseondae scenery.
Meanwhile, the Chiaksan Mountain Seryeom Waterfall trail is ideal for parents with children who want to explore the natural surroundings. The 3-kilometer course takes you from Guryongsa Temple (구룡사) to the Seryeom Waterfall along an easygoing valley trail. You can enjoy the lovely scenery created by babbling brooks and boulders, and tall coniferous trees showing off their colorful leaves. Inside the park, there is a nature exploration center and a reptile breeding center where children can participate in a number of guided educational activities. While planning your trip, you might like to keep in mind that Chiaksan Mountain is expected to have the best fall leaves on or around Oct. 27 this year.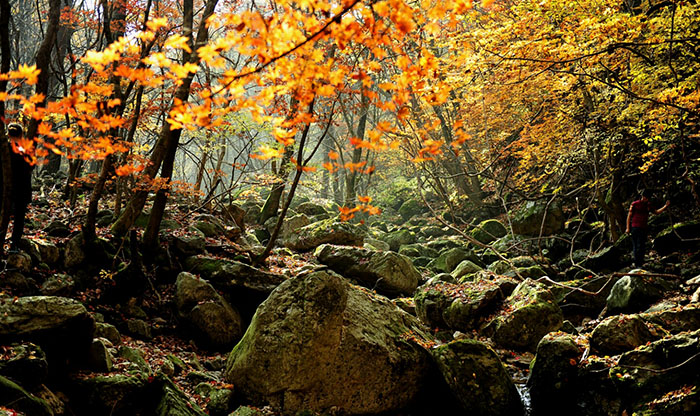 Chiaksan Mountain is so famous for its spectacular autumn scenery that it's often referred to as 'Red Mountain.' The Guryong Valley trail (pictured) offers serene views of streams and colorful foliage. The peak time to enjoy the autumn leaves at Chiaksan Mountain is expected to fall on Oct. 27 this year, according to K-weather, a weather forecasting service.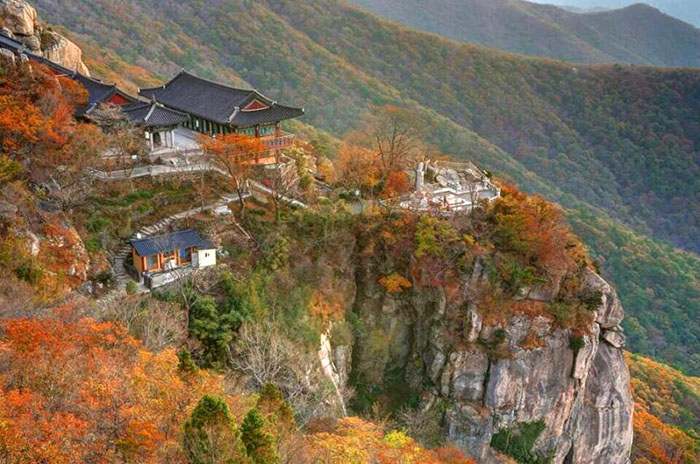 The trails leading up to the peak of Naejangsan National Park offer breathtaking views of Baegyangsa Temple, nestled in the colorful autumn leaves.
This fall, the best time to visit the mountain is around Nov. 9.
If you'd like to take in the autumn landscape while also visiting some historical sites, the Naejangsan Mountain Baegyang Valley trail might be a better fit. The 1.8-kilometer trail begins at the Baegyang Park Information Center and finishes at Baegyangsa Temple. Along the 2-hour walk, you can spot baby maple trees and a 700-year-old oak in a dense woodland of nutmeg trees. At the end of the trail, you will get to see the historic Baegyangsa Temple nestled in the golden colors of fall. This enchanting scene is expected to peak on or around Nov. 9, so best get your hiking boots ready.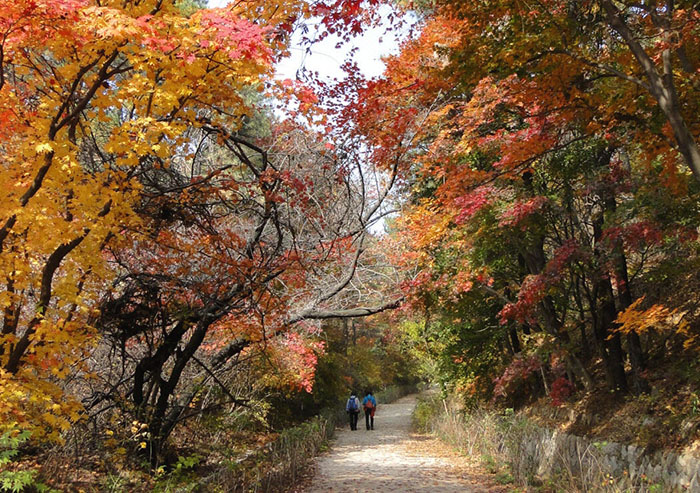 The Bukhansan Mountain Uiryeong-gil Trail stretches 6.8 kilometers from Seoul's Uidong (우이동) neighborhood to Yangju-si City, in Gyeonggi-do Province. The wider, flatter trail makes it an easy hike for beginners and young children.
For those who prefer to stay closer to Seoul, there's the Bukhansan Mountain Uiryeong-gil Trail. This 6.8-kilometer course stretches from Seoul's Uidong (우이동) neighborhood to Yangju-si City, in Gyeonggi-do Province, offering winding trails curtained by rustling leaves in red, orange and yellow. The trail is sure to provide a perfect weekend getaway for city residents. There is, however, a 1,000-person daily limit on entry into Bukhansan National Park, so you should make a reservation at the Korea National Park Service website (https://reservation.knps.or.kr) when planning your trip. You better hurry, though: the autumn leaves at Bukhansan Mountain are supposed to reach their peak on or around Oct. 30.
By Lee Hana
Korea.net Staff Writer
Photos: Korea National Park Service
hlee10@korea.kr
RELATED TOUR

Mt. Seorak Tour
Full Day Hiking & Sauna Tour