Tasty tales of Andong
Andong, a city imbued with the spirit of Confucianism, has many regional delicacies that have interesting backstories about how they came to be served on the dinner table.
Owing to the region's deep-rooted Confucianist traditions, Andong has more varieties of ancestral ceremonial foods compared to other regions of Korea. Andong natives, who tend to lean on the conservative side, are very proud of their age-old traditions, and have been handing down the strong flavors of their local dishes for many generations.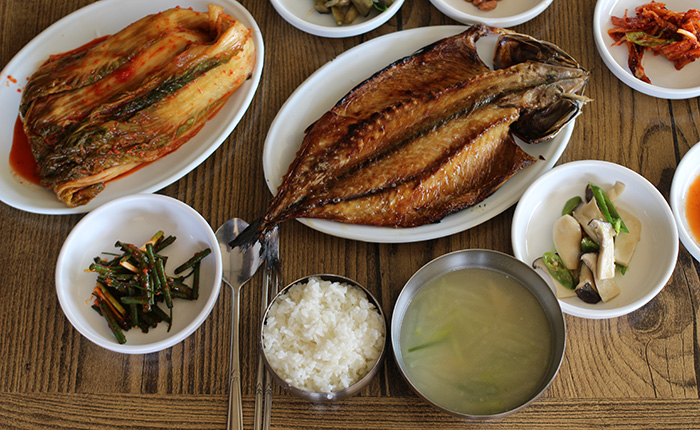 Gan-godeungeo, or salted mackerel, is an Andong delicacy that makes a perfect companion to a bowl of white rice.
Andong's savory mackerel
A meaty fish is brought out on a hot grill and begins to sizzle in its savory oils. Once cooked crisp, the meat on the fish bulges up, shiny with gloss. Your Andong gan-godeungeo, or salted mackerel, is now ready for serving.
In the past, this fish would have had to travel over 80 kilometers from Yeongdeok, a seaside village on the East Sea. Without a quick mode of transportation, it wasn't easy for the people of Andong, living in the interior of Gyeongsangbuk-do Province, to get a hold of fresh mackerel. Merchants, carrying the fish on their backs, needed to walk a full day in straw sandals to get back to Andong from the coastal town of Yeongdeok.
In order to prevent the fish from spoiling on this long trip, the people of Andong came up with a preservation method: salt. Through this process, the residents realized that a sprinkle of salt on the mackerel not only preserved the fish, but got rid of any nasty odors, all while making the meat juicier. From then on, salted mackerel became a widely enjoyed delicacy across the region.
These days, the savory fish is enjoyed in homes and restaurants across the country, as a perfect companion to a bowl of white rice.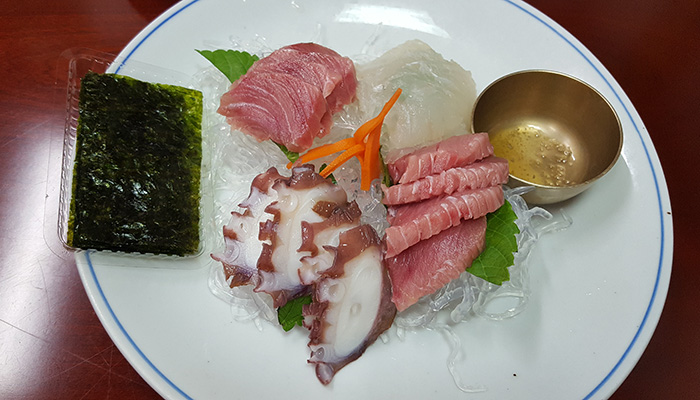 Andong natives make a point to serve octopus when they are entertaining guests or when there is an important family event.
Octopus, the well-mannered fish
The word for octopus in Korean is mun-eo (문어), and the Chinese character for mun (文) happens use the same character as the one for "scholarship." Andong's Confucian scholars loved this play on words, and so deemed the octopus a fish for the gentry. What a coincidence that the octopus also possessed ink, the same ink that noblemen used to write on their scrolls. The octopus was therefore considered a "well-mannered fish" and the high-class gentry of Andong served octopus when entertaining guests, as a form of etiquette.
To this day, octopus is served in Andong as a sign of courtesy to guests. It's also prepared for important family events like milestone birthdays, weddings, funeral rites and jesa, or ancestral ceremonies.
The octopus served in Andong is especially fresh and has a chewy texture. When you ask the region's natives what makes their octopus taste so great, they unanimously reply that the secret lies in the boiling method. Apparently, the broth in which the octopus is boiled must be the right temperature and have adequate seasoning. Timing is of the essence, as well. Only when you have these factors aligned can you get the perfect plate of Andong octopus.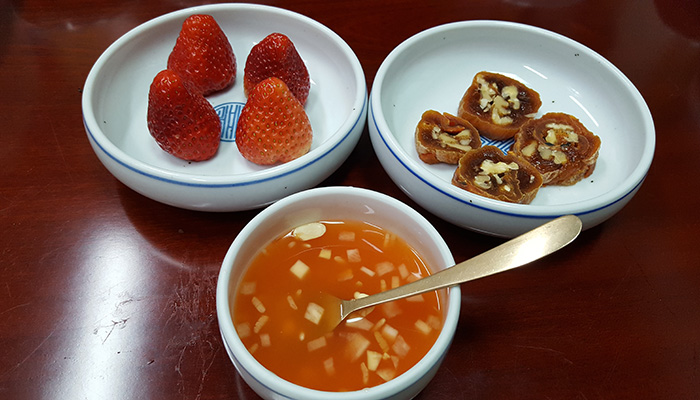 Andong's shikye is not the typical sweet rice drink that we're used to sipping after a meal. It's red, spicy, carbonated, with almost a tangy taste, and is enjoyed with a spoon.
Andong's spicy sikye
In Andong, you can taste a very unusual sikye that is unique to the Gyeongsangbuk-do region. Known as Andongsikye, this variant on the sweet rice drink has such a distinctive taste that locals can use it to weed out true Andong natives from the rest.
As you may have guessed, Andong sikye is very different from the regular sweet rice drink. It's made with glutinous rice, malt, radish, ginger, chili powder and water, and then fermented at low temperatures.
Unlike regular sikye, this regional rice drink is consumed with a spoon, as there are more solids than liquids in a single serving. Enjoyed in Andong and in its neighboring regions, the drink is supposed to taste the best in the winter, when it's slightly frozen with a thin coat of ice.
Everyone in Andong says this sikye is great at helping the digestion. This advice was likely handed down from Confucian scholars of long ago who enjoyed this post-meal drink after a heavy meal.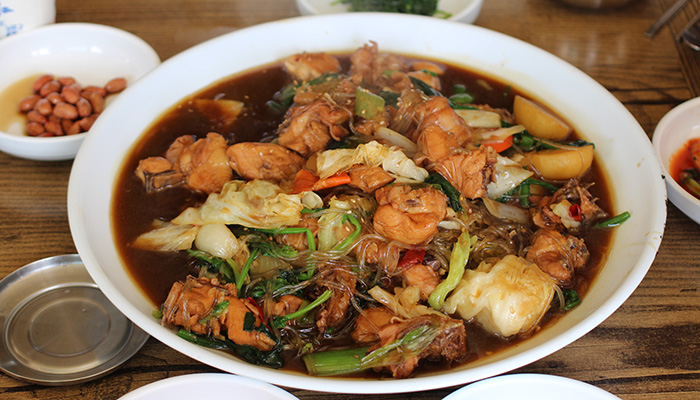 Andong-style braised spicy chicken, or Andong jjimdak, has become a commercial dish all over the country.
The widely enjoyed Andong jjimdak
Andong jjimdak, a type of braised spicy chicken, is prepared by cooking chicken, glass noodles and an assortment of vegetables in a soy sauce broth.
A number of tales are told concerning how this dish was first concocted. One story goes that it was at first a specialty dish of the rich neighborhood of An-nongnae that became famous through word of mouth. Others say that the jjimdak was born out of Andong's old market, where the restaurant owners, throwing this and that into the skillet upon the customer's request, came to invent the dish.
However it came into being, one thing is for certain: the spicy, sweet and savory flavors of Andong jjimdak are hard to resist. The stretchy glass noodles that soak up all these flavors are an added bonus. With huge servings at a reasonable price, Andong's spicy chicken can now be found in cities all over Korea.
By Lee Hana
Korea.net Staff Writer
Photos: Wi Tack-whan, Lee Hana
hlee10@korea.kr
RELATED TOUR 
K-Travel Bus:North Gyeongsang Province
Andong Hahoe Folk Village Tour