Suncheon, food capital of the southern provinces
From long ago, dishes from the southern provinces have been well known to be delicious. The dishes are made with ingredients that come from the unpolluted seas, mountains, rivers and fields. Among the many cities of the southern provinces, food from Suncheon, Jeollanam-do Province, is considered to be some of the best in the region.
Around 120 delicious animals inhabit Suncheonman Bay. Among them is the mudskipper fish, which can be caught in the bay, and mudskipper soup is one of the representative dishes from the region. Mudskipper is known to be good for controlling blood pressure and constipation, and at preventing diabetes. It also contains a lot of potassium, which is good for controlling muscles and nerves.
Mudskippers can be stewed or barbequed, but in Suncheon, people enjoy it by making a soup out of it. Mudskipper soup consists of boiled mudskipper, strained through a sieve where it is boiled with soybean paste and with dried radish greens, cabbage leaves and radishes.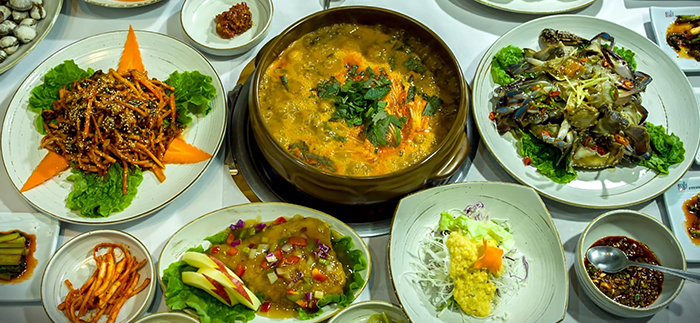 The mudskipper fish helps to control blood pressure and constipation, and prevents diabetes, as well. It also contains potassium, which is good for controlling muscles and nerves.
As the weather becomes warmer, spring greens freshly sprout from their winter sleep. Spring greens include components that help people relax during the spring, as well as give a boost to their energy.
The valleys near Seonamsa Temple in Seongju-gun County are filled with an abundant quantity of fresh vegetables and clean water where it's suitable for wild edible greens to grow. Around the temple, many restaurants are filled with people who came to fill their stomachs. Among them, the most famous dish is the set menu with seasoned wild vegetables. The set menu includes various vegetables, such as wood ears, seasoned deodeokand seasoned eggplant, as well as fermented skate and steamed pork slices served with kimchi, roasted mackerel and cockles. Around 20 side dishes can be seen on one table. One can enjoy this abundant meal for only around KRW 12,000.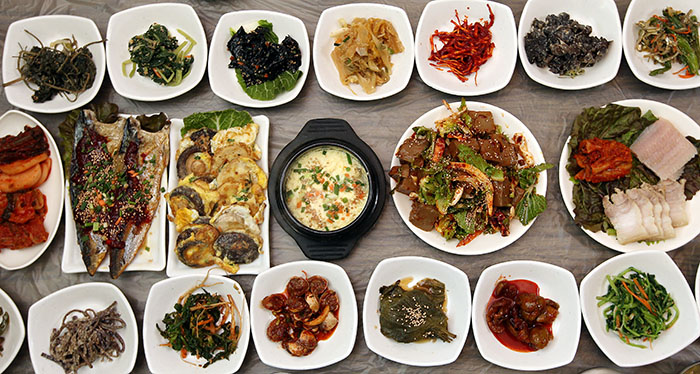 A set menu with seasoned wild vegetables consists of more than 20 side dishes.
Lastly, Nagan paljinmi, or Nagan's eight precious tastes, can be found at the 5oo year-old Nagan Folk Village.
Due to the broad plains surrounding the Nagan Folk Village, the site is well known to produce an abundant amount of rice. Therefore, people frequently visit the folk village to taste Nagan paljinmi bibimbap made with high quality rice produced by the blessed nature that surrounds the village.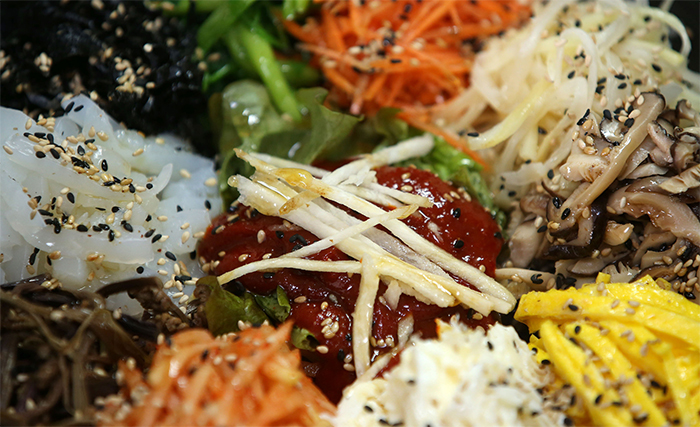 Nagan paljinmi bibimbap consists of eight ingredients.
Paljinmi means the eight precious tastes that are served at the table. It also stands for delicious or well-prepared food as a metaphorical expression. The eight ingredients of Nagan paljinmi bibimbap are all from the surrounding mountains. They include manna lichen from Geumjeonsan Mountain, bracken from Baekisan Mountain, balloon flower roots from Obongsan Mountain and deodeok from Jeseoksan Mountain. From other parts of Nagan-myeon Village we have water parsley from Namnae-ri, white radish from Seongbuk-ri and trout caught from the Yongchu Stream.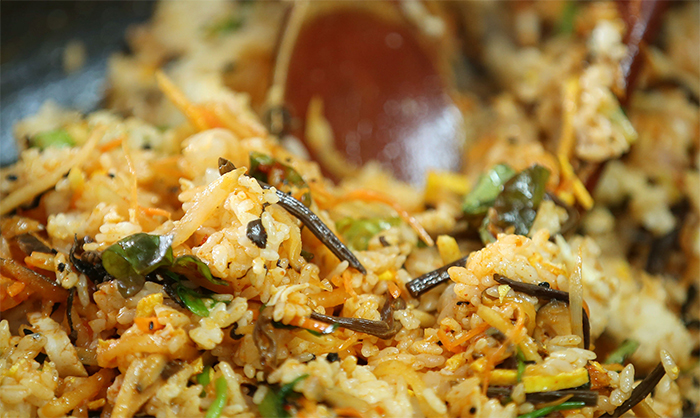 Nagan paljinmi bibimbap is a delicacy from Suncheon.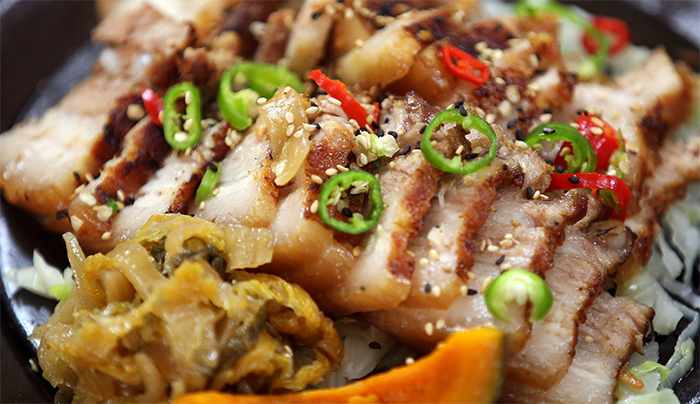 Boiled pork slices are served together with Nagan paljinmi bibimbap.
By Tae Sol
Korea.net Staff Writer
Photos: Jeon Han, Suncheon-si
taesol@korea.kr
RELATED TOUR
K-Travel Bus:South Jeolla Province