It is totally Worth A Visit, Andong Hahoe Folk Village
Koreans Feeling proud of this well-preserved traditional village, other visitors to this town should get to know about this UNESCO Heritage site. It's never easy to be designated as a UNESCO Heritage site, though, Andong Hahoe village has got 4 features among 10 UNESCO requires. Its outstanding universal value has made it a Must-See town in Korea, even if it's a little far from Seoul, compared to other satellite cities.
You will meet and see thousands of Korean traditional masks as well! Very Unique!
Andong Hahoe Folk Village Tour
minimum Pax: 4
Time Required:08:00 ~ 18:00
Fee: 250,000won p/p
Course: Hotel – Buyongdae – Andong Hahoe Village – Byeongsan Seowon – Bongjeong Temple – Seoul
Andong Hahoe Folk Village
Hahoe Village is home to descendants of the Ryu clan of Pungsan and is well-known for its traditional houses. Birthplace of renowned scholars of the Joseon Period such as Gyeomam Ryu Un-ryong and Seoae Ryu Seong-ryong, the village became even more famous after Queen Elizabeth of England visited on April 21, 1999.
Hahoe Village, along with Yangdong Village in Gyeongju, was added to the UNESCO World Heritage List under the category of ¡°Historic Villages in Korea¡± on July 31, 2010.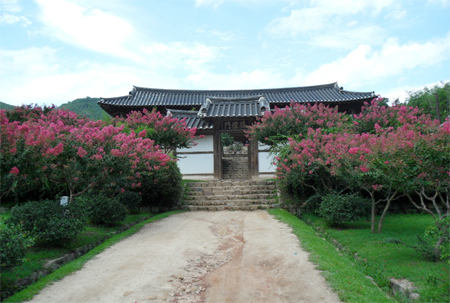 Byeongsan Seowon
At first, this Seowon(a local private school) was located in Pungsan-hyeon, with the name of "Pungak Seodang" for teaching local Confucianists since Goryeo Age. In 1572(5th year of Seonjo) Master Seoae Ryu Seongryong moved it to the present location.
In 1607, Seoae died and local Confucianists like Jeong Gyeongse enshrined a memorial tablet for Seoae and dedicated Jondeoksa(a memorial shrine for Seoae) for the memorial of studies and morality of Seoae in 1613(5th year of Gwanghaegun). The name was changed to "Byeongsan Seowon" in 1614.
In 1620(12th year of Gwanghaegun), most of Confucianists insisted that the memorial tablet should be enshrined in Yeogang Seowon, a memorial Seowon for Master Twegye and they moved and enshrined there. Since then, another memorial tablet was made and enshrined in Jondeoksa in 1629(9th year of Injo). Also, Suam Ryu Jin, the third son of Seoae, was enshrined. In 1863(14th year of Cheoljong) King bestowed a name plate for Seowon and promoted to Seowon.
As a leading local school for the memorial of masters and education, many scholars studied here. Even in 1868(5th year of Gojong) this Seowon was protected despite the order of closing Confucian schools made by Daewongun. Under the Japanese Imperialism, a major repair and rebuilding was done, rebuilding a hall in 1921 and a shrine in 1937. On every Jungjeong(a lunar calendar day in the mid-week of a month) of March and September, Seowon holds Hyangsarye, a memorial ceremony.
On March 31, 1978, Seowon was declared a historical monument. Presently, Seowon is located in Byeongsan-dong, Pungcheon-myeon, Andong-si, Gyeongsangbuk-do.
Andong Hahoe Folk Village Tour
minimum Pax: 4
Time Required:08:00 ~ 18:00
Fee: 250,000won p/p
Course: Hotel – Buyongdae – Andong Hahoe Village – Byeongsan Seowon – Bongjeong Temple – Seoul
The Important Notice for Tour Reservation
– Please enter your hotel information (such as Hotel name, room number and hotel number) and E-mail address for efficient pick up on the tour day.
– After the reservation, you will receive a confirmation E-mail about the pick-up time and tour information. If you didn't receive it in 3 days, please remind us to mail@koreatourinformation.com.
Tour Condition
– All the tour includes a tour guide, Transportation (except for walking tour) and admission fee.
– Child Fare: 10 to 30% discount under 10 years old
– If you cancel your reservation on the tour day, 100% cancellation fee will be charged.
– In the morning tour, we drop off all guests at Seoul City Hall.
– We have no responsibility for your personal incidents and losses during all the tour.
– Pick up time might be changed depending on the traffic conditions.
– All major credit cards are accepted in our travel agency.