What makes contest winners fall in love with Korea
The "Talk! Talk! Korea 2015" contest run by the Korean Culture and Information Service (KOCIS) gathered together thoughts and feelings about Korea and all things Korean from our neighbors around the world.
The eight competition winners, who had submitted entries in one of the six categories, were invited to Korea on Oct. 19 as part of their Gold Prizes. They were able to see first-hand daily life in Korea and people on the streets here during their six-day time to the nation.
On Oct. 21, Korea.net came along with them on their three-day journey to Busan for three days. We sat down with a few of them to hear more of their stories about how they fell in love with Korea.
* Kubra Rendecioglu, the 24-year-old winner from Istanbul, Turkey (Hanbok designer)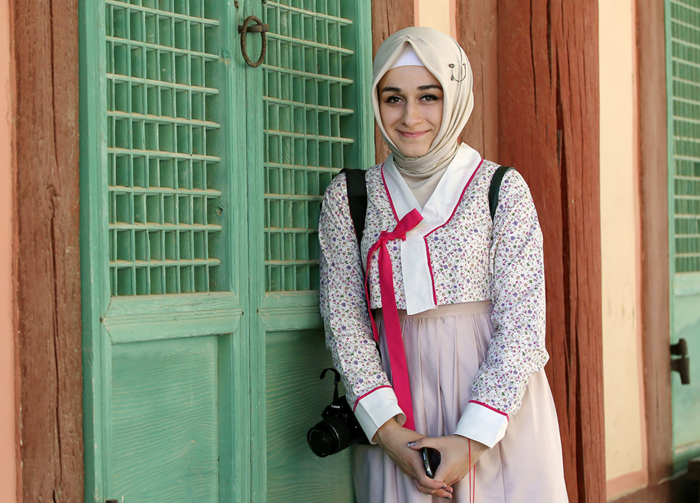 Kubra Rendecioglu from Turkey, and dressed in her own Hanbok, poses for a photo.
– How did you get into Korean things for the first time?
I stumbled across the famous soap opera "Daejanggeum" and fell in love at first sight with the traditional Hanbok worn by the cast. I currently study Hanbok clothing and create my own Hanbok designs. It's really fun. I wear my own designs back home and every time I walk around, all sorts of curious eyes focus on me and my clothes. I've heard many people say, "It's beautiful."
This year alone, I've even hosted Hanbok fashion shows twice in my hometown of Istanbul. I've gotten a lot of rave reviews and people really loved them.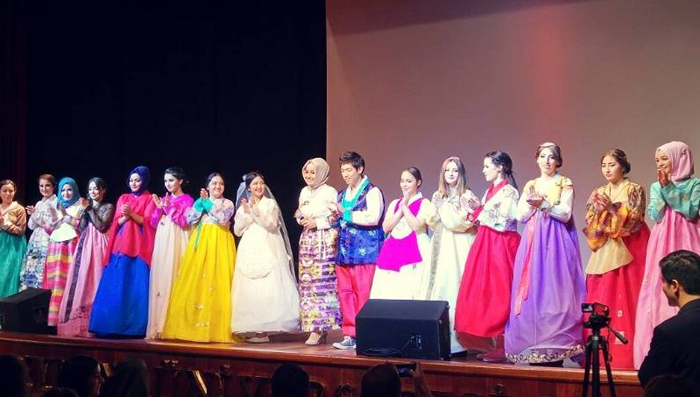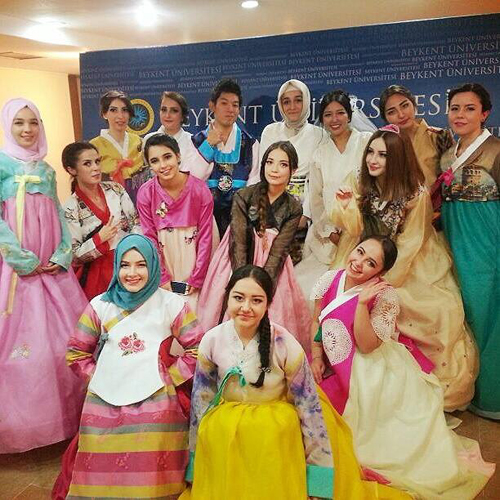 Kubra Rendecioglu, a winner from Turkey, shows her own Hanbok designs on the runway in Istanbul on Oct. 10, 2015.
– What makes you stick to Korean traditions?
I just feel happy when I design Hanbok. My dream job is to become a professional Hanbok designer. I also really want to live in this country. This is my second time to visit Korea. I came here last February and luckily met a wonderful Hanbok designer who helped me hold such fashion shows back in Istanbul. I really appreciate that. Now that I'm in Korea again, my feelings for the country and my desire to live here are stronger than ever.
– Please tell us how the Korea seen in soap operas and the real Korea you see first-hand here are different.
The real Korea I experience here in person is a surprise. I can see traditional buildings, like royal palaces and traditional Hanok homes, standing between high-rises and modern structures all around the place. The mere sight of such buildings takes my breath away. I like the modern look that the country has taken on over the past few years, but I'd like to see more traditional looks that the country has kept intact. Korean food, like rice cake in hot sauce, tteokbokki, and mixed assorted vegetables and rice, bibimbap, tastes really good. In Istanbul, there are many Korean restaurants and I've frequented some of the restaurants with my friends. I enjoy having Korean food in my homeland.
– Please tell our readers something interesting about Turkey.
There are many things I want to share, actually. What comes to mind now, however, is the small town of Uzungöl that boasts a magnificent lake. It's in Trabzon Province. You should go there when you are in Turkey. Traditional Turkish food is a must-have. The country is famous for coffee, too.
* Gabriela Petrova Georgieva, the 19-year-old winner from Trudovec, Bulgaria (student)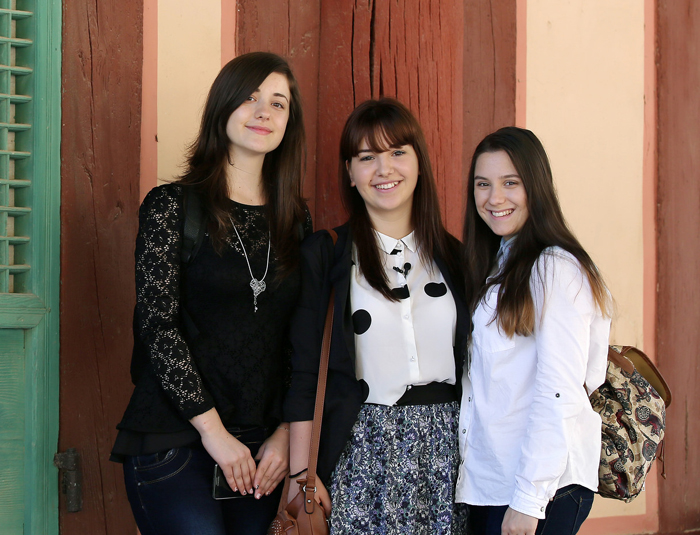 Gabriela Georgieva (center) from Bulgaria poses with her friends Dimitrina Zlatkova (left) and Dilyana Simeonova (right). The trio won in the video category of the 'Talk! Talk! Korea 2015' contest with their creation that introduces a wide range of Korean food, soap operas and even the language itself.
– When was your first encounter with Korea and with things Korean?
I learned what Korea looked like by watching numerous Korean soap operas aired on TV. One day, I saw a boy band perform. It was the famous nine-member group EXO. I was, like, head over heels in love with them. I love the lead singer Suho, in particular. He looks really handsome and kind. I like the way he takes care of the other band members. If any Korean pop concert ever takes place anywhere in Bulgaria, I definitely go.
– Please tell us how the Korea you imagined and the real Korea you see firsth-and here are different.
My two friends and I teamed up for the contest. We always dreamt of coming to Korea one day. The dream finally came true this time. This is so special to all of us. The people we've encountered here are all kind and friendly, full of smiles across their faces.
– Please tell our readers something interesting about Bulgaria.  
I'm a dancer; not professionally, but as a hobby. People in Bulgaria feel free to dance wherever they are. Just holding hands together, they tap their feet, a dance that is part of Bulgarian tradition.
* Lusiana, the 25-year-old winner from Jakarta, Indonesia (entrepreneur involved in the fashion industry)
Lusiana from Indonesia, who won a Gold Prize for her calligraphy entry, poses for a photo. Her calligraphy entry used a variety of food ingredients, such as carrots and green onions, to spell out "Daehanminguk Manse" (대한민국 만세), or, "[May] the Republic of Korea [last for] 10,000 Years!"
– When was your first encounter with Korea or with things Korean?
Many soap operas and entertainment programs from Korea have been broadcast all across Indonesia. I enjoyed some of them and suddenly fell in love when I saw the boy band SHINee. I could buy socks and souvenirs that featured SHINee.
– Please tell us how the Korea you imagined and the real Korea you see first-hand here are different.
This is the first time for me to see Korea in person. Until now, I've only seen Korea through soap operas. The real Korea is amazing. As you know, there is no autumn in Indonesia. All the color changes of the leaves to red and yellow on the trees all around me are really such a wonder. It's beautiful. I wish I could come back again soon. To this end, I will have to make more money. The next time I come back, I'll be with my mom. I've sent my mom, back in Indonesia, many pictures I've taken of my explorations here in Korea. I'm sure she'll love it, too, when she comes here to see the real Korea first-hand. It feels like my dream has come true.
By Sohn JiAe
Photos: Jeon Han
Korea.net Staff Writers
jiae5853@korea.kr