Asian TV dramas prepare for global audience
"How can Asian TV dramas capture the hearts of audiences worldwide?"
In a quest to find the answer, soap opera production experts from Korea, China, Japan, Vietnam and several other Asian countries have congregated at an annual conference.
At the 10th Asian TV Drama Conference, held this year from Nov. 4-8 in Kitakyushu, Japan, production experts presented current trends in the Asian drama industry and discussed ways to increase the competitiveness of Asian soap operas in the global market. The theme this year was "Factors Influencing Popularity and Trends in Asian TV Dramas."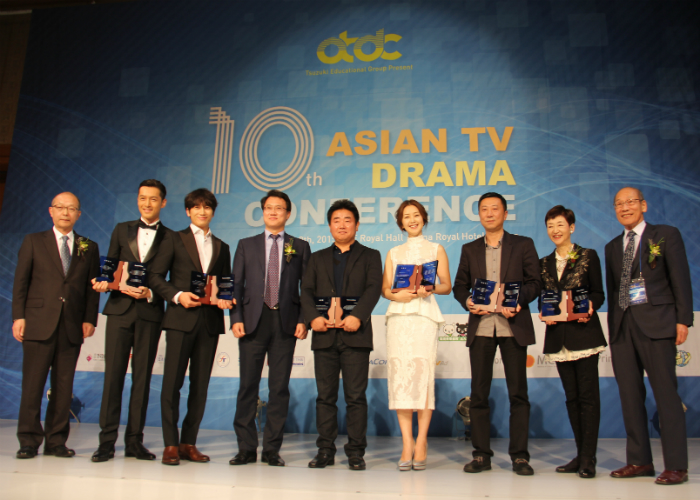 As the first event of the 10th annual Asian TV Drama Conference, commendation awards are given to Korean actor Ji Sung and to Japanese and Chinese actors and directors for their contribution to Asian TV
The Asian TV Drama Conference launched in 2006 with Korean, Japanese and Chinese TV scriptwriters as core members. It has since grown into one of Asia's biggest TV conferences. A multitude of TV scriptwriters, actors and producers attend the conference annually.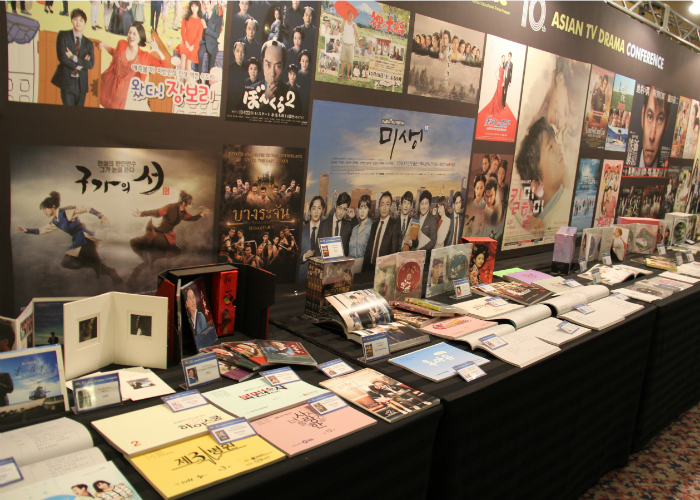 A range of Korean soap operas, including 'Misaeng,' are on display at the conference venue. This year's Asian TV Drama Conference convenes under the theme of 'Factors Influencing Popularity and Trends in Asian TV Dramas.'
In the opening ceremony, conference organizers awarded honors to Korean director You Chul-Yong of the shows 'All In' and 'Swallow the Sun,' to actor Ji Sung, to the late Japanese writer and producer Ichikawa Shinichi, to actress Fueki Yuko, to Chinese director Ye Xiaowen and finally to actor Hu Ge for their contributions to Asian TV.
During the conference, presentations were given by Korean writer Yoonjung Jung, Chinese writer Yi Liu, Vietnamese TV director Nguyen Anh Vu and Japanese writer Koshimizu Yasuhiro. They spoke about the influence of popular TV in their respective countries. Scriptwriters of the Korean show "Misaeng" and of the Japanese show "Partner" also personally gave talks about their projects. A group of Korean, Chinese and Japanese production companies and their representatives shared their opinions on current trends, history and the industry as a whole.
Minister Kim Jongdeok of the Ministry of Culture, Sports and Tourism said that he "hopes this year's conference will serve as a catalyst for cultural exchange, and that Asian dramas that capture global audiences will continue to be produced in the future."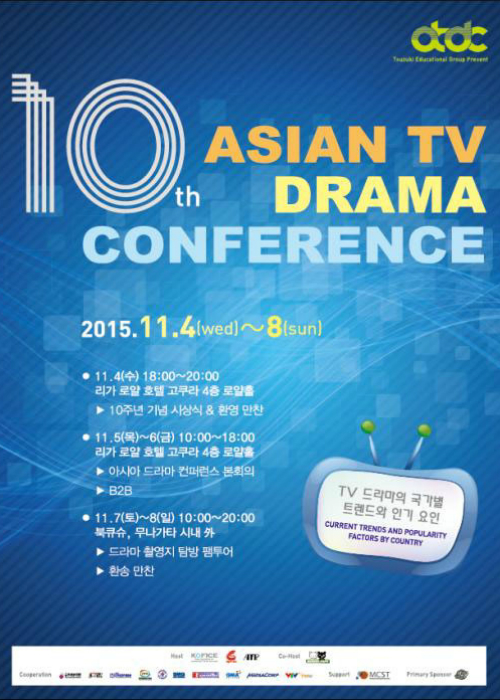 The 10th Asian TV Drama Conference kicks off in Kitakyushu on Nov. 4
By Lee Hana
Korea.net Staff Writer
Photos: Korea Foundation for International Culture Exchange (KOFICE)
hlee10@korea.kr