Modern Korea, as seen through pop music, soap operas
"After the near‐collapse of the world's financial system has shown that we economists really do not know how the world works, I am much too embarrassed to teach economics anymore, which I have done for many years. I will teach Modern Korean Drama instead," said Uwe Reinhardt, an economist at Princeton, on the first page of his plan for a lecture titled "Introductory Korean Drama."
Yes; as you may have assumed, it is a joke. The economist, who enjoys watching Korean soap operas with his family, first improvised the joke during a dinner in Hualien, Taiwan, at a conference about Korean and Taiwanese national health insurance systems. Though it was only a joke, in a later interview he said that it's a reasonable question to ask why Korean soap operas are so popular in China, Japan, Taiwan and many other parts of East Asia, and that sociologists and psychologists should study this trend.
Many scholars have, in fact, begun to study the recent popularity of Korean pop music, movies and soap operas across East Asia and elsewhere, a trend called "The Korean Wave," or shortened to "Hallyu." More and more academics are studying this wave, which was at first considered a short-term trend but which has since continued on longer than expected.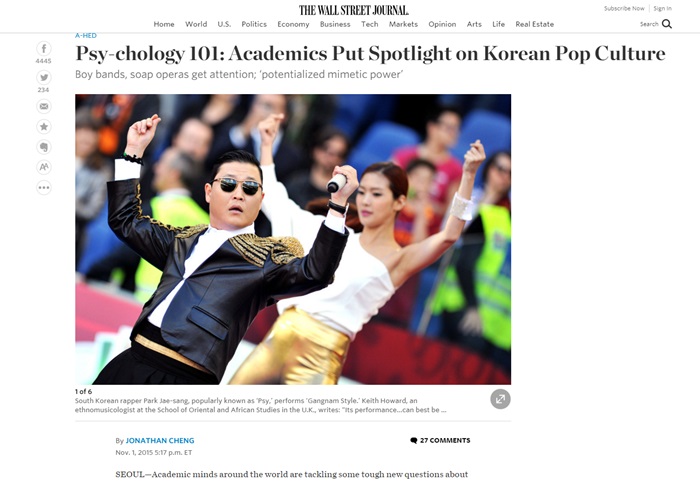 Intellectuals from around the world discuss 'the reinterpretation of locality in Korean rapper Psy's 'Gangnam Stlye." A recent academic trend that shines a spotlight on Korean pop culture was discussed in the Wall Street Journal on Nov. 1.
This recent academic trend, spotlighting Korean pop culture, was discussed in the Wall Street Journal on Nov. 1. The continuing popularity of Korean pop music and TV shows has made academics inquisitive and a growing number of Korean studies papers are focusing on this trend, the newspaper said. More peer-reviewed journals and scholarly monographs are being released, and topics in Korean study papers are now varying from the traditional topics of Buddhism, Confucianism and patriarchy, it said.
The newspaper noted the case of Keith Howard, a professor at London's School of Oriental and African Studies. Howard, who studies Korean folk music, was "shouted down" at one conference after presenting a paper on Korean pop ballads. This was at the annual conference of the Association for Korean Studies in Europe in 1999. However, he never stepped back and continued his research into Korean pop music. His paper, which was published earlier this year, analyzes Psy's "Gangnam Style" and concludes that it has "potentialized mimetic power, as a kind of reverse Saidian Orientalism."
The paper also wrote about some scholars' criticism of this trend. Clark Sorensen, a University of Washington Korean studies professor, said that while he understands younger academics are drawn to study K-pop, he himself has chosen not to do so and he doesn't care much for such research, the article said.
"Despite the ivory tower resistance, K-pop scholars may be winning the argument, as K-pop's scholarly appeal spreads within the academic community," the paper concluded.
By Chang Iou-chung
Korea.net Staff Writer
Photo: Capture of the Wall Street Journal article published online
icchang@korea.kr