Red-tinted autumnal leaves charm the visitors in Bukhansan
National Park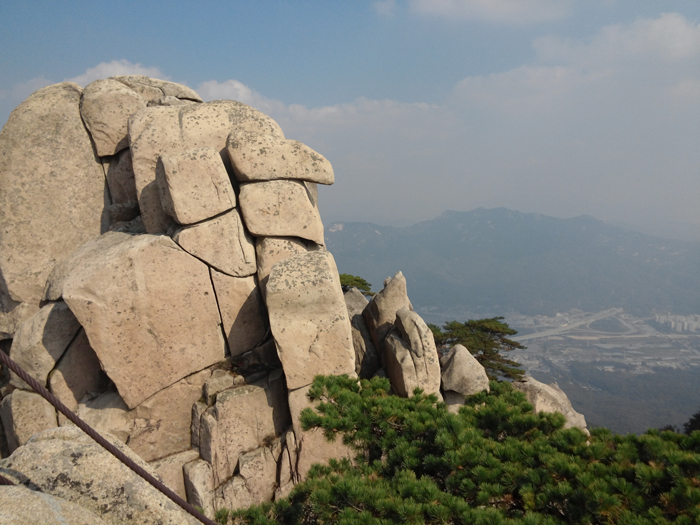 The top of Dobongsan mountain
Seventy percent of Korean territory is covered with mountains, so Korean people like to go hiking. Today I would like to show you Bukhansan National Park which is the highest mountain in Seoul and beautiful scarlet maple leaves during the hiking course. With an area of 79.9㎢, it stretches over a northern part of Seoul and Gyeonggi-do. Bukhansan National Park is divided into two areas with Uiryeong Pass in the middle: Bukhansan Mountain to the south from the pass, and Dobongsan Mountain to the north. I took the Dobongsan Mountain course close to Dobongsan subway station(Line #1 and #7) which is very easy for visitors to get there. Surrounded by urban areas, it serves as green lungs for the urban environment and provides different beauty of the city of Seoul.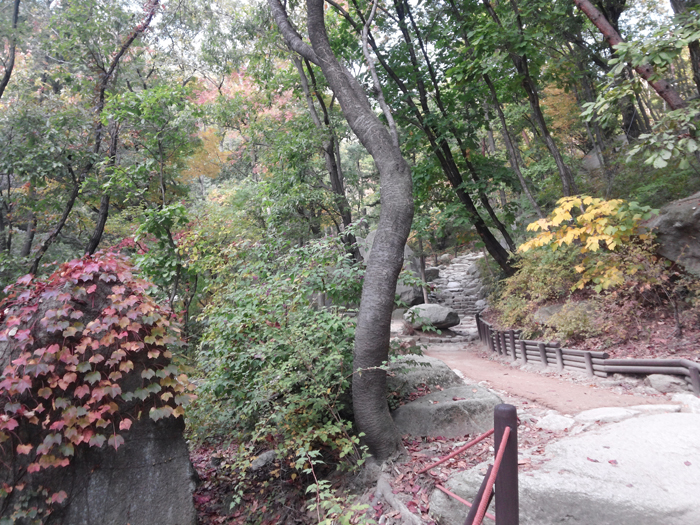 Colorful leaves welcome me.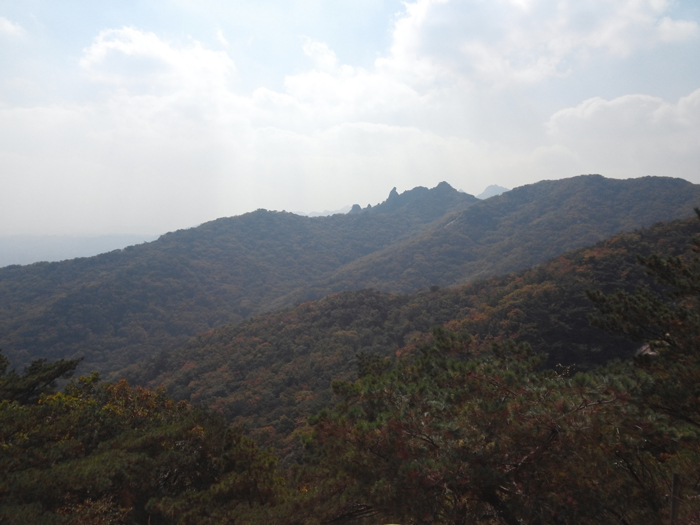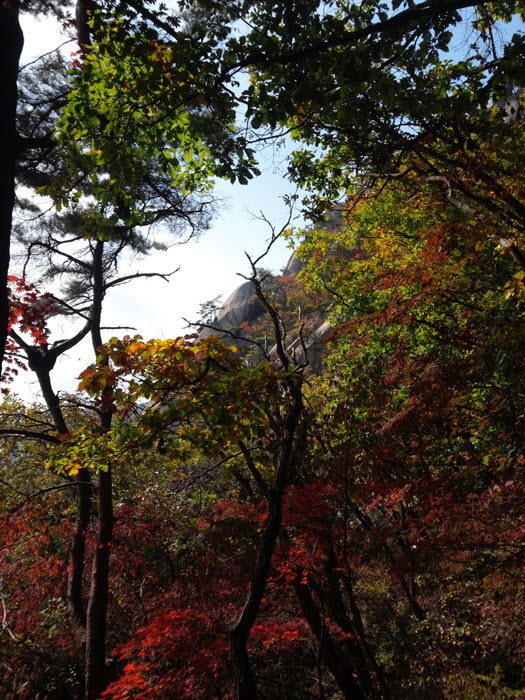 There are 4 peaks on the mountain,  Seoninbong (708m), Manjangbong (718m), Jaunbong (740m) and Shinseondae (730m). And I took Jaunbong course which is the highest peak and takes much time. Going up to the top fall foliage made me look up more and more and to feel an autumn flavor. Before long I thought I was very lucky to be here for leaf peeping in autumn. It is not a prime fall foliage season because I went here around the middle of October but you can visit Dobongsan mountain in the end of October or the beginning of November that is peak season for fall foliage.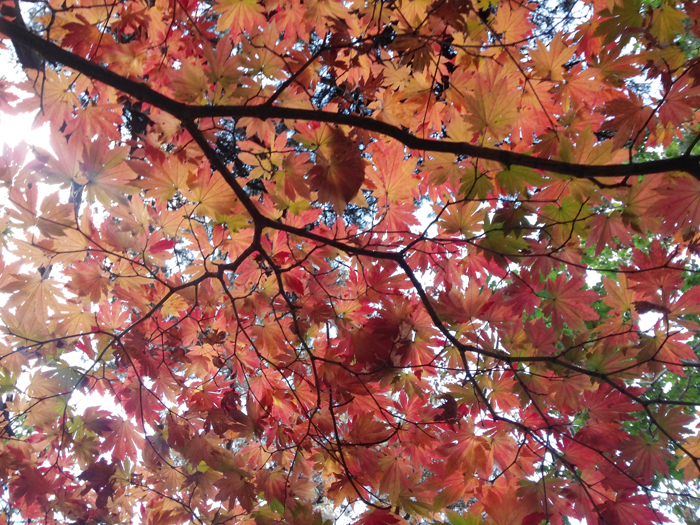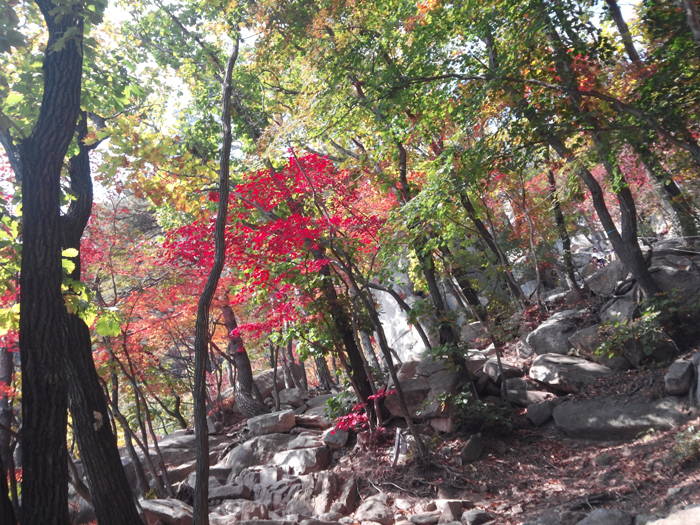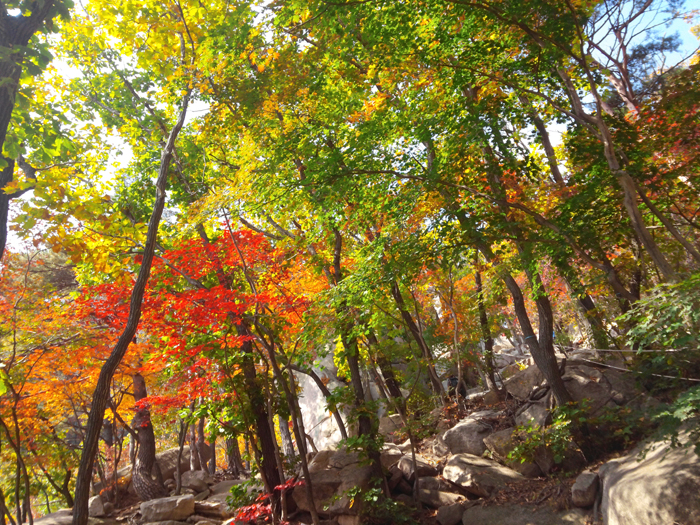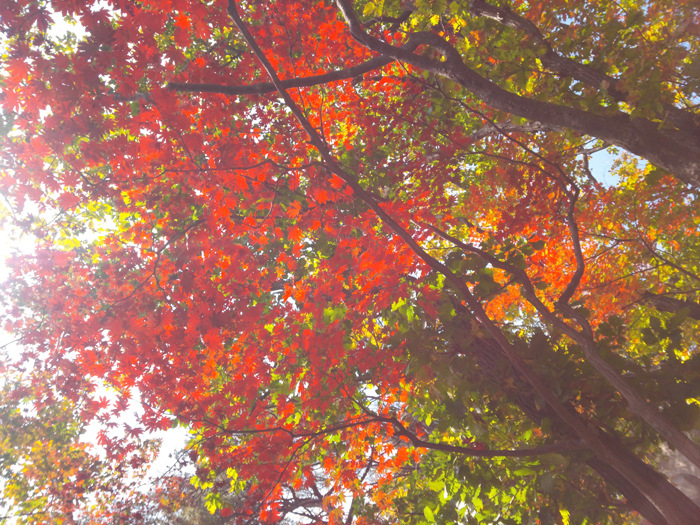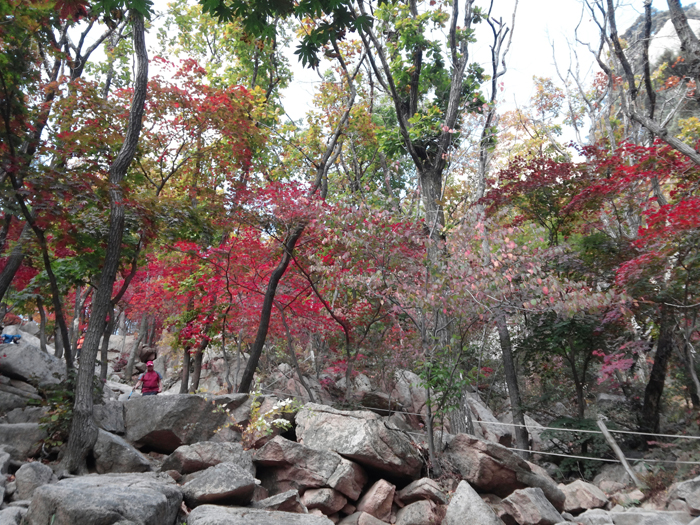 Red leaves start to dye the mountain red.
Taking a rest once in a while, I finally reached the top and a fine view got rid of my 3-hour exhaustion. Seeing the rocks of the top it looks as though God makes rocks and stack evenly for visitors to see a magnificent sight. Looking down at the top other mountain chains wore reddish clothes to warm up their bodies. Although the weather of that day was a little bit misty, the scene was beautiful enough to me and your visit date may be sunny!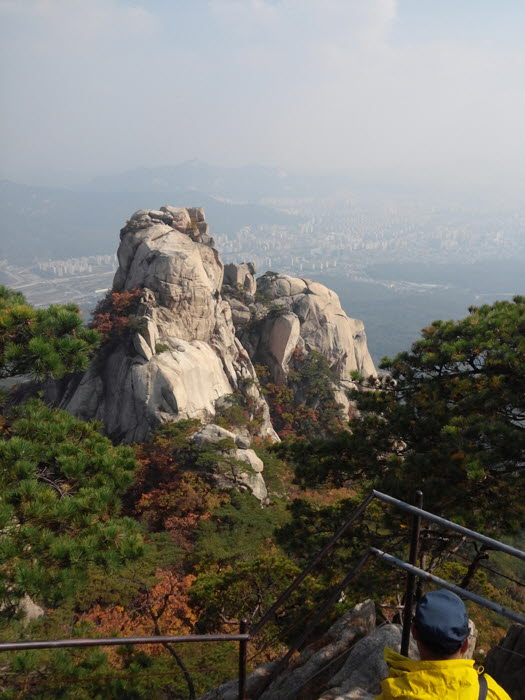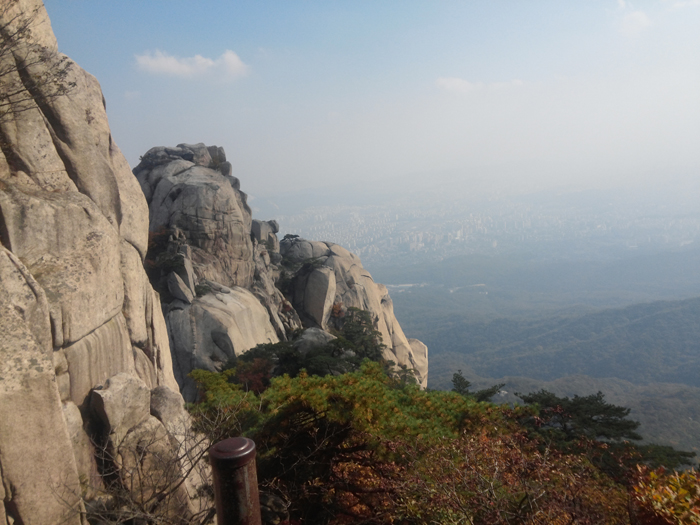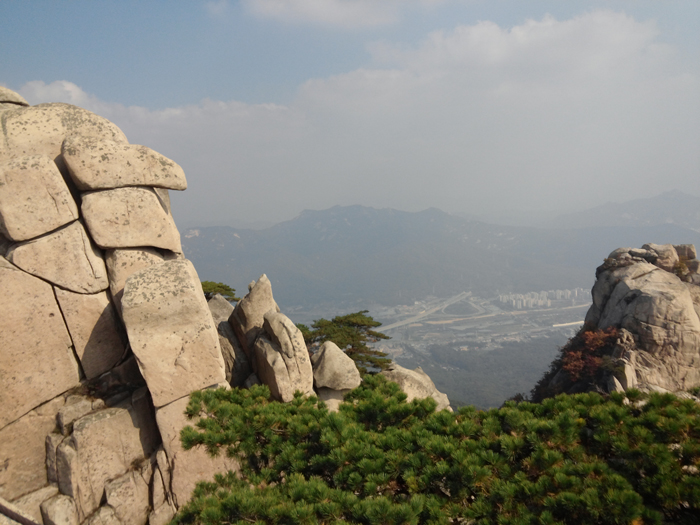 This is the end of my writing and I recommend hiking Bukhansan National Park to you. A lot of mountains in Korea wait for you. When you are in Korea, it well deserves visiting here at least once, so why not challenge?
List of famous mountains in Seoul
Bukhansan (북한산) – 836.5 meters
Dobongsan (도봉산) – 739.5 meters
Suraksan (수락산) – 637.7 meters
Gwanaksan (관악산) – 632 meters
Cheonggyesan (청계산) – 620 meters
Buramsan (불암산) – 507 meters
Samseongsan (삼성산) – 481 meters
Yongmasan (용마산) – 348 meters
Bugaksan (북악산) – 342 meters
Inwangsan (인왕산) – 338 meters
RELATED TOUR
Full Day Hiking & Sauna Tour
Mt. Seorak Tour
Teddy Lee
Photos by Teddy Lee
www.koreatourinformation.com Staff Writer
mail@koreatourinformation.com