Korean recipes: oyster tofu soup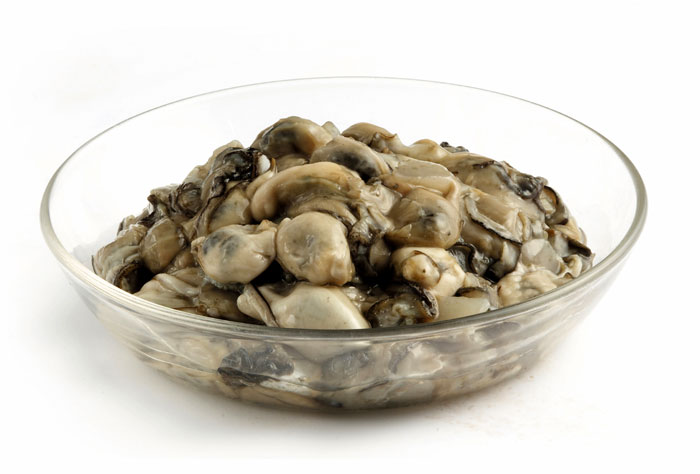 Dubbed the 'milk of the sea,' oysters are just as nutritious as milk. It is in the fall, especially between September and December, that oysters are in-season across the Korean Peninsula.
Oysters are often called the "milk of the sea," as they are just as nutritious as milk. In a geography book from Joseon times (1392-1910), the "Augmented Survey of the Geography of Korea" (1481) (Donggukyeoji seungnam, 동국여지 승람, 東國輿地 勝覽), it says that oysters were on the list of local specialties from 70 villages, none from Gangwon-do Province, which proves that oysters were consumed by many people in the past.
Oysters can be eaten raw, fried, in a soup or salted and fermented. In terms of nutrition, they go well with lemons for vitamin C, as that helps to absorb iron and prevents the loss of taurine. For this reason, raw oysters are best eaten with drops of lemon juice. As oysters are low in calories, rich in calcium and contain less fat than other foods, they are good for controlling one's weight. Oysters are good at preventing anemia, as they contain not only iron and but also copper. Oysters are also good at lowering cholesterol levels and blood pressure. In Korea, oysters are in-season from September to December, so this is the high time to enjoy oysters.
Oyster tofu soup, or guldubu-jjigae (굴두부 찌개), is a stew boiled with oysters, tofu and salted shrimp juice, orsaeu-jeot (새우 젓). It used to be eaten together with rice porridge with abalones or pine nuts.
Another main ingredient, tofu, also has a nickname. It's called "beef grown on a farm." As tofu is high in protein, it is also good for those who are conscious about their body shape. As tofu contains linoleic acid, it helps to lower cholesterol levels. Tofu contains high levels of oligosaccharides which help with bowel movements and digestion in general and help to prevent any hardening of the arteries.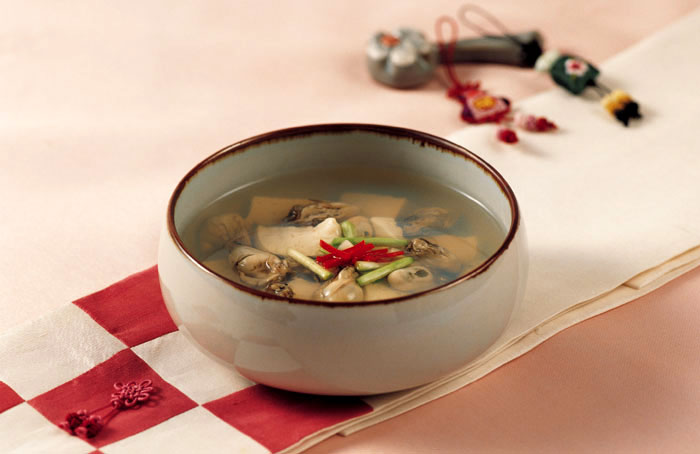 Oyster tofu soup is best enjoyed when oysters are in season on the Korean Peninsula from about September to December.
** Ingredients
100 g oysters
200 g (1 cup) water
4 g (1 tsp) salt
150 g (about a third of a cake) tofu
20 g small green onions
10 g (about half each) red peppers
5.5 g (1 tsp) minced garlic
700 g (3.5 cups) water
15 g (1 tbsp) salted shrimp juice
2 g (0.5 tsp) salt
1 g (0.25 tsp) sesame oil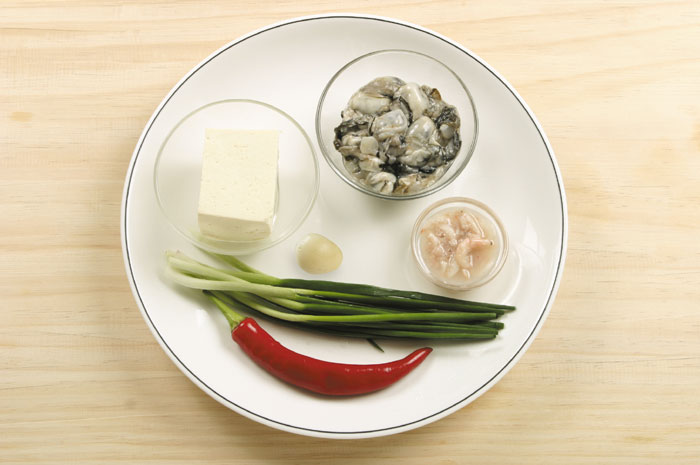 Oyster tofu soup includes oysters, tofu, small green onions and fermented shrimp.
** Preparation
1. Rinse the oysters softly in salt water and drain them through a strainer.
2. Cut the tofu into small cubes.
3. Trim and wash the small green onions and cut them into 3 cm lengths. Halve the red pepper and seed it, then shred it at intervals of 2 cm.
** Cooking
1. Pour the water into a pot and boil it for 4 minutes on high. When boiling, season it with the salted shrimp juice, add the oysters, tofu and minced garlic, and boil it for another 3 minutes.
2. When the oysters and tofu float on the surface, signifying that they're done, add the small green onions and red peppers. Season with salt, bring to a boil and then add the sesame oil.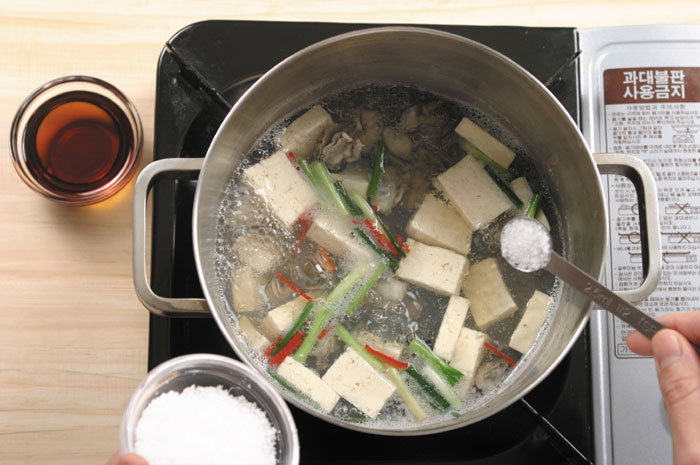 To make a clean and clear soup, don't boil it for too long after adding the oysters. You can adjust the salt according to the saltiness of the shrimp juice.
By Yoon Sojung
Korea.net Staff Writer
In cooperation with the Institute of Traditional Korean Food (ITKF)
Contents from "The Beauty of Korean Food: 100 Best-Loved Recipes"
arete@korea.kr