Korean food wins praise in Frankfurt
The age of Korean food is coming, following in the footsteps of the popularity of Korean pop music and Korean soap operas. Korean foods such as kimchi, bibimbap mixed rice and chicken ginseng soup, or "samgyetang", are all known as being healthy foods.
Reflecting such growth, the Korean Food Foundation participated in the Frankfurt Book Fair 2015 from Oct. 14 to 18. It presented various books about Korean food that it has published. The most popular titles of its 40 or so books on display were "The Korean Kitchen," "Jewels of the Palace" and "Korean Food 101."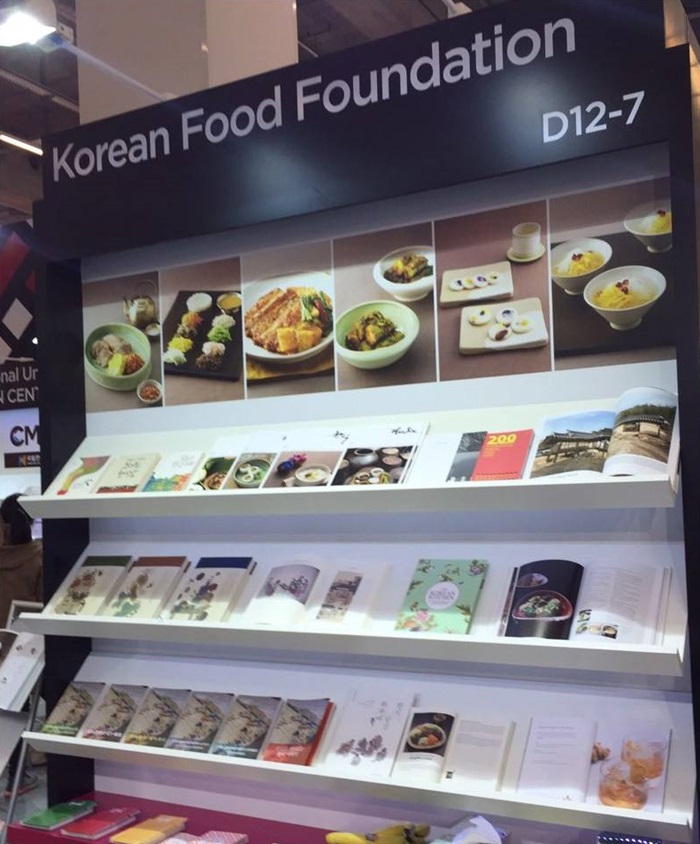 The Korean Food Foundation presents 40 different titles about Korean food at its booth at the Frankfurt Book Fair 2015.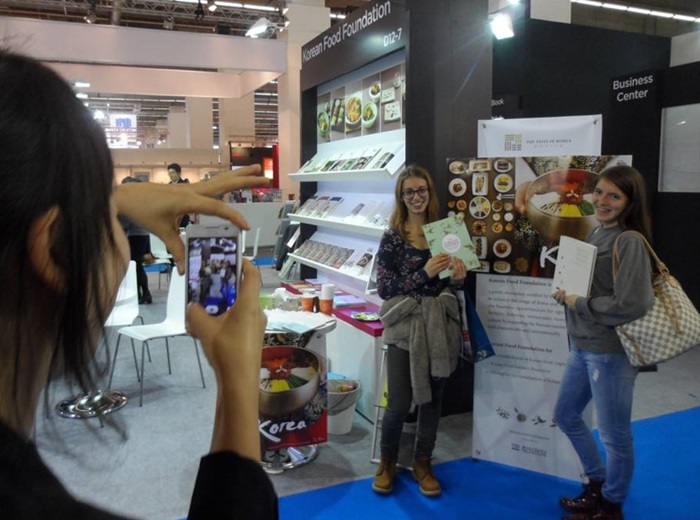 Two visitors to the Frankfurt Book Fair 2015 pose for a photo at the Korean Food Foundation's booth.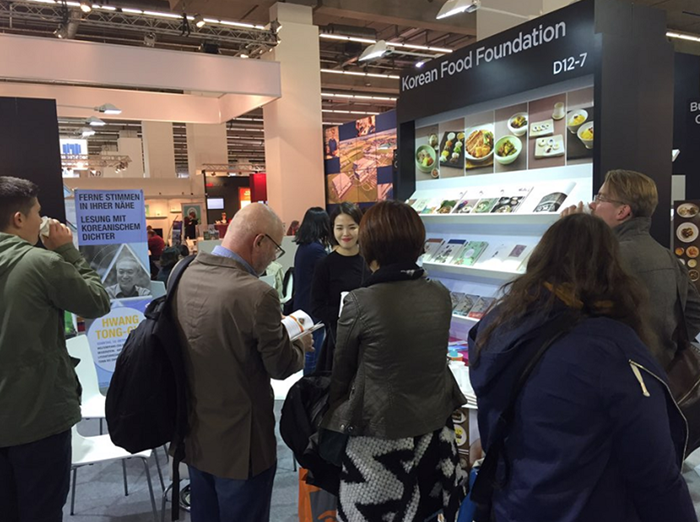 Visitors to the Frankfurt Book Fair 2015 pause to look around the Korean Food Foundation's booth.
The special events prepared by the Korean Food Foundation attracted many visitors to its booth. There was a photo zone where visitors could take pictures of Korean food items. Also, the foundation gave away traditional Korean snacks and allowed visitors to sample some traditional Korean citron tea, jujube tea, and green tea. The booth was a great success.
Many people were interested in the origins, history and appearance of Korean food. One non-Korean visitor said, "I am glad to see these books, including one about the beauty of Korean food, and I'm looking forward to seeing more books about it."
Next year, the Korean Food Foundation will also participate in the book fair's Gourmet Gallery, one of its most popular events, where it will put on a demonstration of Korean cuisine and give visitors a chance to taste real Korean food.
By Shin Jaewon
Korea.net Staff Writer
Photos: Korean Food Foundation
jennys88@korea.kr
RELATED TOUR
Korean BBQ Tour (Samgyeopsal: pork belly)
Night Market Tour
Snack and Night Korean loves