Seasons begin shift from autumn to winter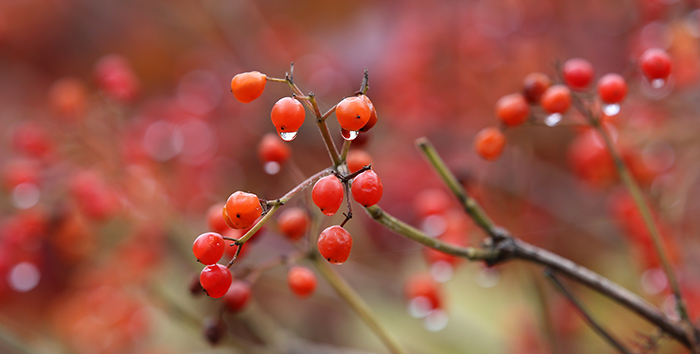 Autumn rains fall on Oct. 27. Raindrops hanging off the fruit are reminiscent of icicles. Weather forecasters predict that temperatures will drop over the weekend and that Oct. 31 will see winter-like temperatures.
The dyes of colorful seasonal foliage can be seen all across Korea, from Seoul to Busan.
People enjoy the peak of autumn over the weekend. However, as the season turns toward winter it will leave people wishing they were able to enjoy autumn more.
The rain continued through the night and into the morning commute on Oct. 27. By lunchtime, however, the dark clouds had gone and autumn sunshine had returned. A bleak autumnal wind had people wearing thick jackets, however. Forecasters predict that after the rains stop on Oct. 27, temperatures will drop. Lows over the weekend on Oct. 31 are predicted to be hovering around 3 degrees Celsius.
By Jeon Han, Gu Kyeong-ah
Korea.net Staff Writers
Photos: Jeon Han
hanjeon@korea.kr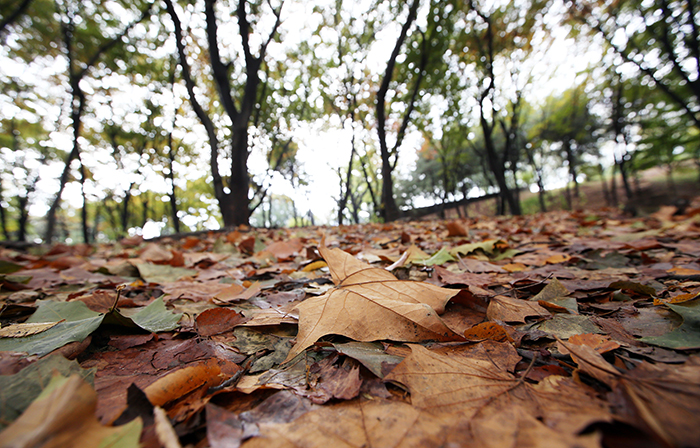 Autumn leaves fall to the ground in the rain and wind, covering the ground at the Yongsan Family Park on Oct. 27.
Red leaves and the pavilion's blue-green tiled roof are mirrored in the pond, giving off a feeling of autumn.
A couple in Hanbok walk along the path, enjoying the fall at Gyeongbokgung Palace.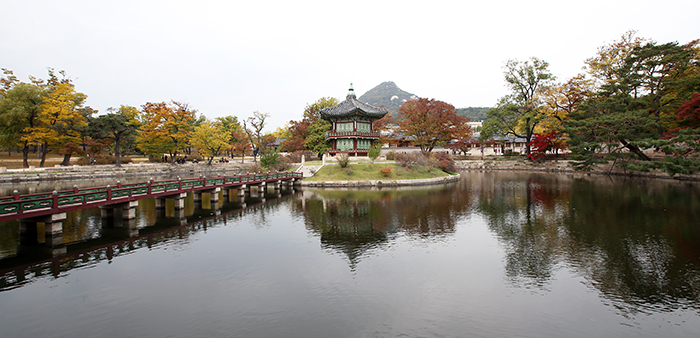 The trees surrounding the Hyangwonjeong Pavilion at Gyeongbokgung Palace change to autumn colors, welcoming those who long to have good memories of the season.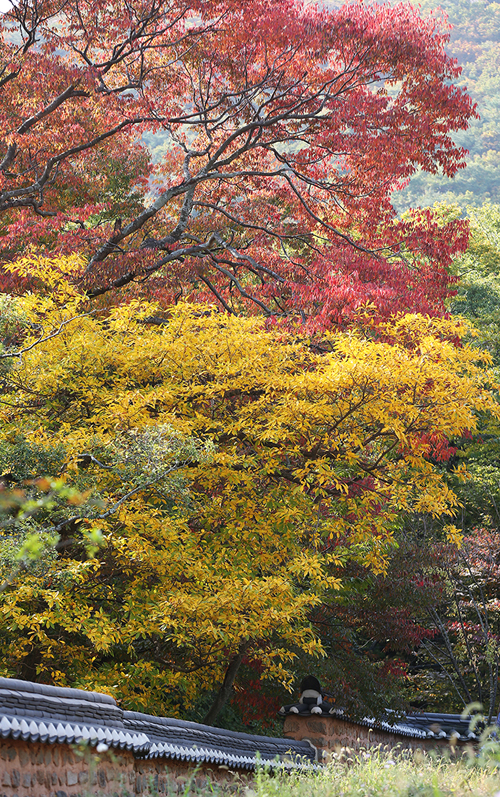 The light of autumn comes to Beomeosa Temple in Busan. Busan is a bit warmer than other Korean cities, so people will be able to enjoy the seasonal foliage in earnest around Beomeosa Temple this weekend.
RELATED TOUR
Palace Morning Tour
Full Day Palace Tour
Top Attractions of Seoul tour
Full Day National Museum & Han River Cruise Tour