German president visits Seoul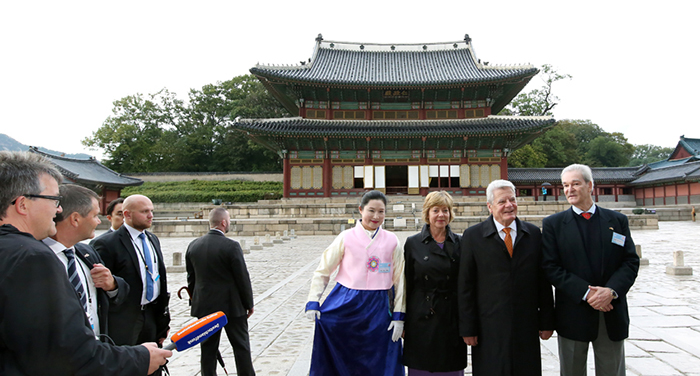 German President Jaochim Gauck (second from right) visits Changdeokgung Palace on Oct. 11, the first day of his state visit to Seoul. He poses for a picture in front of the Injeongjeon Hall at the royal residence.
German President Joachim Gauck started his state visit to Korea on Oct. 11.
His first destination was Changdeokgung Palace, a UNESCO World Heritage site in Seoul. Despite some unexpected showers, he never stopped being inquisitive about elements of traditional Korean royal architecture, such as the edge of the curved roofs, the cheoma, or their multicolored decorations, the dancheong.
During his four-day trip, a line of meetings and events are planned for President Gauck. On Oct. 12, the German president will have a summit meeting with President Park Geun-hye at Cheong Wa Dae. He will then deliver a speech at the National Assembly after attending the third meeting of the Korean-German Advisory Group, a body that focuses on foreign policies that could lead toward Korean reunification.
Throughout the meetings and events he has planned for Seoul, President Gauck will share with his hosts German experiences of reunification and discuss economic partnership between Korea and Germany.
By Jeon Han, Chang Iou-chung
Photos: Jeon Han
Korea.net Staff Writers
hanjeon@korea.kr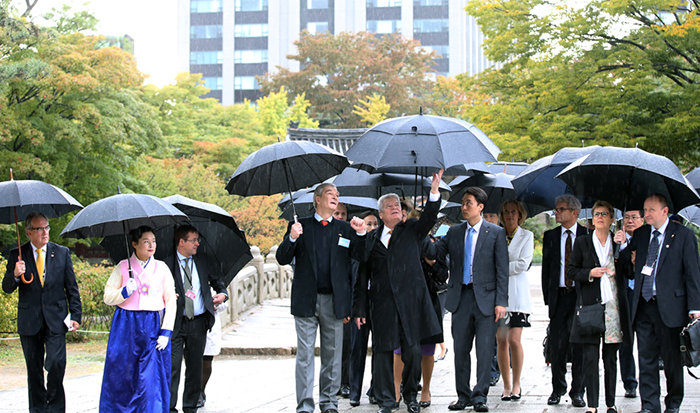 German President Gauck visits Changdeokgung Palace on Oct. 11. Crossing the Geumcheongyo Bridge, he asks about architectural elements on the halls and pavilions at the ancient Korean royal residence.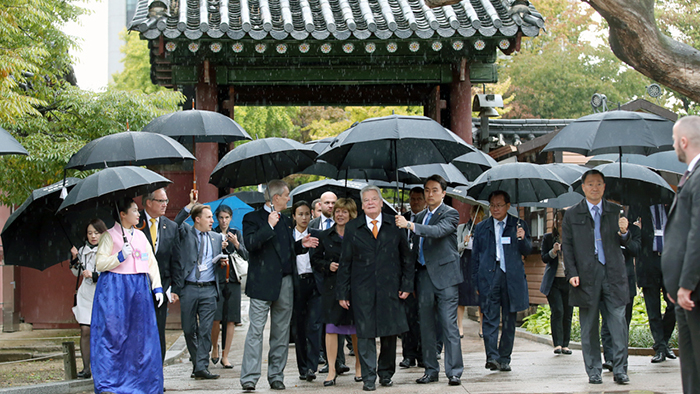 German President Gauck encounters a rain shower while looking around Changdeokgung Palace on Oct. 11.
RELATED TOUR
Changdeokgung Palace Tour
Full Day Palace Tour