Seoul Kimchi Making & Sharing Festival (서울김장문화제)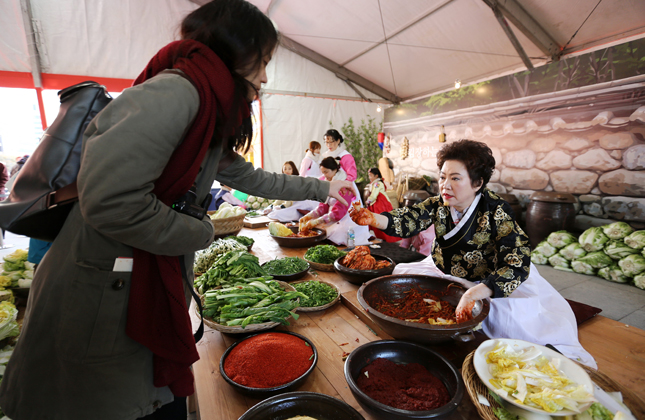 Seoul Kimchi Making & Sharing Festival is held in the area of Gwanghwamun Square. Registered as one of UNESCO's Intangible Cultural Heritage of Humanity, Gimjang (preparing kimchi for the winter) has drawn a lot of attention from all over the world. However, the culture of gimjang is slowly disappearing, as Korean culture becomes more globalized. Seoul goverment has planned this festival to revitalize the culture of gimjang, preparing almost 20 programs divided into the 5 sections of sharing, exhibition, hands-on programs, market place and food, and culture for visitors to enjoy the festival to the fullest.
Period
Nov. 06. 2015 ~ Nov. 08. 2015
Address
110, Sejong-daero, Jung-gu, Seoul
서울특별시 중구 세종대로 110 (태평로1가)
Location
Gwanghwamun Square, City Hall (Seoul Plaza) and Sejongno Park, Taepyeongno, Cheonggye Plaza
Telephone
• 1330 Travel Hotline: +82-2-1330
(Korean, English, Japanese, Chinese)
• For more info: +82-2-2133-4753
Sponsors / Management
Seoul-si
Program
Kimchi industry Exhibition, Kimchi ingredients sales booth, fermented food exhibition, symposium Opening ceremony, making kimchi, food, cultural experiences and more.
Performance Time
10:00-18:00
Admission/Participation Fees
Free
* Participation fee charged for certain programs.
Additional Events
Ministry of Oceans and Fisheries of Korea
Program Details
Handmade kimchi festival (sharing)
– World Kimchi
(Kimchi Market, food street, community markets, international youth exchange market)
– Kimchi Cultural Village
(exhibitions, hands-on experiences, performances, children's experiences)
How to Particpate
[Seoul Square]
– Address: 31, Taepyeongno 1-ga, Jung-gu, Seoul
– Subway: City Hall Station & Jonggak Station (Seoul Subway Line 1) / Eulji-ro 1-ga Station (Seoul Subway Line 2) / Gwanghwamun Station (Seoul Subway Line 5)
– Bus: 600, 607, 1002 Gimpo, 8600 Gimpo (Get off at City Hall Station Bus Stop)
[Gwanghwamun Sqaure]
– Address: 1-68, Sejongno, Jongno-gu, Seoul
– Subway: City Hall (Seoul Subway Line 1) / Gyeongbokgung Station (Seoul Subway Line 3) / Gwanghwamun Station (Seoul Subway Line 5)
– Bus: 109, 606, 706, Jongno 09, Jongno 11 (Get off at Gwanghwamun KT Bus Stop)
[Cheonggye Plaza]
– Address: 14-1, Seorin-dong, Jongno-gu, Seoul
– Subway: City Hall Station & Jonggak Station (Seoul Subway Line 1) / Gwanghwamun Station (Seoul Subway Line 5)
– Bus: 101, 402, 405, 501, 506, 1711, 7016, 9409 (Get off at Seoul News Company Bus Stop)
[Sejongno Park]
– Address: 80-1, Sejongno, Jongno-gu, Seoul
– Subway: Gyeongbokgung Station (Seoul Subway Line 3) / Gwanghwamun Station (Seoul Subway Line 5)
– Bus: 103, 150, 401, 99, 1002, 111 (Get off at Sejong Center Bus Stop)
[Taepyeongno]
– Address: Taepyeongno 1-ga, Jung-gu, Seoul
– Subway: City Hall Station (Seoul Subway Line 1) / Eulji-ro 1-ga Station (Seoul Subway Line 2) / Gwanghwamun Station (Seoul Subway Line 5)
– Bus: 600, 607, 1002 Gimpo, 8600 Gimpo (Get off at City Hall Station Bus Stop)
700, 707, 1000 Goyang, 1200 Goyang, 2000 Paju, M7106, M7111 (Get off at Seoul News Company Bus Stop)
Homepage
seoulkimchifestival.com
(Korean only)
MAP