A night in a traditional home gives great respite
Nowadays, many tourists flying to Korea travel much further than just hitting the well-known tourist destinations and places that spotlight pop music, soap operas and other content.
During their time here, they enjoy new opportunities to experience in-person how people in the past lived in a traditional manner. One of those opportunities is to spend a night at a traditional Hanok bed & breakfast.
Hanok homes are constructed following the rules of traditional architecture. Their pillars and floors are made of wooden blocks, while their walls are set up with earth mixed with straw. Covering the windows are sheets of traditional Hanji mulberry paper. A giwa, the traditional tiled roof, completes the traditional home.
These Hanok homes are also known for their effectiveness in both heating and cooling. They are equipped with an under-floor heating system, known as ondol, which gives warmth throughout the room during the chilly winters. The wood-floored halls, called maru, connecting one room to another, help to cool off in the summer time.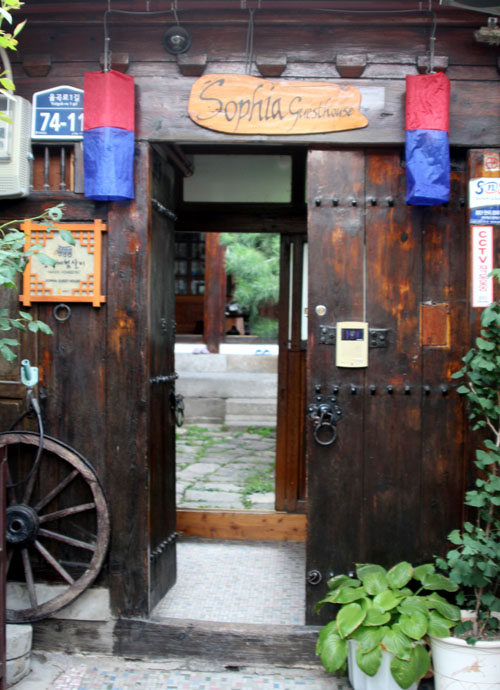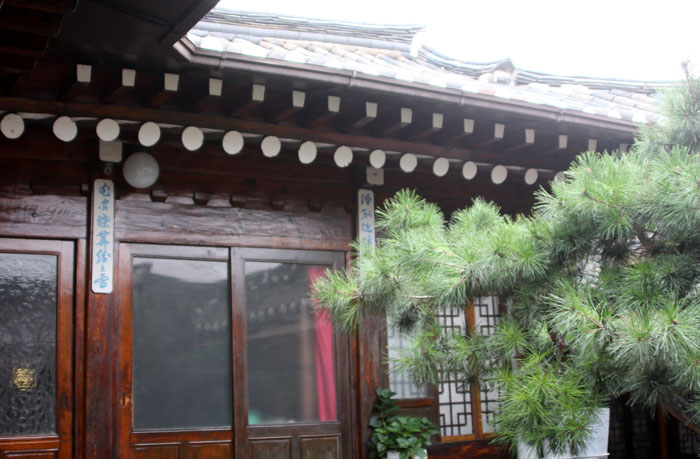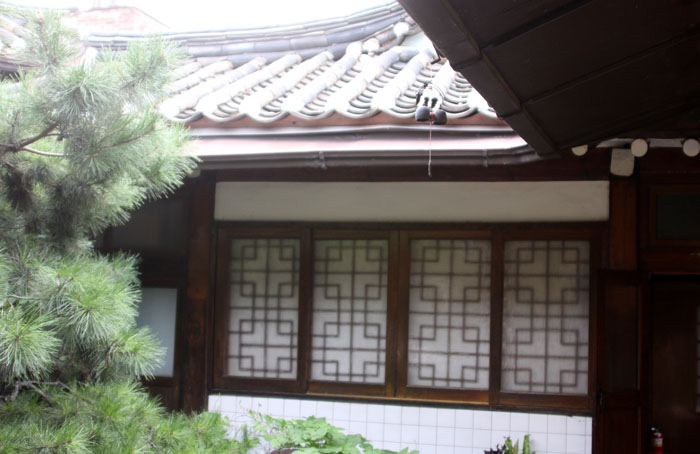 The Sophia Guesthouse, one of the Hanok bed & breakfasts in the Bukchon Hanok Village in Seoul, gives visitors the rare chance to enjoy a traditional way of life in an old Hanok home.
It may be an uncomfortable experience for some modern people who have gotten used to Western-style homes, but nothing can give a good understanding of Korea's traditional life than a night in such a Hanok home.
The Bukchon Hanok Village in Jongno-gu District in northern Seoul is home to a range of guesthouses based in Hanok buildings, places that give tourists just such an experience.
Seo Jung-a has run one of these Hanok guesthouses in the neighborhood for seven years. Seo's Hanok home has more than 150 years of history, dating back to Joseon times.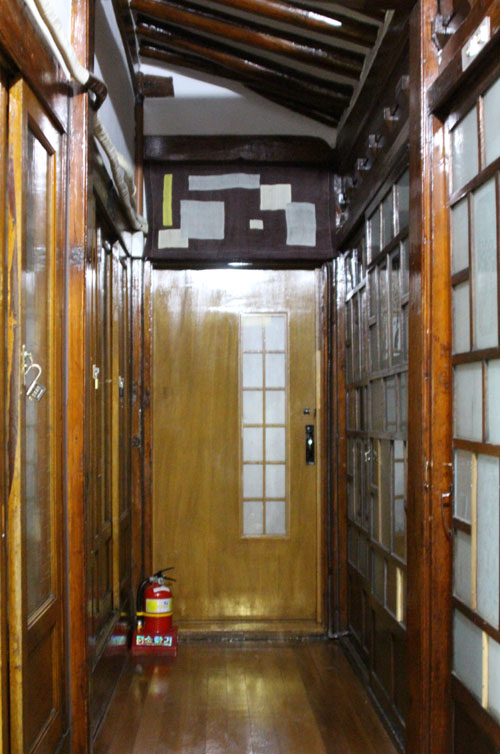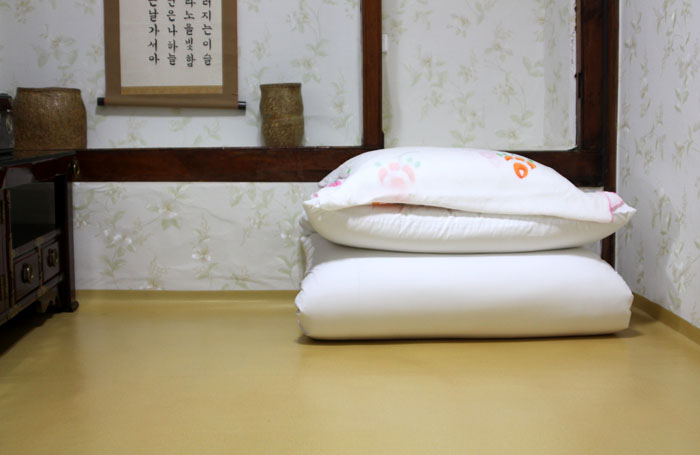 A Hanok building's traditional under-floor heating system, ondol, helps residents keep themselves warm in the winter.
"Many people expect that a night in a Hanok would cause them to twist and turn in bed. Instead, many guests of mine wake up in the morning feeling recharged," said the owner. More than 80 percent of the guests coming here are non-Korean tourists, she said.
"My guests sooner or later become my family," said Seo. "I once had a guest from Taiwan and we soon became close friends. A few years ago, I even flew to Taiwan to attend his son's wedding. We are like family," she said, sharing one of her anecdotes since she started her business.
Among her other guests, there have been lone travelers at first who visited the place again a few years later, this time with friends or family members in tow. The ties that are made at her B&B are not a "one-off" thing, but sort of a circulation of relationships.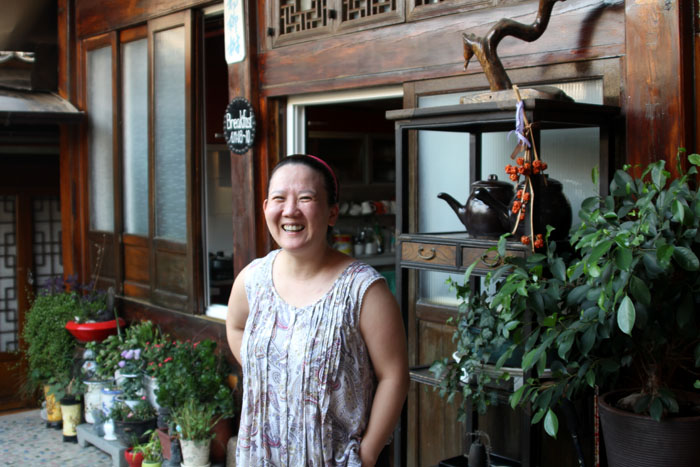 Seo Jung-a has run a Hanok guesthouse for just over seven years in the Bukchon Hanok Village in Seoul. She says that, 'My guests have become my family and we have continued the relationship to this day.'
Seo hasn't used any specific method to promote her business. Nevertheless, she has had a constant flow of customers over the past few years. People outside of Korea get to know her bed & breakfast by word of mouth, usually from one-time visitors to her home.
"I recently see many guests coming from France and Germany. I later found out that they've gotten to know my guesthouse by reading local blogs or travel guides," Seo said. "Many lodgers here commonly say that, 'It feels like my home.' Despite inconveniences you have to endure here, compared to fancy hotels, there's warmth and hospitality here that you can only feel at a Hanok home. This is the reason why people keep coming," she believed.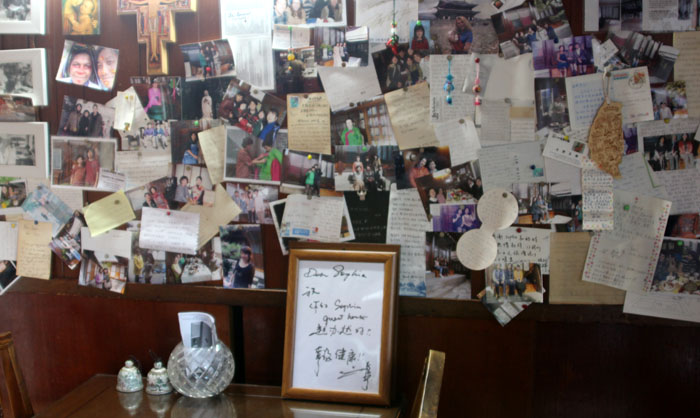 Pasted on the wall in the kitchen at the Sophia Guesthouse are a series of messages and photos sent to the owner by her range of international guests.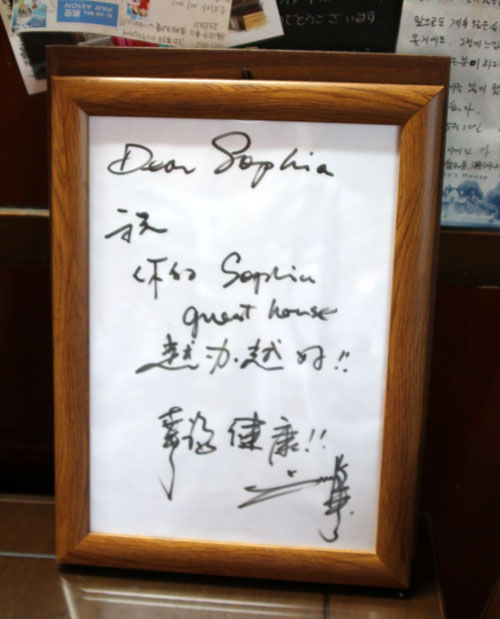 A Chinese guest who once stayed at the Sophia Guesthouse in the Bukchon Hanok Village sends an autograph of her favorite Hong Kong actor, Andy Lau.
The guesthouse has a total of nine rooms, with four two-person rooms and five single rooms. A simple breakfast with toast and salad is on offer, too. Reservations can be made via Kozaza.com, an accommodation site (www.kozaza.com).
Kozaza.com runs a range of events to attract more tourists to Hanok B&Bs. The company offers from a 10 to a 50 percent discount, depending, off the original room price at a select group of guesthouses in the Hanok village. It also provides a discount coupon that can be used at nearby restaurants, coffee shops and traditional tableware shops, or for a ride on a cycle rickshaw to travel the alleys of the neighborhood. For more information on these and other promotional events, please click the link below.
https://www.kozaza.com/ko/page/bukchon_event2015
** How to get to the Sophia Guesthouse **
Depart from Exit No. 1 of Anguk Station (subway Line No. 3) and walk straight → Turn right at the "Olive Young" cosmetic store on your right → Walk down Gamgodang-gil Street → Turn left at the Leehwaik Gallery → Go straight and you find the guesthouse on your right.
– Address: 157-1 Sogyeok-dong, Jongno-gu District, Seoul
– Contact: +82-2-70-7220
– E-mail: sophiagusthouse@gmail.com
By Sohn JiAe
Photos: Wi Tack-whan
Korea.net Staff Writers
jiae5853@korea.kr
RELATED TOUR

Bukchon Hanok Village Tour
Bukchon Hanok Village & Tong-In Market Walking Tour