Three places for beautiful photographs while traveling in Seoul
Is there anybody who would like to specially photograph the beautiful Seoul in your camera?
Gangnam, Myeongdong, Hongdae. That is the most popular place to travel Seoul among travelers. But, I think there are also the people who finding something different & new places which travelers don't know well, only Koreans know. Except Gangnam, Myeongdong, Hongdae area, there are also many attractive places to make your special memories at a moderate distance from those areas.
I will introduce some good places to take photos and make special memories with your friends, family or sweetheart.
Today, the place where I would like to show you is the west side of Seoul near Hongdae, Hapjeong area.
Let me show from now on. Follow me!
[1] Seonyudo Park (선유도 공원)
     The green resting place and ecological park for citizens in downtown Seoul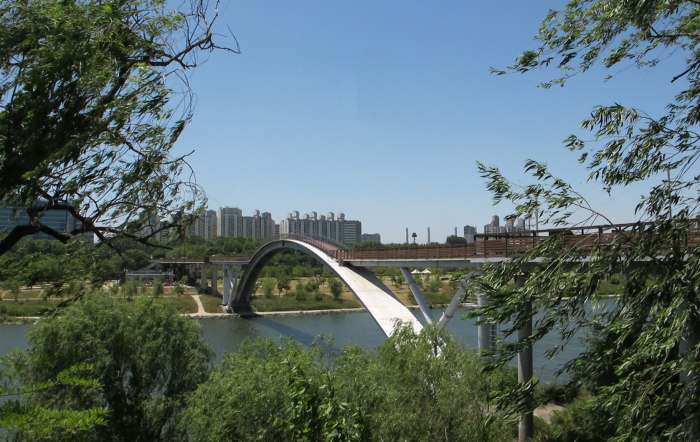 A small green island in Han River, the Seonyudo Park is one of attractions which makes a beautiful scene of Han River.
The park is in harmony with Han River in the urban place. You can experience all four seasons by well-kept gardens with 118 species of trees, grasses, and flowers. A grove of birch trees and the street of cottonwoods are nicely laid out.
Leaving from Seoul is not only things you can enjoy the nature. In Seoul, there are around 10 ecological parks and the Seonyudo Park is one of 10 parks.
Sometimes, the old one is more beautiful than the new one. The structures and buildings of the water purification plant were renovated to create a place where visitors can relax and take in the beauty and history of the natural surroundings.
It is located near Hongdae area which is heart of Seoul. Try to visit here, feel relaxed as well as take many beautiful photos.

It's the entrance of Seonyudo Park from bus station. From the bus stop of Hapjeong station, take No. 603, 7612, 5714 and take off the station of Seonyudo Park. It's just one stop to the park from the Hapjeong station station.Another way to the park is taking the subway Line 2, Seonyudo Station. Walk for 7 minutes from Exit 2.

It's the entrance part of Seonyudo Park. You can see also the graffiti of the wall.

If you keep going to inside, you can see the view of the Hangang river bridge.

It's a Seonyugyo, the bridge, which is pedestrian-only. It is popular for its spectacular night views created by colorful lights projected onto the bridge.
Address 343, Seonyu-ro, Yeongdeungpo-gu, Seoul (Dangsan-dong)
Directions Walk for 7 minutes from Exit No. 2 of seonyudo Station (Subway Line 2) / Take the Bus No. 603, 7612, 5714 from Hapjeong station and get off at the bus stop 'Seonyudo Park' after one stop
Nearby Spots Yeouido Hangang Park, Hapjeong-dong Café street, Hongdae Street, Haneul Park (Sky Park), Yeongdeumgpo Times Square, and D-Cube City Department Store
Map
[2] Sangam-dong MBC Star Park – The film location of the Movie 'Avengers'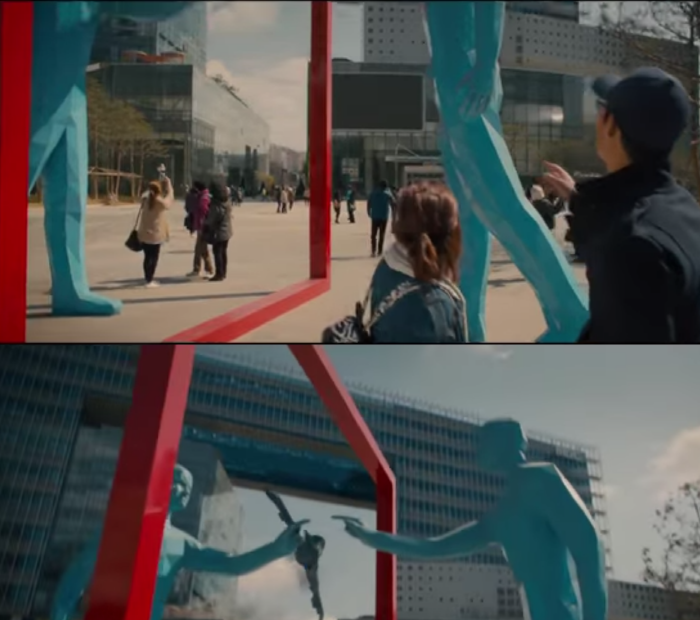 Captured from YouTube. Of the trailer "Avengers: Age of Ultron"

The action and adventure movie "Avengers: Age of Ultron" was released in April. The Seoul was given as a film location. Among 6 spots, the Digital Media City is one of film locations in Seoul. The Star Park is designed as a center for Korea's entertainment and media industries. Broadcasting companies such as MBC, SBS, YTN and CJ&M center are gathered in one place. Especially, the sculpture is very impressive in this area. The sculpture "World Mirror" which has the meaning of "Communicate with truthful and transparent.", became the symbol in this area.


Have a look the ground closely. You will find out the hand printing of Korean celebrities such as Yunho of TVXQ, Jung Yong-Hwa of CNBLUE and BOA who are the Korean wave singers.

MBC Mall Plaza
The MBC Mall Plaza, which is in the form of spaceship, has the concept of geometric construction. There are some lots of stores such as restaurants, cafés, and beauty shops, etc.
Address 267 Seongam-ro, Mapo-gu, Seoul
Directions Walk for 10 minutes from Exit No. 9 of Digital Media City Station (Subway Line Airport Railroad)
Nearby Spots Haneul Park (Sky Park), Nanji Hangang Park, Seonyudo Park, Hongdae Street, Hapjeong-dong Café street
Map
[3] Haneul Park (Sky Park)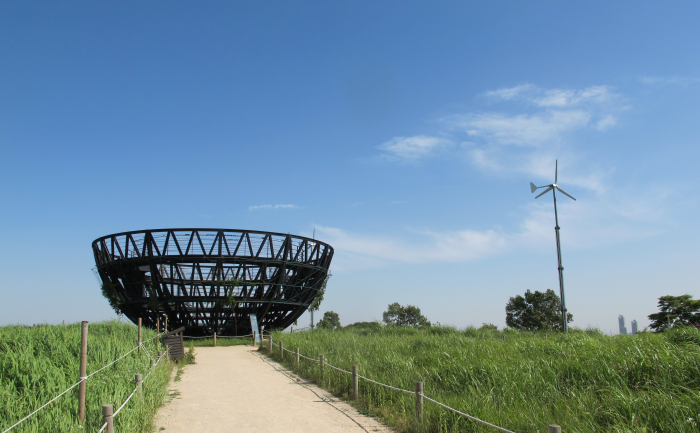 It's the place that I really want to recommend to you to take a photograph in your camera. Not far from the MBC Star Park, the Haneul park has such a beautiful and breathtaking scenery. Visitors will be met views of downtown Seoul in every direction with Namsan Mountain, 63 Building, Han River and even N Seoul Tower.
The representative thing is "The bowl which holds the sky (하늘을 담는 그릇)" as the picture above.


Near the parking lot, you can see the ticket booth which you can take a small bus to the Sky Park. It must be hard getting to the park by walk. I would like to recommend to you to take the bus. It costs KRW 3,000 for round trip.


On the day that I visited the Sky Park, it was blustery. The sounds of silver grasses, quivering in the wind, made me feel relaxed. The beautiful scenery and the sound of nature are mixed and that made me feel more peaceful and relaxed. So, I could enjoy taking photos more than other days. Everybody come and enjoy the nature in Seoul.
Address Visitor Information Center, 95, Haneulgongwon-ro, Mapo-gu, Seoul
Directions Exit No. 1 of World Cup Stadium Station (Subway Line 6) – go straight to the main street – cross the street at the crosswalk (Pyeonghwa (Peace) Park starts here) – use the Haneul Stairs or the sloping road.
Nearby Spots World Cup Park, Hongdae Street, Hapjeong-dong Cafe Street, and Ewha Women's University Fashion Street
Map
I introduced total 3 spots for taking such as awesome photographs in West side of Seoul. Situated at a place with amazing scenery, professional photographers also often visit these areas. I would lie to recommend to you who want to have beautiful pictures of a trip to Seoul. You will never regret visiting here.
By Hanna, Kwak
Photos by Hanna Kwak
www.koreatourinformation.com Staff Writers
lee2@seoulcitytour.net