Ihwa Mural Village, The place tradition and modernity coexist

Seoul has such a long history and also this city has been completely modernized now. After the horrible Korean War in 1950s, almost all buildings had been ruined. Nevertheless, this city started to develop rapidly. In middle of it, there is the Ihwa Mural Village that I'm talking about today. After the Korean War in 1950s, the Ihwa Mural Village, built by the people who found out living foundation, has become a poor area. It was hard to get water supply in this village well.
Recently, The Ihwa Mural Village has completely changed. In 2006, on the walls and the alleys, variety of colorful drawing has painted to change the village's atmosphere from poor village. It's called Mural Village. What can we hide by the colorful paint? In this area, there were ordinary people's lives that we cannot hide by paining and the unique landscape by the poor village.
Although, it's good to look around the palaces of Seoul, if you would like to feel the recent past of Seoul, I would like to recommend this area to you. In this area, people at that time still live here. The time seems to stop in 1960s. You can experience the real life of Korean in Ihwa village more than Myungdong, Hongdae, and Gangnam which is filled with tall buildings. You can have your own special memories here that other travelers didn't experience.
Enliven Ihwa Mural Village
From the exit 2 of Hyehwa station, pass the Marronnier park in Daehak-ro(대학로) and walk along the hill. Then you can see houses, its Ihwa village. It used to be a famous dating place among young people. For that reason, I could hear the lively voices and there were a few of people and foreigners taking pictures in front of murals.
Please Be Quiet. People Live Here.

There is one thing you need to be aware of before looking around here. You shouldn't forget this place is the village people live. While going around, you would see these phrases. You can take a picture as many as you can, but please be quiet for the people who living here.
How to get to the Ihwa Mural Village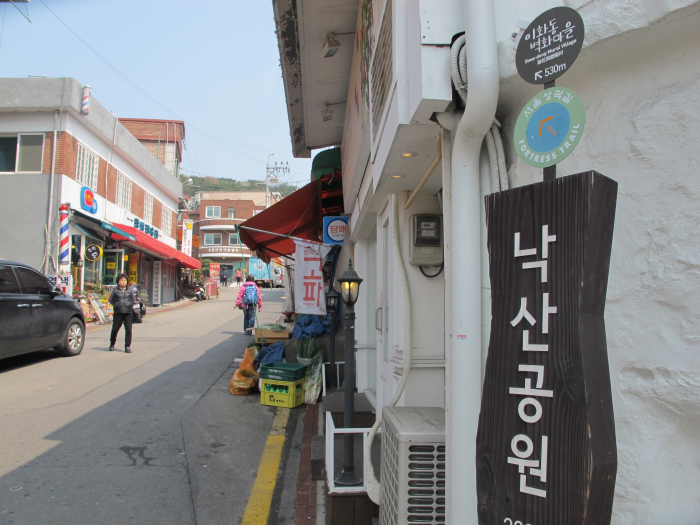 From the exit 2 of Hyehwa station, pass the Marronnier Park. Then you can see directional signs to Ihwa Mural Village. If you follow this signs, you can see many pretty murals.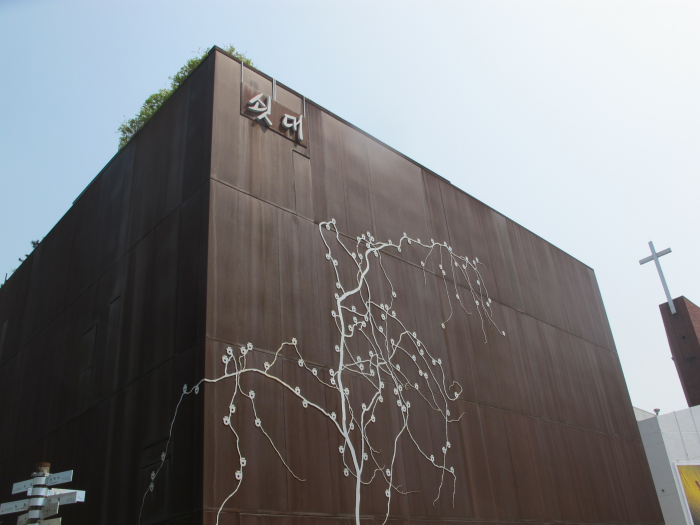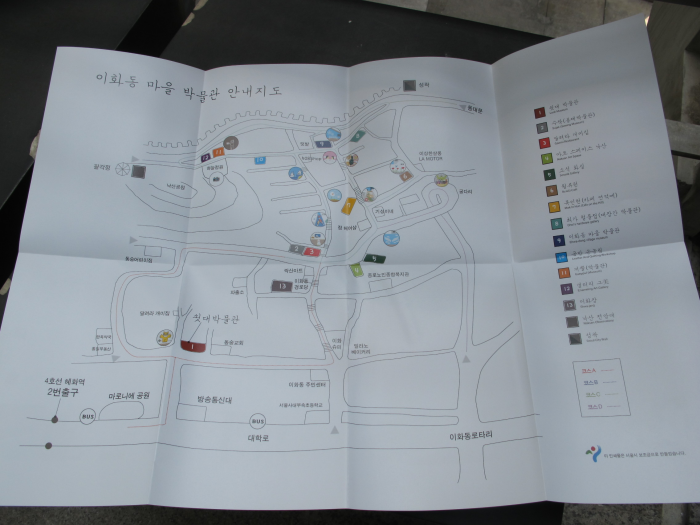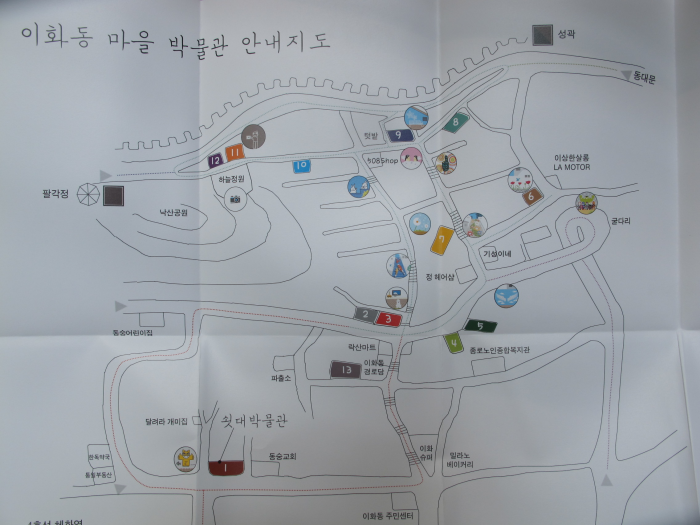 If you don't want to get lost, go to the 'Lock Museum' and get a map of Mural Village. They explain where there are painting, café, and work shop.
Spring has come in Ihwa Mural Village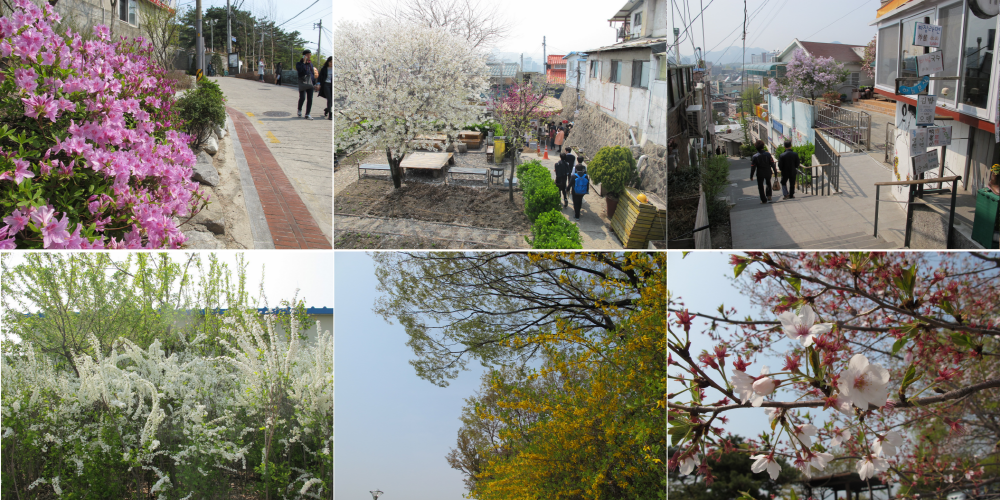 In the middle of April, when I visited this village, spring has come as well. Springtime flowers are welcoming all visitors. I feel more relaxed by such a beautiful flowers.
In a fairy-tale village, many paintings of Ihwa Mural Village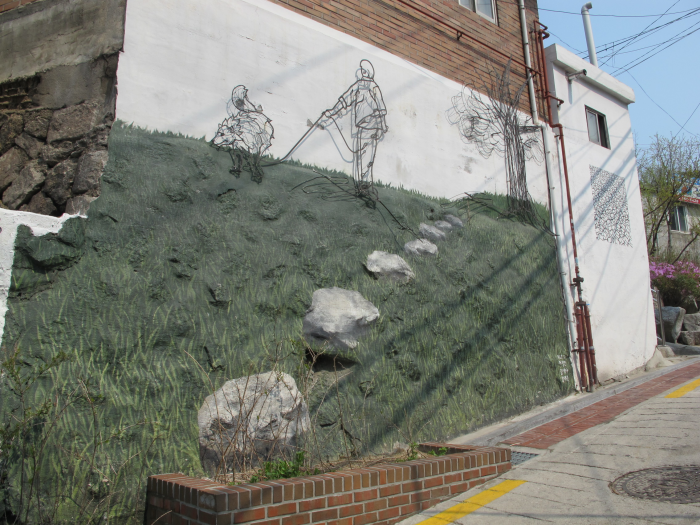 A painting looks like three-dimensional in effect. If you approach closely, you can find out it's just painting.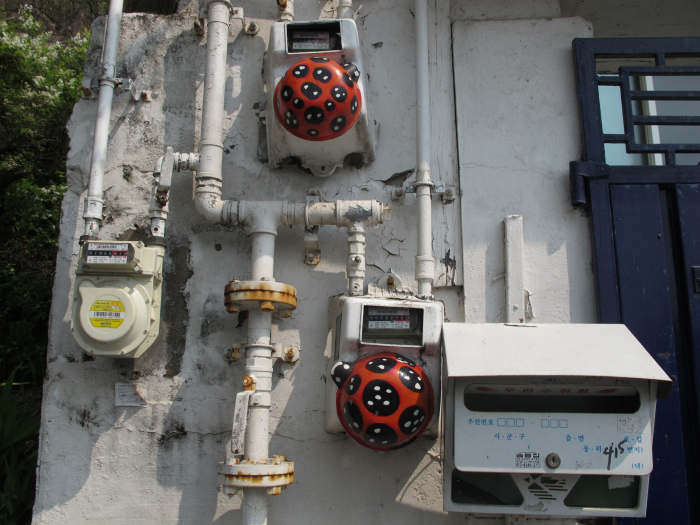 The house two ladybirds are attached
In Ihwa Mural Village, there are many murals not only on the walls, but also in front of houses and cafés. The whole town is like fairy tales.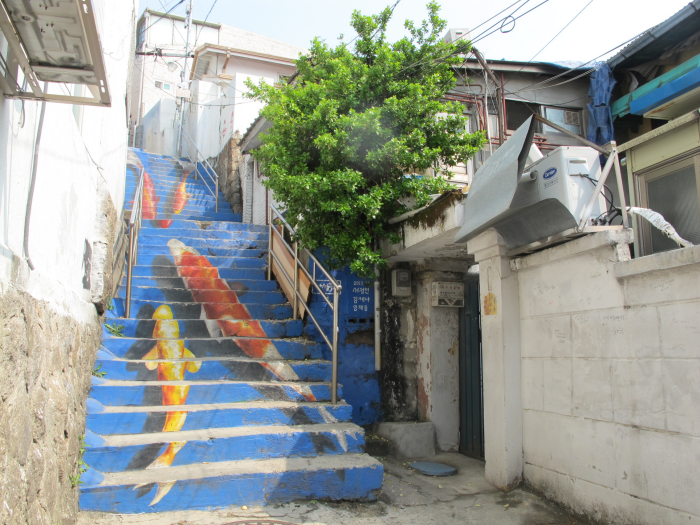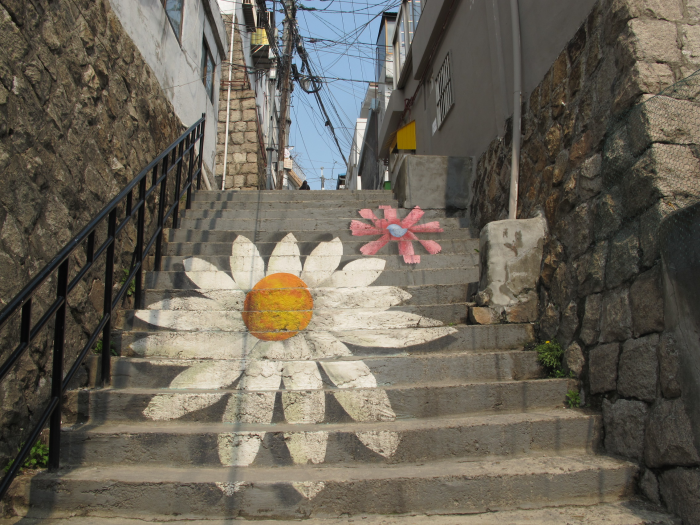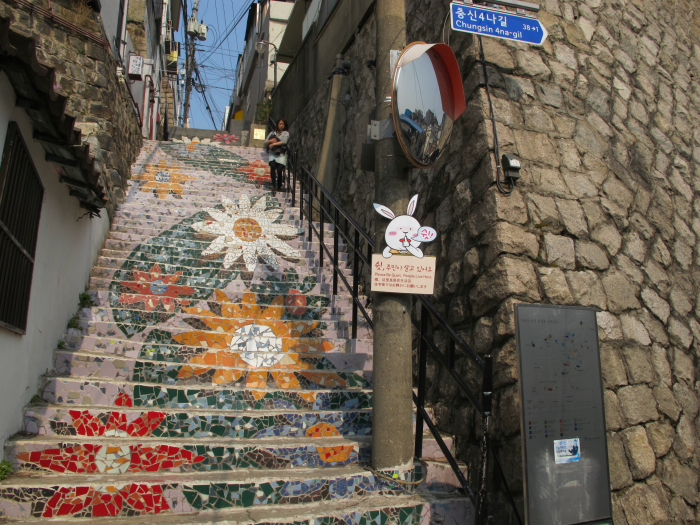 The highlight of this Mural village is the painting on the stairs. This place is always crowded with visitors. You can keep the memories by taking pictures with you friends, sweetheart, and family.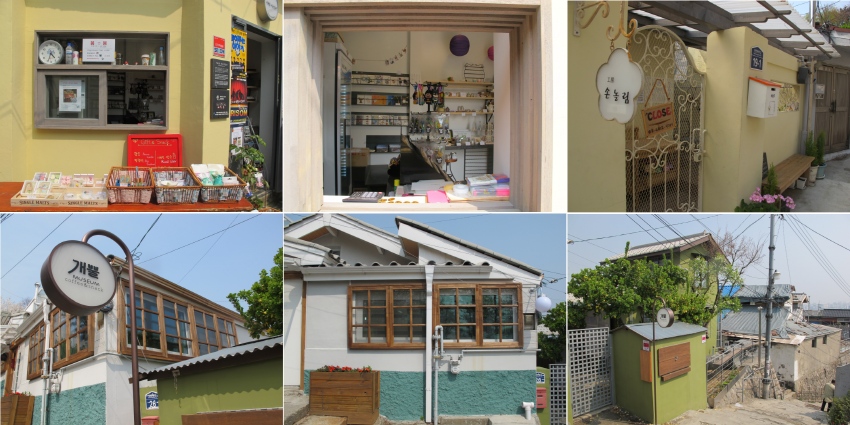 In this village, if you just looked around only for paintings, it means you didn't experience the village well. There are also galleries, cafés, stores, and workshops as well. Try to find out hidden good shops between alleys.
The café 'On the hill' with a nice view of Seoul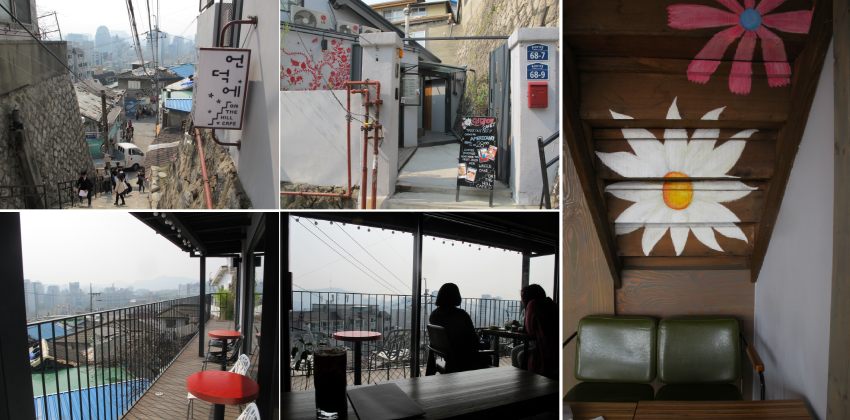 While walking along the stairs, you can see one café; the name is 'On the hill'. It used to be a gallery, now it is remodeled as a café. This café is famous for slightly spot. When you are exhausted, visit this café and drink a cup of coffee and take a rest for a bit. Inside the café, you can see the mural as well. Interesting!
The ancient wall on the top of the Iwha Mural Village

If you go up to the top of Ihwa Mural Village, you can see the Seoul ancient wall. Many visitors miss this place, but you need to come up until here certainly because that place has such a nice view of Seoul. Stand on this place and enjoy the view of inside and outside the ancient wall.
In Joseon dynasty, when a king established Joseon, he built an 18km-long wall surrounding Seoul. Almost all walls were collapsed, but we still call this 'Seoul ancient wall'. On the Ihwa village, the ancient wall has been preserved well.
One more tip for you! You can also see the beautiful night view from this wall at night.
There is a notice sign in front for the wall.
'No graffiti on ancient city walls. Please do not climb on the walls.'
We should preserve this ancient wall to leave out grandchildren as such a valuable treasure. Also, it could be dangerous if you climb the wall. You might fall off the wall. Please be careful. Let's just stroke this wall tenderly.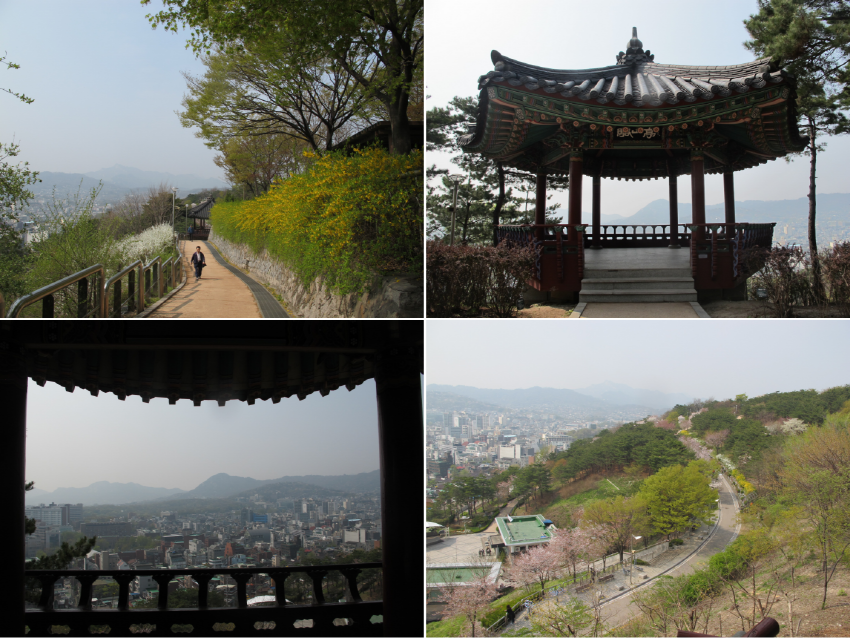 If you walk along the ancient wall, on the left side road, you can see the pathway. Beyond the road with flowers, you can see one octagonal pavilion. From the octagonal pavilion, you can see tall buildings and many streets filled with cars at a glance. It looks such another world. I enjoyed the cool breeze through the octagonal pavilion. In summer season, old people gather here to avoid the hot weather and they play the game such as go, Korean chess. Come and feel the atmosphere filled with Koreans' memories.
Ihwa Mural Village is town house established in 1950s, and has preserved the original form of modern times as I said above. Not only buildings, but also scenes of modern life are being cherished. If you have free time in Seoul, come over this village that many Koreans enjoy. If it's hard to go Ihwa Mural Village by yourself, do not worry about it. 'Korea Tour Information' can help you travelling there for you. We have a tour package which private tour included.
For more information, click this rink below.
In addition, there is also seoungbukdong village near the Ihwa-dong known as Korean 'Beverly Hills'. If you visit Ihwa village, go to seoungbukdong village as well. It's new attraction among travelers. I will continue the story of seoungbukdong village in next article.
By Hanna, Kwak
Photos: Hanna. Kwak
www.koreatourinformation.com Staff Writers
lee2@seoulcitytour.net