The Musical "Fanta-Stick", it's FUNTASTIC!
A Fantasy Love Story, more than 2000 years
There is one classical tale in Korea as below.
A long time ago, There was a prince 'Hodong'(호동왕자) in Goguryo County(고구려국). He was very nice-looking and smart, so he gained the favor of the king. One day, 'Hodong' went hunting and bumped into the princess 'Nakrang'(낙랑공주) from the Nakrang country. They loved at first sight and they got married each other.
At that time, the King, Hodong's father, wanted to conquer the world and Nakrang country was also one of targets. But, they could not. The reason was a magical drum 'Jamyonggo'(자명고) in Nakrang country.
Whenever an enemy invades their area, the magical drum 'Jamyonggo' made a sound automatically to let people know. So, every enemy ended in failure invading Nakrang country.
The Prince 'Hodong' wanted to achieve his father's approval, he persuaded her to tear off the drum. Finally, the princess 'Nakrang' tore off the drum 'Jamyonggo' in her country, because she really loved him.
The Goguryo country invades Nakrang country right away and the princess 'Nakrang' also was killed by her father. Even though the prince 'Hodong' succeeded to invade Nakrang country, he suffered from his wife's death. In the end, the prince 'Hodong' killed himself.
The story 'Jamyonggo' is Korean popular tragic folk tale and it became a motif from the musical 'Fanta-Stick'. Also 'Romeo and Juliet' by Shakespeare is second motif as well. You might remind of 'Romeo and Juliet' during watching this musical concert.

'Fanta-Stick' in rainy day
I was supposed to go on picnic for spring season with my friend on that day, but it was rainy. So, we decided to go see a musical that was 'Fanti-Stick'. It was the first meeting me and 'Fanta-Stick' musical and really good choice on the rainy day. I was in a gloomy mood on the way to the musical, but after finishing this, I was totally excited by the concert.
When you come to Korea, unfortunately it keeps on raining; I highly recommend going to see a musical or concert, especially 'Fanta-Stick'! I'm sure it makes you feel better and excited.
Tragic Love Story in 'Fanta-Stick'
In this musical 'Fanta-Stick', the story continues as below.
A man and a woman got a present from God which is a heavenly drum to a man and a heavenly flute to a woman. But, the woman tore off the heavenly drum consumed with jealousy. After that she incites the wrath of God, she became a ghost and she got a mission which she should make a perfect music using her lost flute. After long years, she found out the flute in his family's car repair shop.
Become One Mind through the Music, through Dancing Together
The most impressive part in the musical was leading a response from audiences. From start to finish, we were the one both our audiences and actors, actresses. In the middle of performance, an actor tried to Free Hugs with audiences and at the last part, they invite one foreign audience to the stage and danced with him. The sounds of laughing never ended in the concert hall during that time. At the end of a concert, the atmosphere got much hotter than started. I think it is totally from actor's passion and communications with all of audiences. I sat next to one foreigner during the concert. At first, she was very quiet, but at the end of part she was more enthusiastic than me. I was really proud of "Fanta-Stick". Also, there was one Chinese kid who laughed his head off from start to the end. He made me laugh also. It was really exciting!
The second most impressive part was fusion music mixed with various genres such as Korean traditional music and instruments, Nanta, hip-hop, b-boying, pop music and rap etc. I have removed prejudice that Korean traditional music is boring and flat. Korean instruments harmonized with western music during the concert. It made explosive music by meeting all kinds of genre.
'Arirang', a music representing the deep sorrow of Korean
After she became a ghost, she played 'Arirang' which is lyrical Korean folk song using a 'Sokeum'(소금) which is Korean flute. 'Arirang' is the music that representing a life of sorrow among Korean. When she expresses sadness of losing her husband by playing 'Arirang', I was raised a sad feeling and I nearly cried. I'm sure 'Arirang' must embody the sorrow of our people. Listen attentively when she plays 'Arirang' and share the sad feelings from that music.
Fantastic? Funtastic!
I didn't expect this musical before watching, because I thought this is nothing more than a just musical concert. But it was more than expected that communicating with audiences and making into one of several music genres. I think it's such a wonderful concert.
It is real FUNTASTIC musical that gives laughing and touching all of people beyond the fantastic!
On rainy day, if you are annoyed by gloomy weather, go to the musical concert especially 'Fanta-Stick'! You might feel much better I'm sure.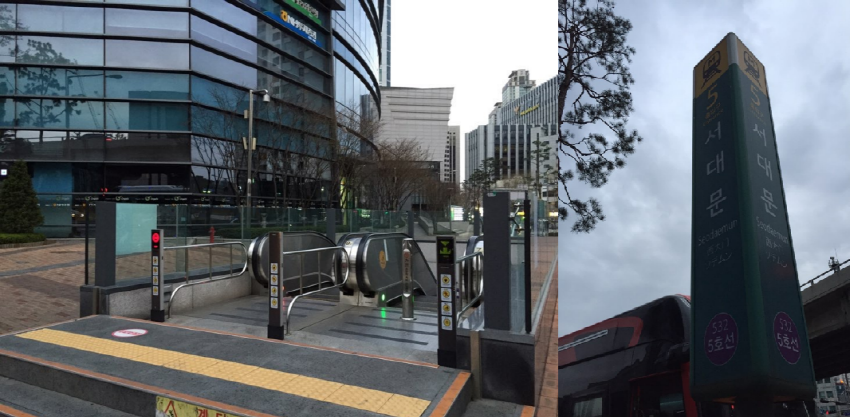 If you get off at Seodaemun Station on line number 3, you can go to 'NH art hall' right away. You don't have go outside. It's connected with underground subway line to the theater.

Entrance to the Theater and ticket booth

People start to enter the inside the hall.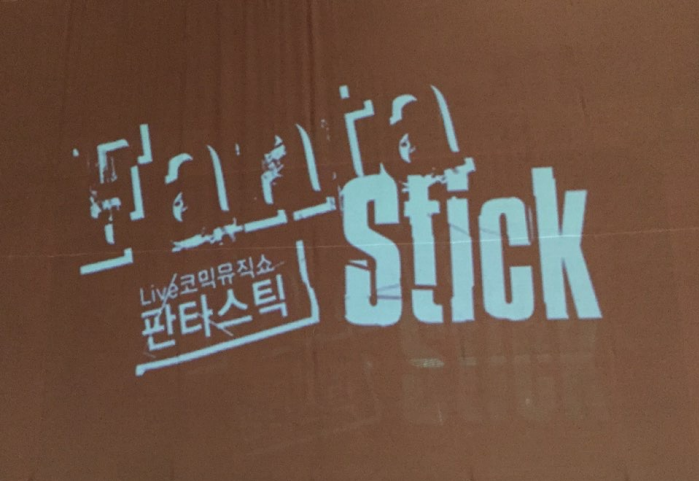 Right before the beginning of 'Fanta-Stick"

At the end of the performance, they give a chance to take pictures and take a pose themselves.

After finishing the performance, they are going out the concert hall. They really look happy in the pictures.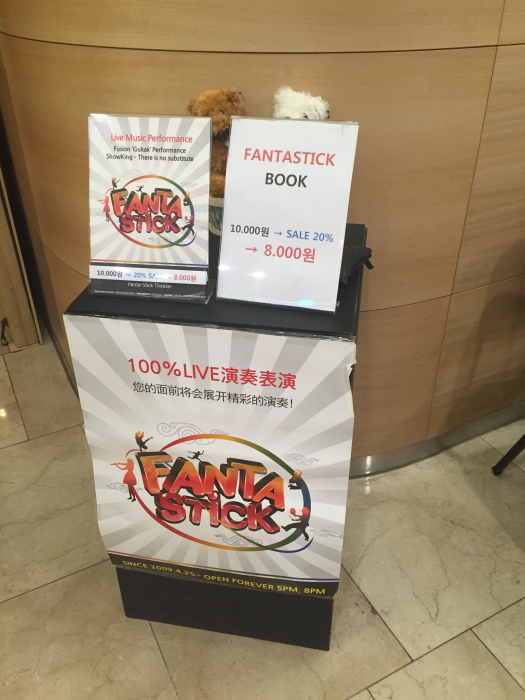 In front of the concert hall, there's a Fanta-Stick book which you can get discount. If you are interested in the book, let's buy one for you memories!
By Hanna, Kwak
koreatourinformation.com Staff Writers
lee2@seoulcitytour.net