Spring gastronomy tours to seaside villages
It is quite easy to access the mountains and seas of Korea. There are many other things to do other than enjoy the spring flowers, such as gastronomic adventures and seaside activities.
The Ministry of Oceans and Fisheries has now published a gastronome's spring travel guide to Korea's coastal villages. For the advanced Korea traveler who has been to most of the major tourist attractions already, this will be useful information. Also, the photos show seasonal regional delicacies, making them easy to identify.
A hardcopy of the book is available for free at highway rest stops and some car rental agencies, and e-copies can be downloaded online at the sea travel website (www.seantour.com).

The village of Sodol in Gangneung on the east coast is bisected by the Haeparang-gil, a coastal walking trail. It's adjacent to the largest fish market in the region, the Jumunjin fish market. You can shop for the day's catch sold by fishermen's families at the Sodol-hang Port and enjoy fresh fish by the seaside. The Gyeongpodae cherry blossoms and peach blossoms are some nearby attractions.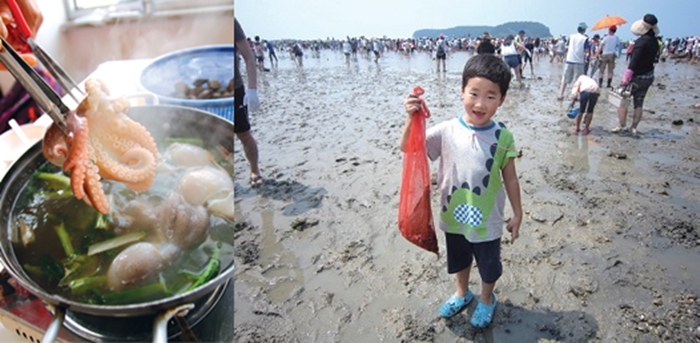 In Chungcheongnam-do, the village of Muchangpo near Boryeong is famous for its seasonal baby octopus. To enjoy the freshness of the seafood, it's recommended to boil your meal in a broth. The top tourist destination there is the 1.5-kilometer seabed that stretches between the Muchangpo Beach and Seokdaedo Island during low tide.

The village of Jijok in Namhae-gun, in Gyeongsangnam-do, is known for its braised anchovy dishes seasoned with red pepper flakes, garlic and cooked with dried radish greens. Eating the medium- to large-sized anchovies in vegetable wraps is a one-of-a-kind experience. Local attractions include catching anchovies with bamboo nets lowered into the seawater, a traditional anchovy-fishing method called jukbangryeom.
By Paik Hyun
Korea.net Staff Writer
cathy@korea.kr