Rail pass offers online train reservations for non-Koreans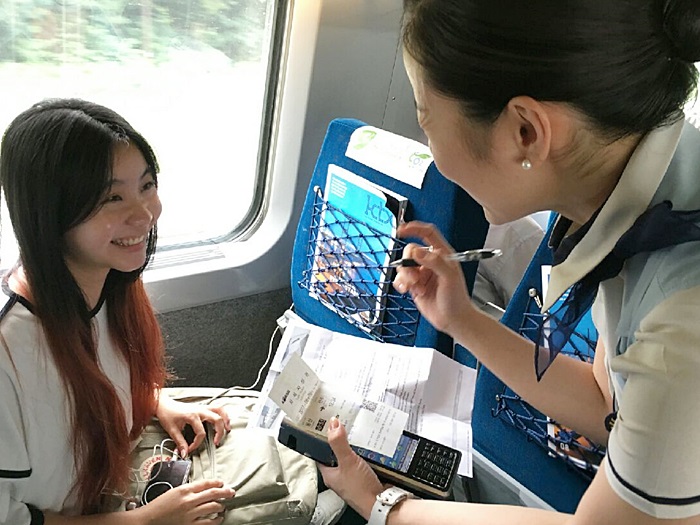 Korail recently updated its website to allow non-Korean passengers to purchase a Korail Pass and to reserve seats. The photo above is a Singaporean passenger presenting the ticket she printed to the conductor. (Korail)
 x
By Kim Tae Won and Kim Young Shin 
Non-Korean tourists can now take the train more easily across Korea, enjoying the beauties of the Korean Peninsula from the comfort of a train car.
The national railway operator Korail has reformed its Korail Pass ticket system on Aug. 1, now allowing non-citizens to purchase and make reservations online.
A Korail Pass allows travelers to board any Korail train during a set time period.
Until now, a voucher had to be bought abroad and then be exchanged for a printed ticket at a station. However, the new Korail Pass can be purchased online and be printed anywhere. Passengers no longer need to visit a ticket booth to book their seats, as reservations can also be made online.
Only a few clicks are all it takes to buy a Koreail Pass and to reserve a seat. Entering personal information such as passport number and billing information are required for a reservation. Korail Pass users are asked to bring a printed copy of their pass, the booking information and their passport to be presented to a conductor upon request.
There are seven types of Korail Passes including a one-day pass, which costs KRW 81,000 for adults and KRW 40,000 for children, and a seven-consecutive-day pass, which costs KRW 195,000 for adults and KRW 97,000 for children. There are also two- and four-day passes that allow passengers to choose their dates to take the train within a 10-day period.
Korail expects its updated ticket system to provide an opportunity for more non-Korean tourists to travel to different parts of Korea rather than simply staying in the larger cities.
There are, however, passengers who have complained about the inconvenience of the Korail Pass. Whereas a Eurail Pass, which can be used in all EU countries, allows mobile reservation through its smartphone app, the Korail Pass does not have a smartphone app yet. An official from Korail said, "We are considering to sell Korail Passes through the KorailTalk+ app, which is already in use for regular tickets."
twkim0717@korea.kr