Jeju's summer nights bring in the tourists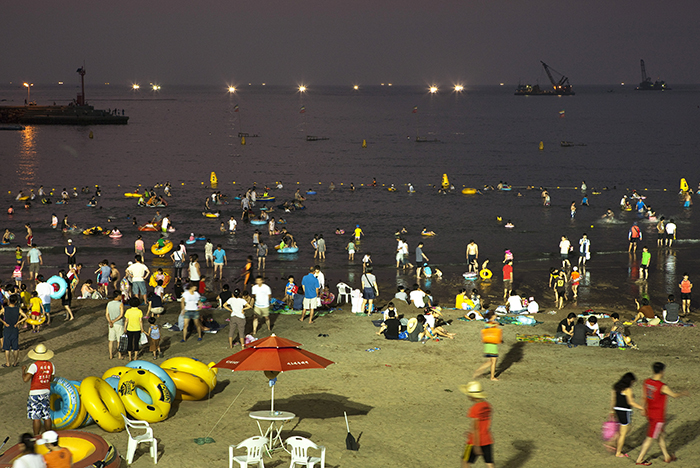 Jeju's Hyeobjae, Hamdeok, Iho Tewoo and Samyang beaches now allow swimmers to stay two more hours after dark, until 9 p.m., for a limited time until Aug. 15. In the photo above, visitors enjoy Iho Tewoo Beach late at night. (Jeju Tourism Organization)
By Kim Young Shin 
Jeju Island fascinates visitors with its different charms in different seasons. Especially in the summer, the island keeps tourists busy at night with a range of late-hour events.
There's no need to fear the tropical nights as Jeju's beaches now let swimmers stay until late. Galleries, museums and other cultural heritage sites also light up the island's nights. Fishing for cuttlefish and squid lured by strong lights onboard the fishing boats is another Jeju summer delight.
Hyeobjae and Hamdeok beaches, famous for their emerald waters, are also popular among those who want to bathe in the sea until late. Samyang Beach, known for its black sand, and the shallow Iho Tawoo Beach with its soft waves, are also open at night.
From July 15 to Aug. 15, all four beaches will be open to the public until 9 p.m. every night.
Sea bathing is not the only ocean activity for Jeju's summer nights. Cuttlefish fishing is in-season for those who are ready for a more dynamic experience.
At the Doduhang, Ihohang, Gosanhang ports in Jeju-si City, and at the Hahyohang Port in Seogwipo-si City, fishers welcome tourists aboard their boats to try to catch cuttlefish and squid that follow the bright lights onboard the boats. The boats leave the port at 6 p.m. every evening and the fare is around KRW 50,000 per person.
There are also non-water activities to enjoy in the Jeju summer nights. The Jeju Mokgwana (제주 목관아), a Joseon government office building, offers performances and tours to night visitors from 6 p.m. every Saturday from July 15 to Sept. 16. The Jeju Starlight World Park and the Halla Arboretum are also open until 11 p.m. for those who want to observe the clear Jeju night sky or stroll through a fabulous garden.
Seogwipo-si City on the southern coast of Jeju Island is also offering a range of night activities. The Jeju Sculpture Park opened its night program "Forest Fantasia" on July 14 that allows visitors to walk along a path decorated with 40 sculptures that light up at night until 1 a.m. Those that visit the World Seashell Museum from 5 p.m. to 8 p.m. can enjoy making their own decorations with seashells until the end of August.
Jeju's fun summer nights attract tourists with their hundreds of things to do and see.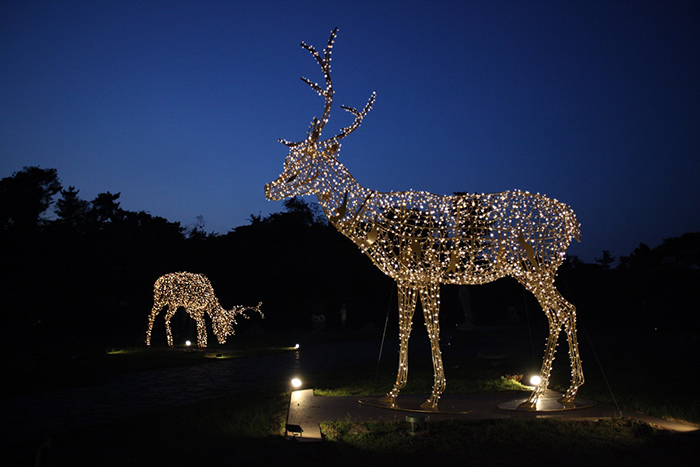 The Jeju Sculpture Park in Seogwipo-si City decorates its pathways with 40 sculptures that light up every night from 6:30 p.m. to 1 a.m. (Forest Fantasia)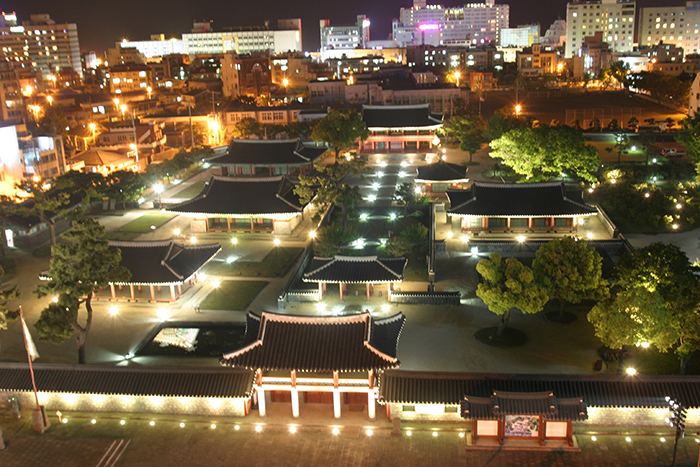 The Jeju Mokgwana (제주목관아), a Joseon government office complex, started late night tours on July 15. (Jeju World Natural Heritage Center)