Pres. office's front road to become new Seoul attraction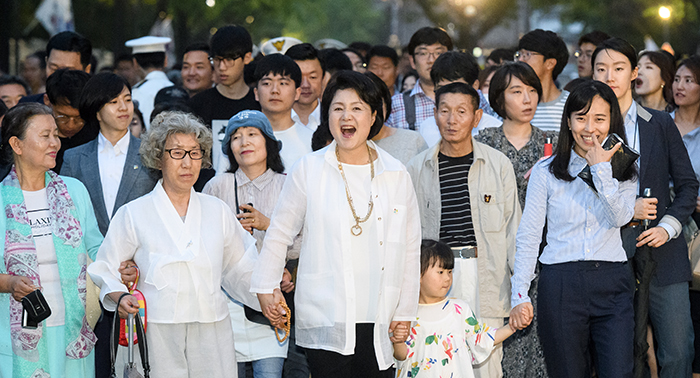 First lady Kim Jung-sook (center) and a crowd on June 26 walk along the pedestrian road in front of Cheong Wa Dae.
By Yoon Sojung 
Photos = Presidential Security Service
The road in front of Cheong Wa Dae on June 26 was opened to the public 24 hours a day.
For nearly 50 years, the area had been off-limits to pedestrians and cars passing after 8 p.m.
In addition, five security checkpoints and a barricade that had been on the road to give passing drivers directions to their destinations were removed.
The aim now is to have the road become a new attraction in Seoul where people can take walks without having to mind the time.
At 8 p.m., First Lady Kim Jung-sook and about 50 people watched the opening of the big iron door that symbolized the curfew.
"Though this is a small change, I'm so glad today as we can now give the road of the people, the road of the square, back to them after it was blocked by authorities," she said.
"When we open and return things one by one to the people, communicate with them and be with them, I believe we can help usher in 'the era of the Gwanghwamun President' in the near future," she said, referring to President Moon Jae-in's inaugural address in which he said, "I will exert my authority in a humble and modest manner; I will build a country stronger than it has ever been."
The notion of the "Gwanghwamun President" stems from President Moon's desire to move the presidential office from Cheong Wa Dae to the downtown Seoul area of Gwanghwamun.
Visitors can now take photos of Cheong Wa Dae at any point except for where several guard posts stand. In the past, photos were allowed only at certain spots such as the water fountain in front of the presidential office and from Shinmumun Gate of Gyeongbokgung Palace.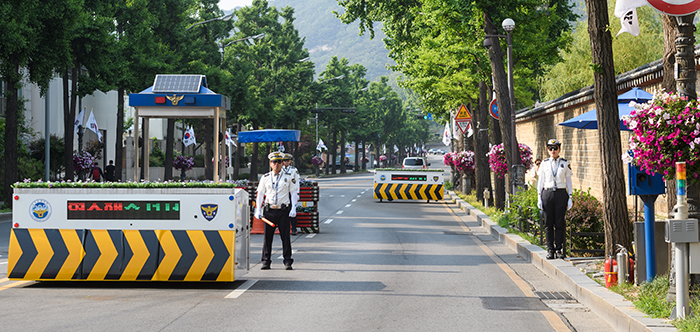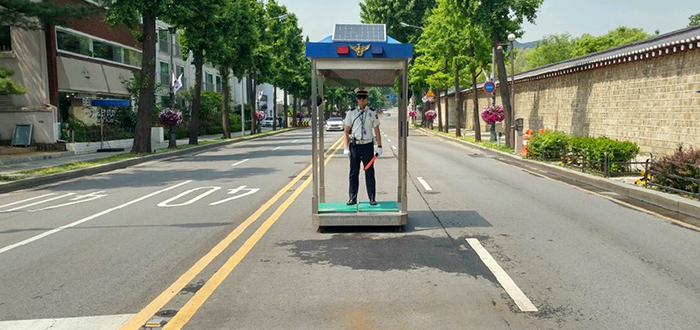 Checkpoints that used to be on the road to Cheong Wa Dae have been removed. (top) A new guard post has replaced them. (bottom)
Ju Young-Hoon, head of the Presidential Security Service, said on June 22, "From now on, those who walk to Cheong Wa Dae can find security guards asking 'How are you?' instead of 'Where are you going?'"
The road in front of the presidential office had been closed to pedestrians and cars at designated hours since January 1968, when North Korean spies made an assassination attempt on then President Park Chung-hee in what is known as the "Blue House raid."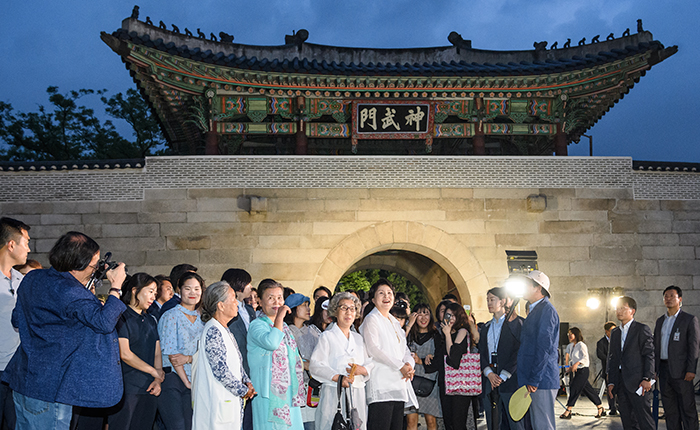 First lady Kim Jung-sook and onlookers on June 26 see the night view of Cheong Wa Dae from Shinmumun Gate of Gyeongbokgung Palace.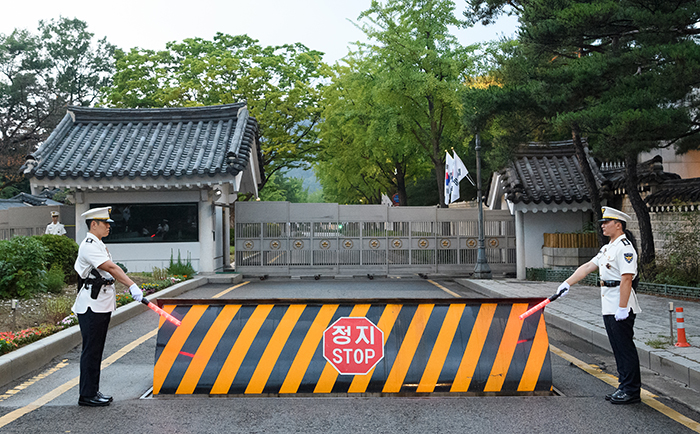 The iron wall that used to be closed in front of Chunchugwan Press Center of Cheong Wa Dae begins to open on June 26.
arete@korea.kr