National parks offer fresh spring break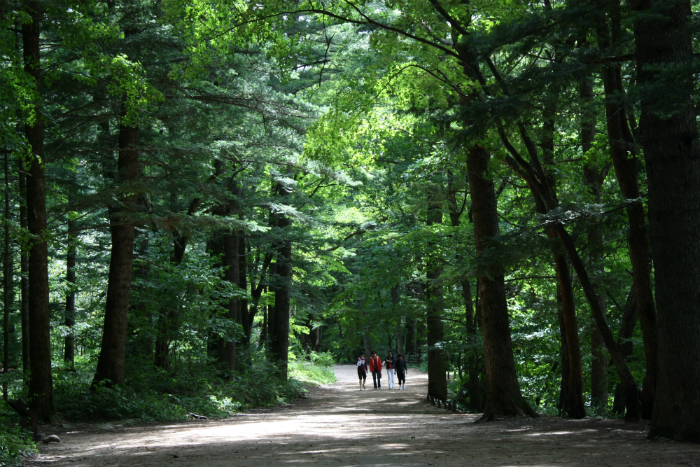 Odaesan National Park in Gangwon-do Province, which will host the PyeongChang 2018 Olympic and Paralympic Winter Games next year, gives park-goers a chance to stroll down trails lined with thick fir trees and to enjoy a breath of fresh air, on May 5. (Odaesan National Park)
By Kim Young-ah and Sohn JiAe
A well-shaded path with trees gives walkers some respite as they inhale the fresh forest air.
In Korea, people will have a long spring break from Saturday, April 29, until Tuesday, May 9, when the 19th presidential election will take place. Like stepping stones across a river, the holidays are scattered among the work days of May 2, 4 and 8, so if holidaymakers want to have 11 days off in a row — an unknown luxury in the history of modern Korea — they need to take those three days off work.
Taking advantage of this so-called "Golden Week" of holidays, even longer than a typical summer vacation, the Korea National Park Service will host a range of events at 21 national parks across the nation. The title of this program is the "National Park 3050 Week." The numbers 30 and 50 refer to the 30th anniversary of the establishment of the Korea National Park Service and the 50th anniversary of the establishment of the national park system.
Among the 21 national parks, Odaesan National Park in Gangwon-do Province, the host province for next year's PyeongChang 2018 Olympic and Paralympic Winter Games, will host an official walk along the fir-lined trails near Woljeongsa Temple on May 5. Walkers will get a brief getaway from their busy lives as they encounter fresh air, flowers and greenery, helping to heal their souls.
Other parks across the country are also getting ready for the week of holidays. Seoraksan National Park will have a marketplace set up where visitors can buy local specialties. Chiaksan National Park is set to host a small concert in its forests on May 6. There will also be an outdoor talk show on May 11 at the Taebaek Culture Art Hall in Taebaeksan National Park.
The most intriguing of all the events will be the chance to take a stroll through thickly-wooded paths.
As well as the fir-lined paths that are famous at Odaesan National Park, the parks board also recommends the Sejogil Road at Sokrisan National Park and the Sorigil Road at Gayasan National Park. On April 29, there will be a walk that spans 2.4 kilometers and lasts for about an hour along the Sejogil Road. Along the Sorigil Road, participants will walk 2 kilometers for about three and a half hours.
kimya124@korea.kr