Korea's biggest cherry blossom festival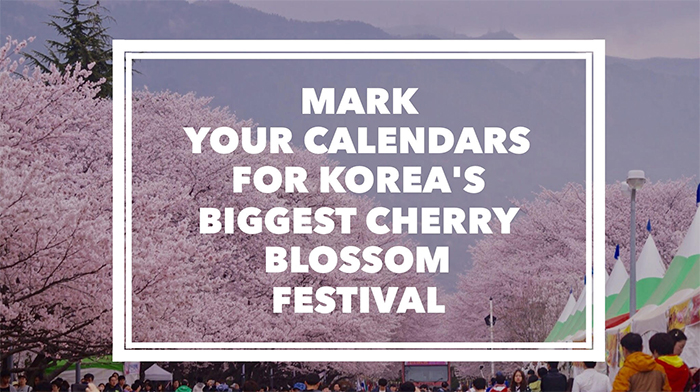 A famous writer once said, "I dream of standing under trees while cherry blossom petals fall all around me." Well, it's that time of the year when cherry blossom trees are about to bloom. Yes, spring is coming.
Seeing cherry blossom festivals is a big dream of many people, and lots of people put it on top of their bucket list. The first reason is that it's so hard to plan a trip around cherry blossoms because they are so difficult to predict. Second, the trees bloom for a very short duration, making it difficult for people to plan ahead of time.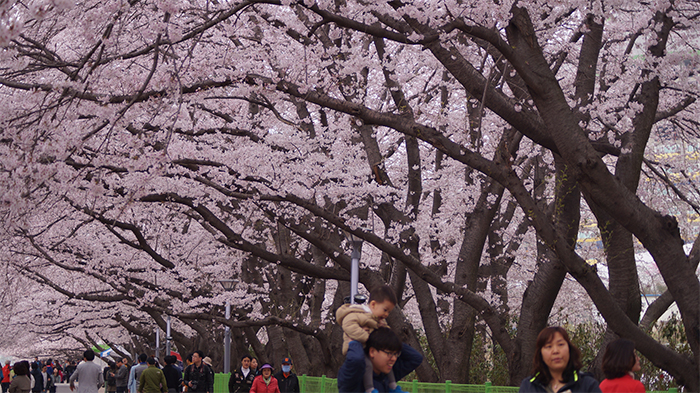 Yet, Jinhae — home to the biggest cherry blossom festival in Korea — attracts thousands of tourists from across the country and abroad. On average, 340,000 cherry trees burst into an ocean of pale pink blossoms, making it one of the biggest concentrations of cherry blossoms in the world.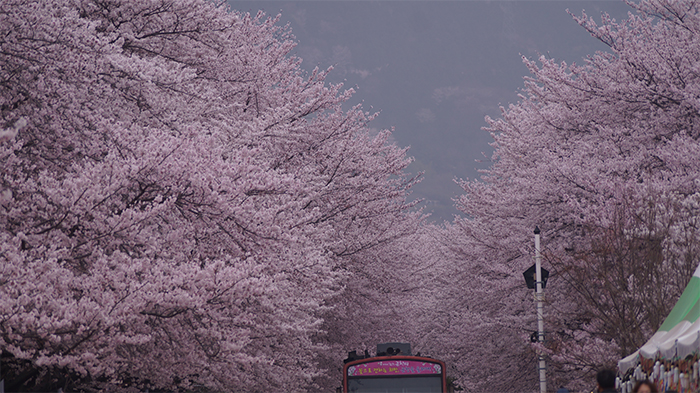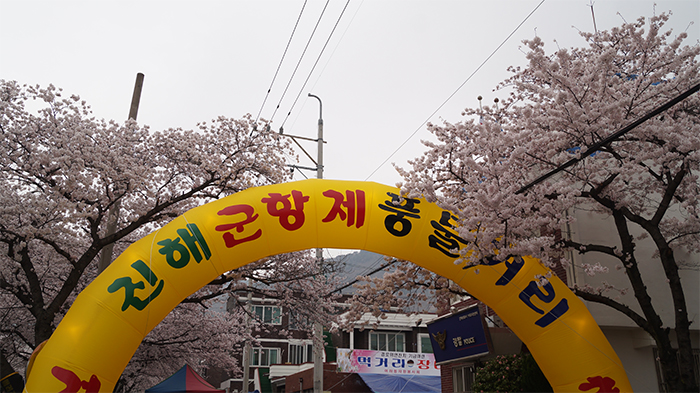 Last year, I went to the Jinhae cherry blossom festival and it was one of the unforgettable moments of my life. So I decided to write a short post so that all non-Koreans put Jinhae on top of their 'things to do in 2017″ list and plan ahead.
Some tips before you go to Jinhae.
Tip #1: It's always recommended to visit the https://english.visitkorea.or.kr website before planning a trip to Jinhae in the spring. Most cherry blossom festivals are held between the end of March and the second week of April. This year, the Jinhae cherry blossom festival will be held from April 1 to 10.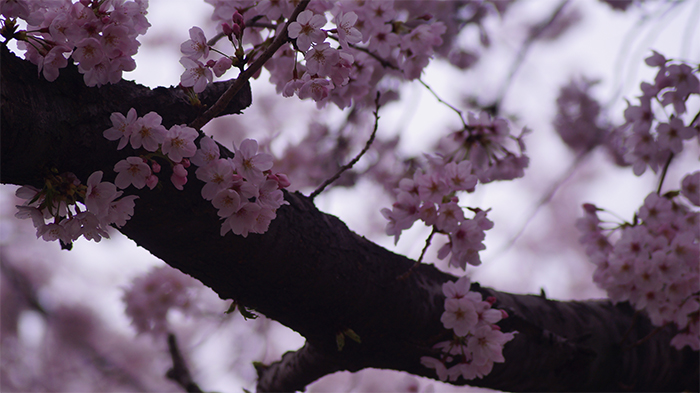 Tip #2: The festival draws around 2 million tourists every year. So it's always advised to book your bus or train ticket to Jinhae well beforehand. Last year, we went from Daegu to Jinhae because we booked the tickets only one week early. On the other hand, two of my friends weren't able to make it since all the tickets to Jinhae were sold out.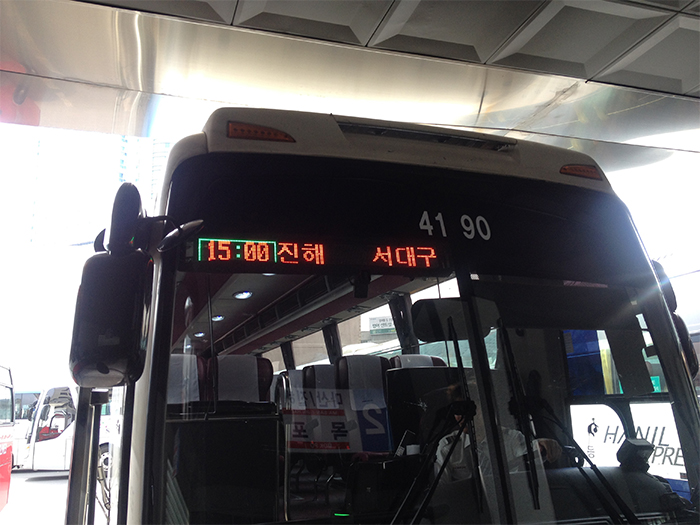 We took a bus from East Daegu Station to Jinhae, which during normal days takes around two hours. However, that time we arrived in Masan in one and a half hours, but from Masan to Jinhae it took us another two hours, which is normally just 30 minutes away. The reason was obvious. It was really crowded. However, the moment we arrived in Jinhae, it felt like we were in another place, like in Heaven, and it reminded us of the saying that if there's no pain, there's no gain.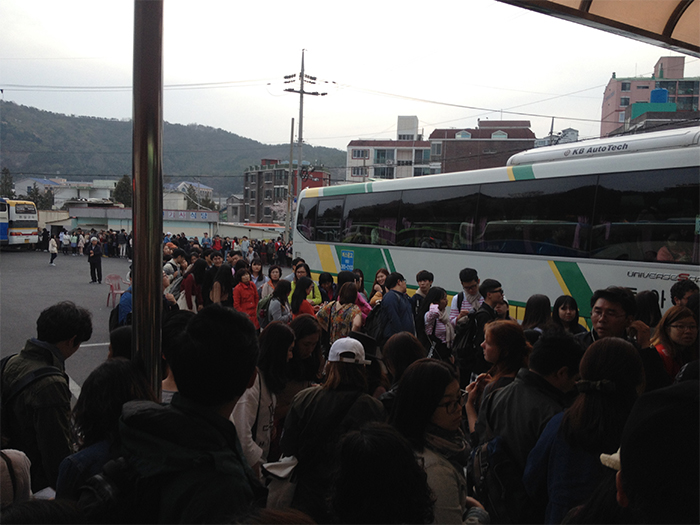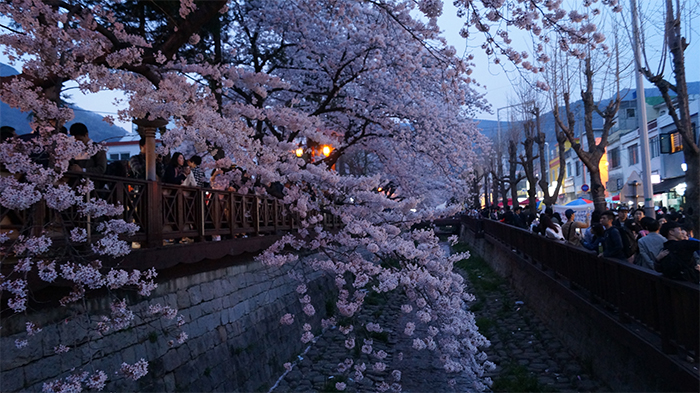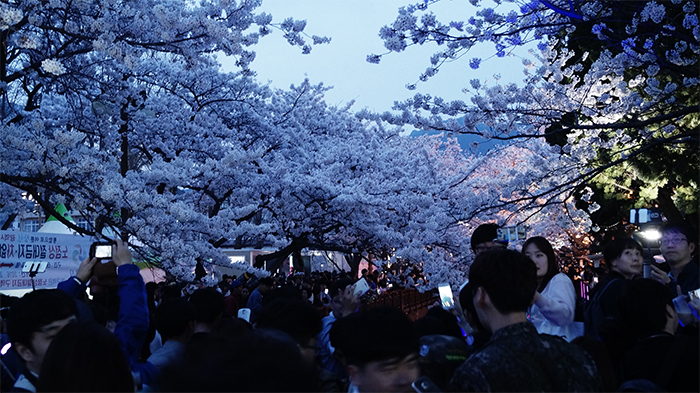 Jinhae simply offers breathtaking views, and you need the time to stop there. Our first stop was the Yeojwacheon Stream.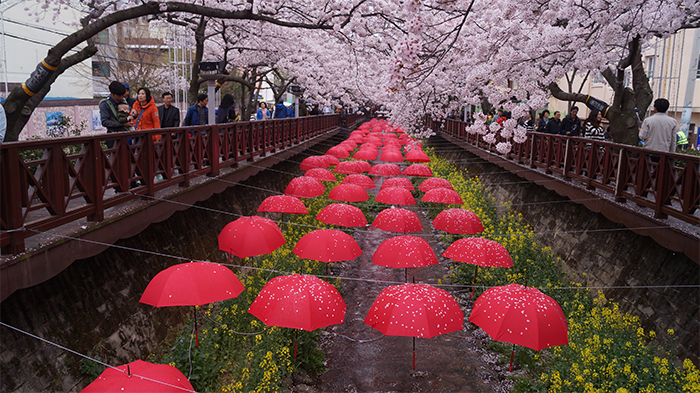 The Yeojwacheon Stream is famous for having a "Romance Bridge," a beautiful bridge made famous by the TV show "Romance." This was the exact location where the most iconic scene from that show was filmed. Alongside the stream, there are two rows of cherry blossom tress and the stream also has golden canola flowers beside the running water. It was such a beautiful site!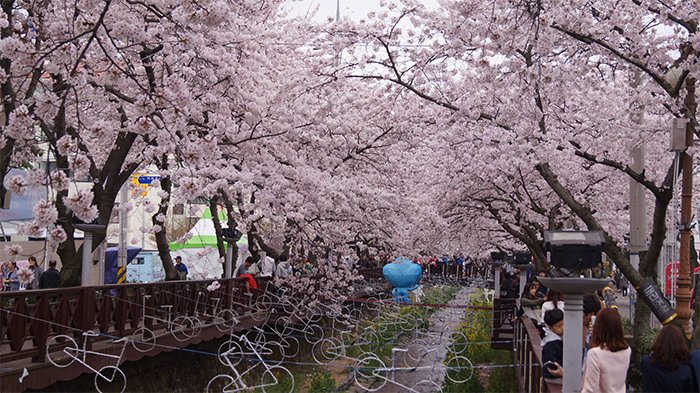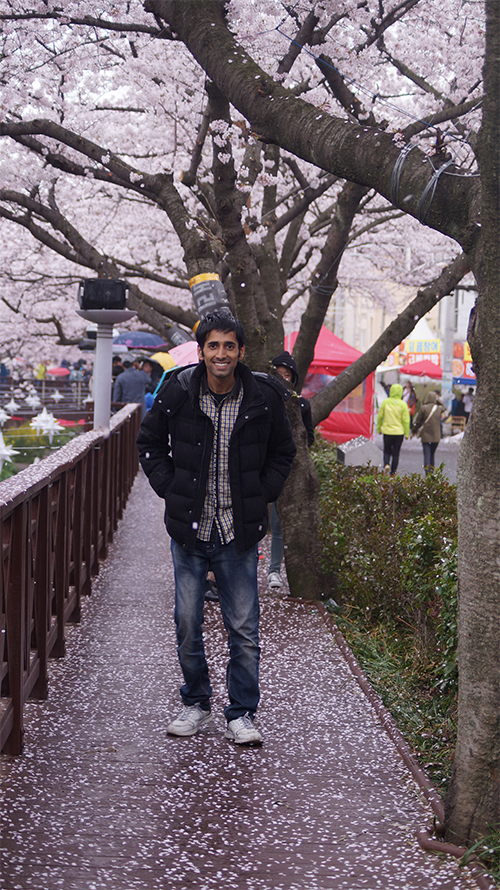 Cherry blossom petals fall into the running clear water, making it look even more romantic.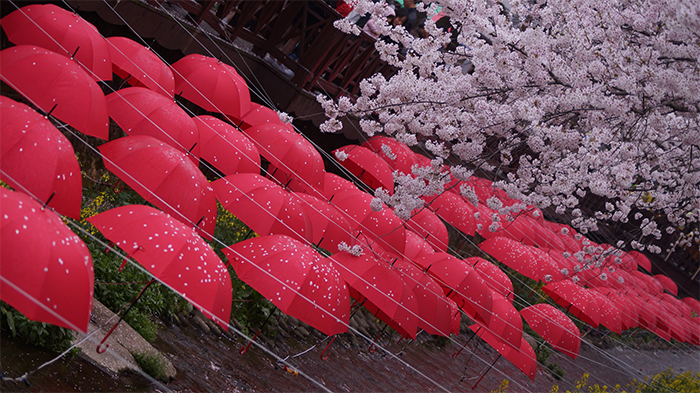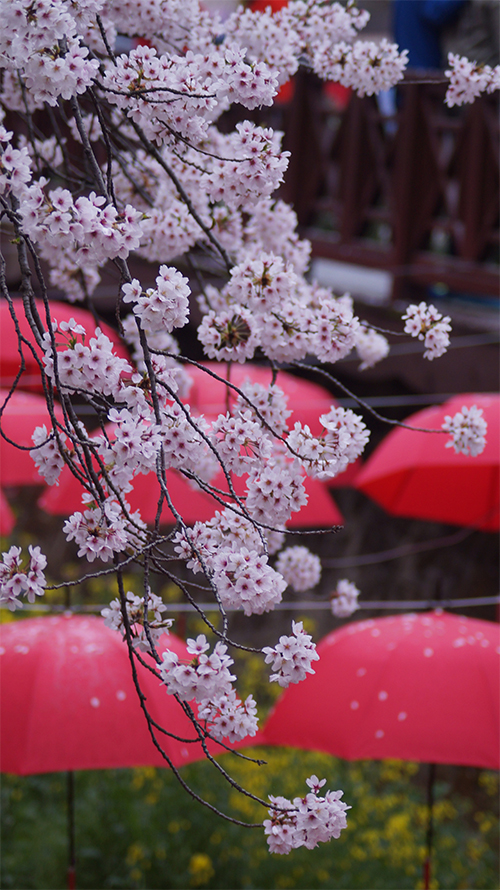 The night view of the Yeojwacheon Stream is also a must to see. The whole stream is decorated with beautiful LEDs, electric flowers, umbrellas, butterflies and other decorations.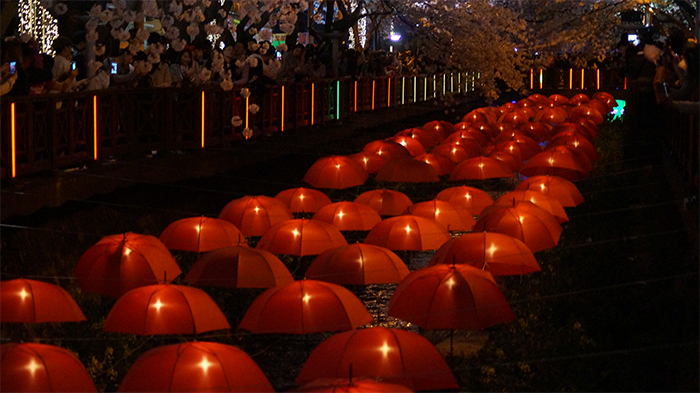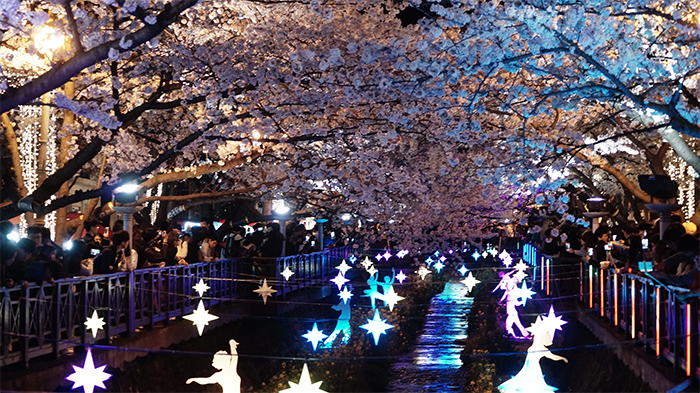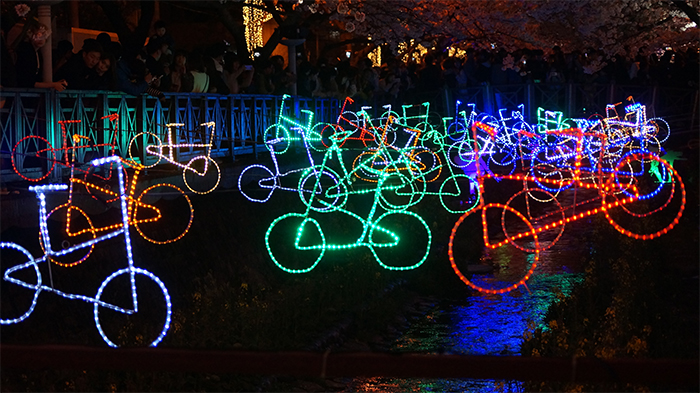 I spent one night in Jinhae, but had to stay awake in a 24-hour McDonald's since all the hotels were packed and I couldn't find a room.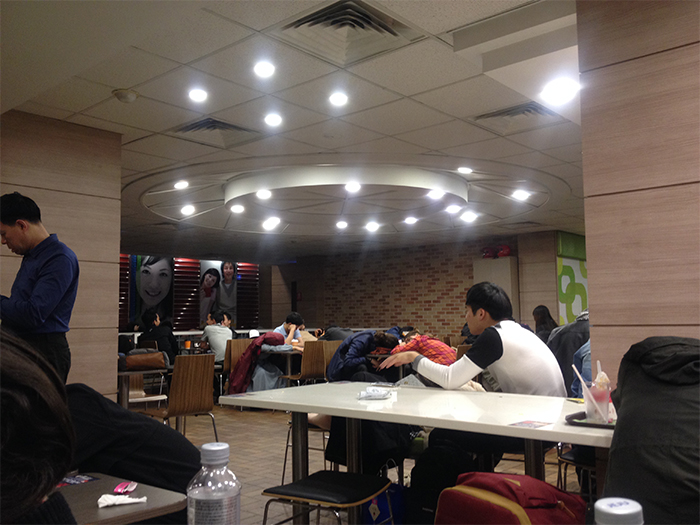 However, I wasn't tired at all in the morning. Rather, I was more excited to see the next famous destination in Jinhae: Gyeonghwa Station, the cherry blossom road.
Gyeonghwa Station, the cherry blossom road, is a working railway in Jinhae. Just imagine how cool it would be to see a train pass underneath the cherry blossom trees.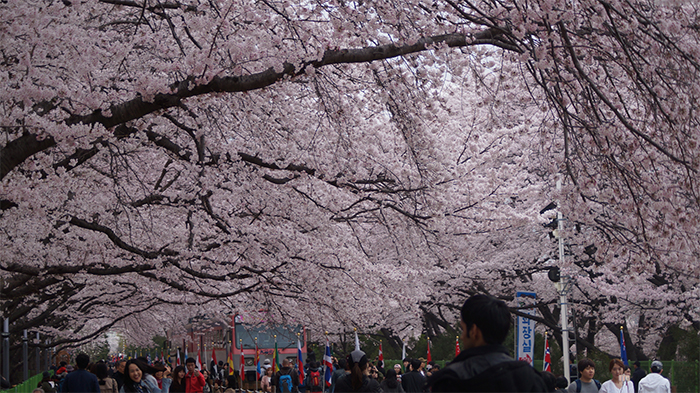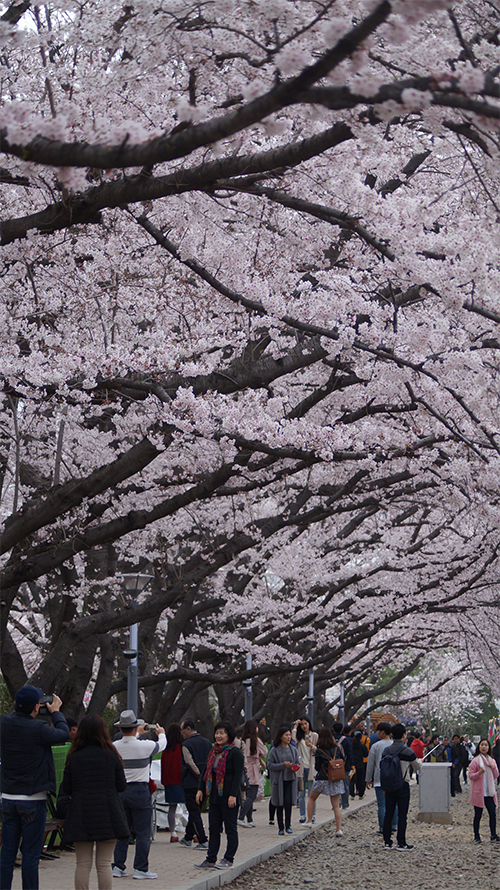 The railway track is lined by cherry blossom petals that have fallen from the trees alongside the entire track.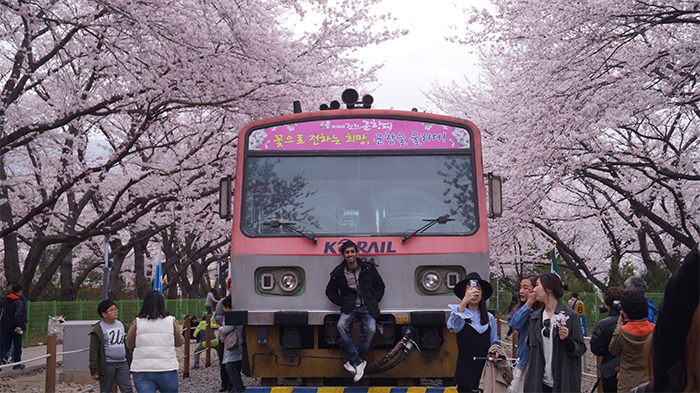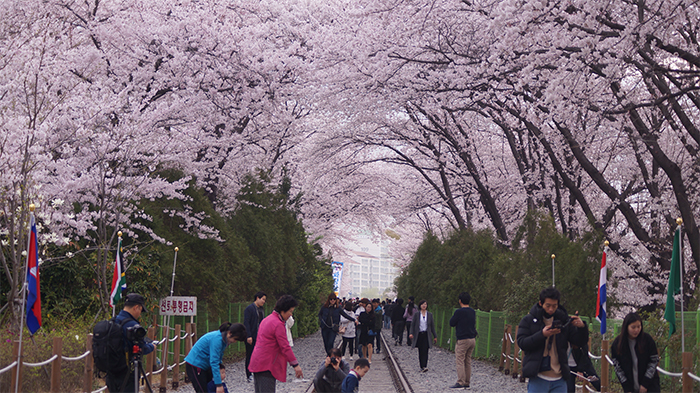 The railway track is lined by cherry blossom petals that have fallen from the trees alongside the entire track.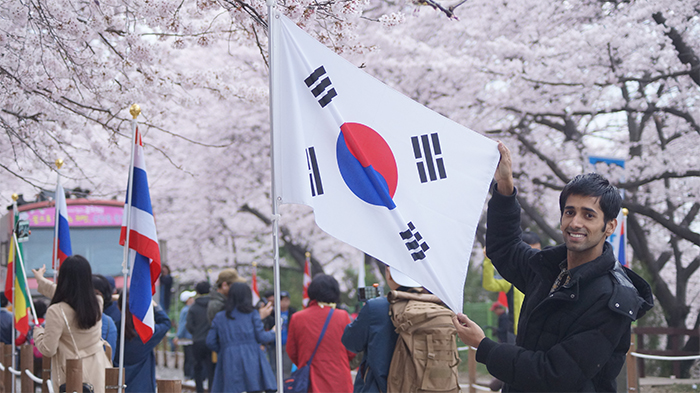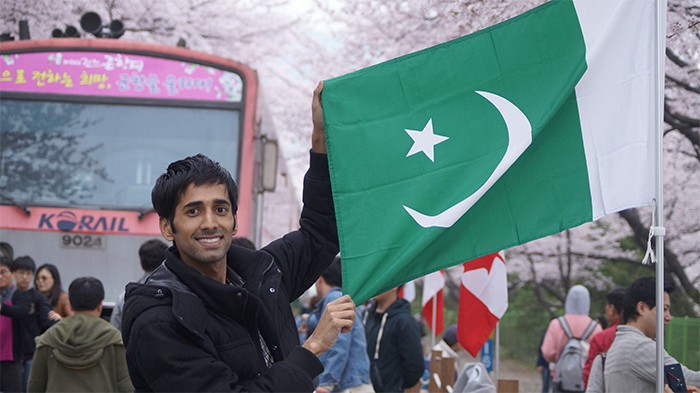 We bought coffees and sat down to admire nature. I still feel inner happiness when I remember those moments.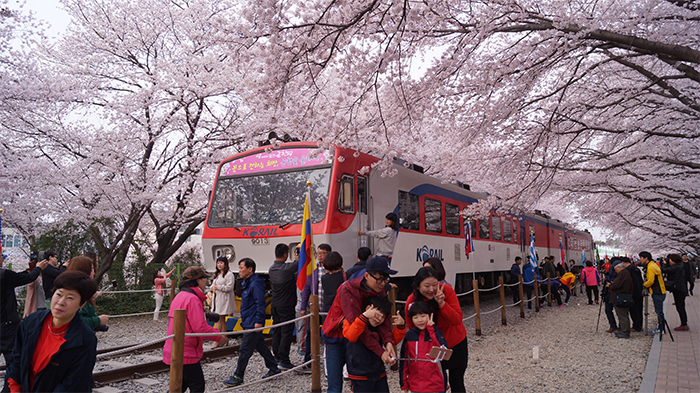 It's said that you should fill your life with experiences, not things. Have stories to tell, not stuff to show. The cherry blossom festival comes every year — only once — so I would highly recommend you start making plans and head to Jinhae for this year's cherry blossom festival and make some unforgettable memories.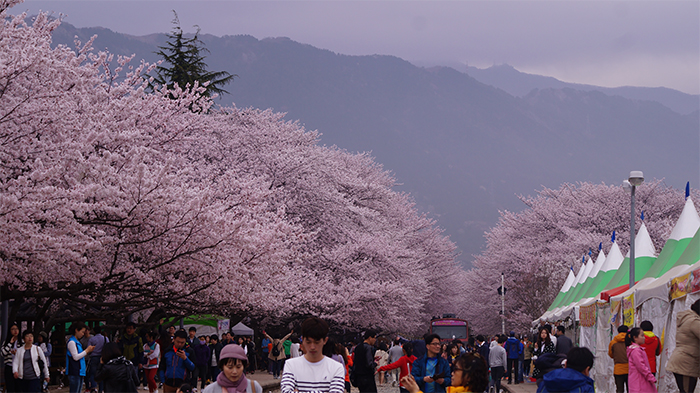 By Majid Mushtaq
Korea.net Honorary Reporter
Photos: Majid Mushtaq
https://koreanetblog.blogspot.kr/2017/03/koreas-biggest-cherry-blossom-festival.html