Major Leaguers explore Seoul's attractions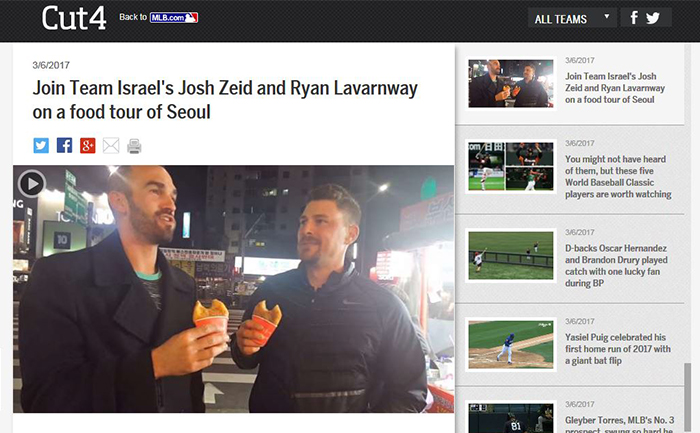 MLB.com's section Cut 4 features Team Israel's Josh Zeid (left) and Ryan Lavarnway's adventure through the streets of Seoul on March 4, as they try as many street foods as they can get their hands on, just days before the World Baseball Classic (WBC) opening against Korea on March 6.
When the 2017 World Baseball Classic (WBC) kicked off in Seoul last week, some adventurous major leaguers took the opportunity to hit the streets and explore the city's culinary and cultural attractions.
Just a few days before Israel defeated Korea in the first game of the WBC, Team Israel's pitcher Josh Zeid and catcher Ryan Lavarnway embarked on a food tour of the capital on March 4.
After a tune-up game against the Korean Army team that Saturday, the duo headed straight to the alleyways of Dongdaemun to sample a smorgasbord of Seoul street snacks. They tasted everything from eomuk fishcakes in broth, to squirming sannakji octopus tentacles, as well as sundae blood sausage, intestines, pork tongue, pig's head, chicken feet and gizzards. For dessert, they indulged in some sweet hotteok pancakes.
Their experiences, captured on film, were featured on MLB.com's Cut 4, part of the site that covers the hottest topics related to the game's play and the game's culture. "They came, they ate and they conquered," reported the website, commenting on the duo's success in the stadium and at the dining table.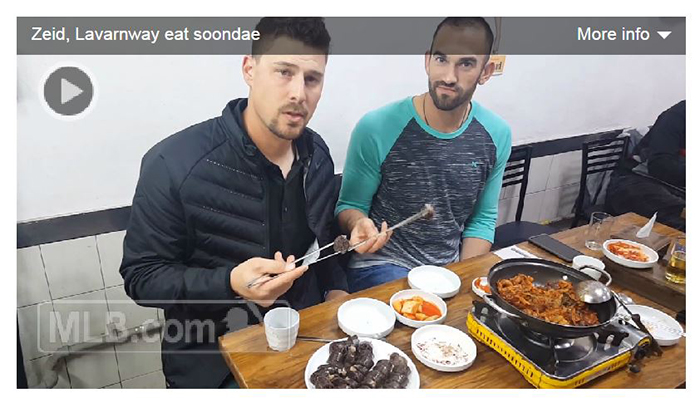 Team Israel's Ryan Lavarnway (left) and Josh Zeid try some sundae blood sausage for the first time at a restaurant in Seoul on March 4.
"This almost tastes like Jewish food. This could be my grandmother's matzo ball soup with some fish cake in it," said Lavarnway after tasting eomuk fishcake in broth. At another restaurant specializing in sundae blood sausage, the pair remarked that the bite-size morsels were "like steak, but more tender." When they finally arrived at their final stop for some sweet hotteok pancakes, the duo couldn't contain their delight, exclaiming, "Oh my God! It's like churros filled with honey. It's delicious!"
Some MLB network reps hit the busy streets of Seoul, too, in search of a different kind of adventure. On March 8, sportscaster Paul Severino and commentary broadcaster Joe Magrane, both in Korea for the Pool A action at the WBC, visited a number of tourist sites, including the Sungnyemun Gate, Namdaemun Market, the Myeongdong shopping district, and N Seoul Tower. Their rather humorous adventure was also featured on Cut 4.
Upon arriving at N Seoul Tower via a cable car ride to the summit, the duo paid a visit to one of the fenced areas where couples "seal their love" for each other with an inscribed padlock. "A piece of us will now be in Korea forever," joked Severino after locking a padlock to the fence inscribed with the letters "WBC."
To this, Magrane added, "And it was the WBC that made it happen."
By Lee Hana
Korea.net Staff Writer
Photos: MLB.com
hlee10@korea.kr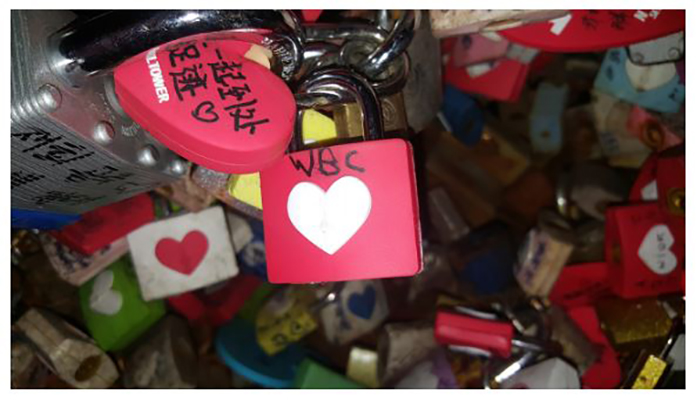 The lock inscribed with the letters 'WBC' is sealed on a fence at N Seoul Tower on March 8 by MLB's sportscaster Paul Severino and commentary broadcaster Joe Magrane.
RELATED TOUR 
Top Attractions of Seoul Tour
Changdeokgung Palace Tour
Morning Seoul Tower Tour