Why the world is going crazy over "Goblin: The Lonely and Great God"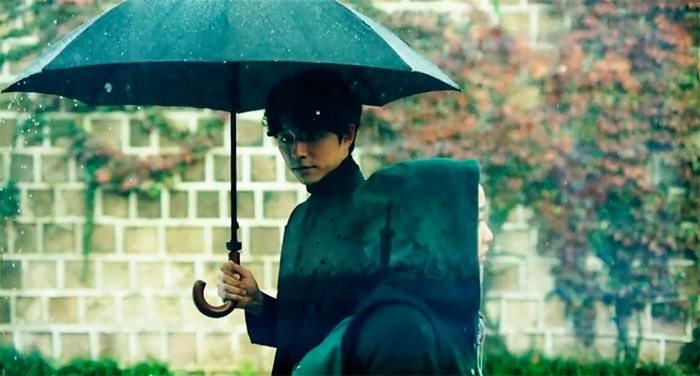 God, this drama is the BOMB! I can't even!
I don't even know where to start with my praises for this awesome new Korean drama.
I've been watching Korean soap operas for a few years now. I don't consider myself an expert on them, but I am indeed a fan of the great quality content that the Korean entertainment industry produces. I've binge-watched many Korean dramas, both old and new. There were some that I watched straight through to the end because they got me hooked. There were also some that I decided to not finish and just read about the rest of the story on Dramabeans.
In this twenty something woman's heart, she needs something to keep her fire burning. That fire is being flamed by the wonderful stories and lessons we learn through Korean TV shows.
In all of my years watching Korean dramas, I've never felt my heart turn inside out this way, and my mind is going crazy over the show "Goblin: The Lonely and Great God."
My week right now actually revolves around waiting for the next episode.
When did the addiction start?
Well, it first started with my curiosity as to why this new drama was on top of the "most viewed" lists at online portals. So I clicked an online stream of it. At first, I was wondering if this was actually a movie, because it really looked like a movie production at first. They wouldn't be spending this much on a weekly drama, right? With a little research, I found out that the entire series will be composed of 16 episodes. It should be extended, right? They should make more seasons like this, right? There're even U.S. TV shows that aren't of the same quality as this, and they would go on for several seasons. Why shouldn't this one go on longer? Why have I come to this conclusion after only the first five episodes?
What do you think are the triggers of your addiction?
Well, this drama hits me up in different places. Every scene seems like it was crafted beautifully, and the script is superb. I was so impressed that the episodes have a lot of artistic shots. Oh! Kim Eun-sook (the screenwriter of "Goblin"), I worship you and your writing prowess! You also turned me to mush when you wrote "Secret Garden." Director Lee Eung-bok, how do you direct the entire crew to come up with such amazing scenes? How do these people do it, and do it so well?
Anything visually appealing will always find a special place in my heart, and this drama does that together with all its notable qualities, such as the story, script and cast.
Would you like your addiction to be healed?
Uhmm… that depends. I'm actually doing fine with it. I learn a lot of lessons from the drama's storyline. I've learned that nothing is actually what it seems, and that we're all connected to each other. I've learned that remembering is the same as forgetting, because what happened in the past will always stay with you. Even if you don't remember it in your mind anymore, your heart might still remember it. I also do believe in the premise that there are spirits, energies or "intentions" surrounding all of us which may affect our destinies. Everything depends on how we react to these supernatural entities, or perhaps, to those we call "things we can't see but actually feel."
How deep is your addiction at the moment?
I'm so deep into it now that I believe I will never be healed. This drama is GOLD! This is now my Top No. 1 Most Favorite Drama of All Time. tvN always comes up with great stories and I'm in deep gratitude to them.
You know what? I'm not alone in this addiction. Take a look at what my co-addicts have said: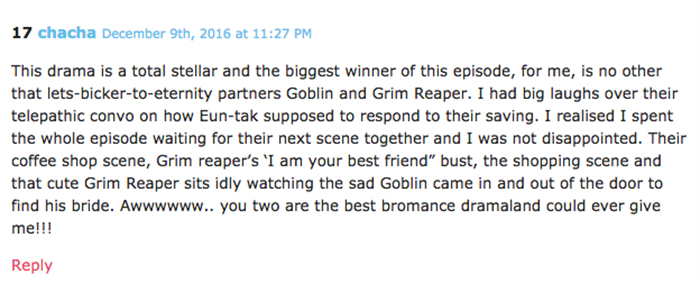 In a nutshell, amid what most people are saying about 2016, it has been a difficult yet a very good year for me and my family. "The Lonely Shining Goblin" just capped this year off with a great bang, and will continue with that energy into the upcoming year. I love, love, love it!
By Abigail D. Albino
Korea.net Honorary Reporter
Photos: tvN, MyAsianTV, Dramabeans
[Related Tour]
Goblin Tour – "Guardian: The Lonely and Great God"
Bukchon Hanok Village Tour
Yongpyong or Phoenix Park Resort Ski Tour