Forest of Wisdom builds new reading paradigm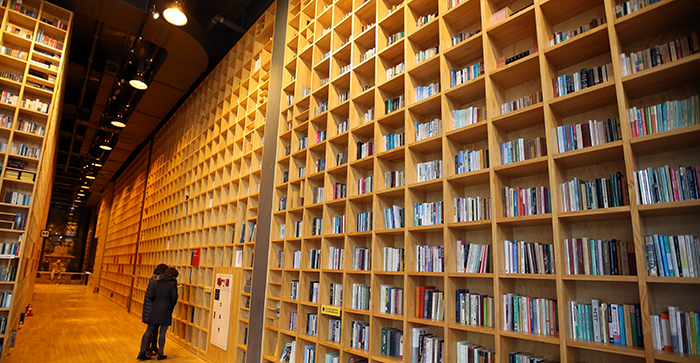 Paju's Forest of Wisdom greets visitors with 8-meter shelves stacked with books donated by Korean scholars, intellectuals and specialists from a variety of fields.
"Eight meters tall and spanning 3.1 kilometers."
At first glance, one may think these numbers refer to the dimensions of a building or to a sports arena, but in fact they represent the height and length of the bookshelves in the "Forest of Wisdom" reading space. Of the 50,000 some odd books in its collection, 20,000 titles are on display in the interior of this forest, where — as the name implies — one can be enlightened by the wisdom of humanity.
Located in the heart of the Paju Book City, Korea's main publishing complex, the reading space bustles with people from all walks of life. There's a bookworm sitting in a corner, lost in the pages of a novel. There's a couple sharing their favorite titles over a cup of coffee. A child with an inquisitive face runs to her mother with an illustrated story book tucked under her arm.
For people who love books and enjoy reading, the Forest of Wisdom is a place of endless wonder. One of its most defining characteristics is its unique method of classifying its titles. Unlike libraries or bookstores that typically organize books according to genre, author name or bestseller list, the space has arranged its books by donor and by publisher. This unusual arrangement allows visitors to have a chance to encounter new authors in unexpected places.
While perusing the shelf of a retired professor, a reader may discover an entire curriculum of research books related to a specific academic field. Another book aficionado who loves a book by a certain publishing house would be able to find books of a similar genre with relative ease.


The Forest of Wisdom reading space is one of the better-known attractions at the Paju Book City.
All of the books in the Forest of Wisdom are donated copies, and the reading space is divided into three sections.
Section 1 houses books that were donated by scholars, intellectuals and specialists. The shelves here are filled with books that once belonged to retired professors, for example, and each sub-section reflects the decades of specialized research conducted in an academic field. What makes these personal shelves interesting is the fact that in addition to academic texts, there are also books in foreign languages and other genres.
Lee Gahee, part of the Planning & PR Division at the Forest of Wisdom, explained that, "Korean literature majors from Seoul National University who come here to browse their old professor's shelves are often surprised by the vast number of foreign language books that make up the collections. The bookshelves in Section 1, stacked by title from certain academic fields, topics and genres, give our visitors an opportunity to be exposed to a diverse collection of books." She added that, "With bestselling books like Michael Sandel's 'Justice' that sits on numerous shelves in Section 1, you can find similarities between professors who are from different academic circles."

In Sections 2 and 3 visitors can explore books put out by certain publishing houses.
Sections 2 and 3 are dedicated to books donated by various publishing companies.
From large publications to smaller ones that focus on niche topics, the section provides a wide collection of books that showcase the interests and design aesthetics of each individual publishing house.
Lee Hojin, a planning and PR manager, shared some of her insights. "People who work in this field are able to figure out from the title, author and type alone which publishing house was involved. We can also predict the kind of titles each publisher will release." She said that, "The Forest of Wisdom is a place where regular people can easily identify the characteristics of each publisher and find books that they enjoy across sub-sections."
If visitors need help finding a book, they can consult the Book Advisors. These volunteer advisors recommend books to readers and provide assistance when someone is looking for a title, or would like to be introduced to a new publishing house.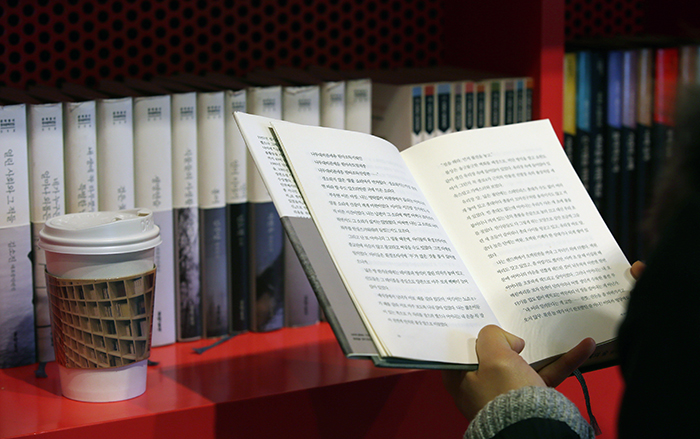 At the Forest of Wisdom, readers can leisurely explore hundreds of shelves and find books that tickle their fancy.
The Forest of Wisdom also has training facilities for corporate visitors. It has a hotel, the Jijihyang hotel, in the same building as the reading space. Visitors staying over can read into the night in Section 3, which stays open 24 hours a day, and return to their rooms without ever having to leave the building.
In addition to providing a reading space, the Forest of Wisdom organizes a variety of events year-round. From March to December, there are lectures given on topics in the humanities. In May, it hosts the Children's Book Fest and in October, the space is transformed into one of the main venues for the Paju Book Festival. A number of smaller events, like Midnight Stacks, where members get together to discuss and read books all night long, and other voluntarily-formed mini clubs keep the space buzzing with activity.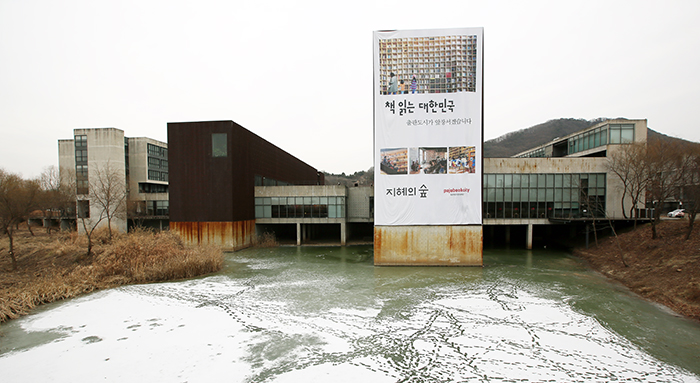 The Forest of Wisdom is home to some 50,000 donated books, 20,000 of which are on display in its floor-to-ceiling, 8-meter tall bookshelves.
The manager Lee said that, "An open space creates potential. You may be surrounded by books at home, but leaving your comfort zone and exploring other people's bookshelves can boost both your reading ability and experience. The Forest of Wisdom is a place where you can do just that, and it's for this unique experience that 3,000 to 4,000 visitors arrive at our reading space every weekend."
More information about the Forest of Wisdom and about Paju Book City can be found at the link below.
https://pajubookcity.org/content/sub_03_06.asp
By Lee Hana
Korea.net Staff Writer
Photos: Jeon Han
hlee10@korea.kr