Nature and people, tradition and modernity coexist in Suncheon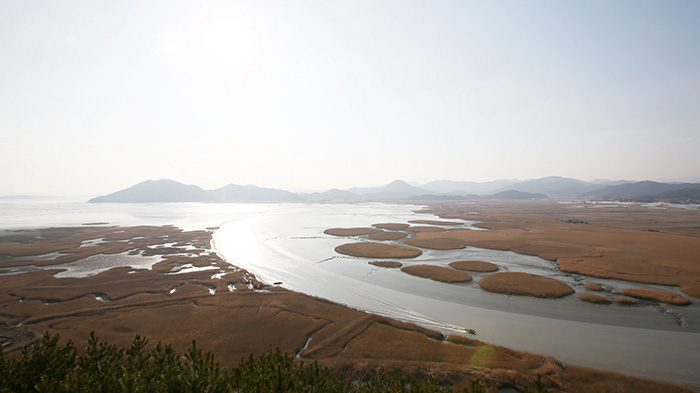 Suncheonman Bay can be seen from the Yongsan Observatory.
"[This city] is famous for… nothing really, isn't it?"
"No, not really. It's a bit strange that so many people are living in the city despite that."
The imagined city of Mujin is described as above in the short story "Record of a Journey to Mujin" written in 1964 by Kim Seung-ok. Suncheon, the southern city in Jeollanam-do Province that is the author's hometown and the model for his Mujin, has been recognized as above by most people for many years: a city famous for nothing, a town that is not quite a seaside town with a proper beach, but neither is it an agricultural town with open rice fields. Indeed, it's a city that many people frequently confuse with Sunchang, another town in Jeollabuk-do Province that's famous for its red pepper paste.
In spite of all this, the city has the largest population in Jeollanam-do Province proper, along with Yeosu. Many train travelers also stop by this town. In Suncheon, people live close to nature and traditions continue amid modernity.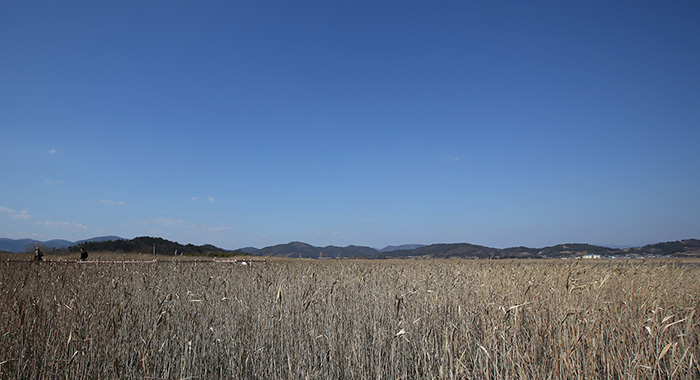 The reed fields in Suncheonman Bay can be quite dense.
Beautiful natural scenery
"People call [Suncheon] a small Jiangnan, since the mountains and water are bizarre and lovely."
The "Augmented Survey of the Geography of Korea" (1481) (Donggukyeojiseungnam, 동국여지승람, 東國輿地勝覽), a geography book from Joseon times, describes Suncheon's scenery as being beautiful enough to be compared to that in the Jiangnan region, nowadays Zhejiang Province and Jiangsu Province in China.
The beautiful city of Suncheon is located in southern Korea, more specifically in the eastern part of Jeollanam-do Province. The population is about 280,000 as of January 2016 and the area is approximately 900-square-kilometers. Neighboring towns include Gwangyang-si City, Gurye-gun County, Gokseong-gun County and Boseong-gun County, and the southern part of the city reaches out into the South Sea.
The city's current name, Suncheon, is found for the first time in records from 1310 during the reign of Goryeo King Chungseon (1275-1325) (충선왕, 忠宣王). The town embraced neighboring areas like the current Nagan-gun County, Boseong-gun County and Hwasun-gun County, and was administratively treated as the Suncheon-bu orSuncheon-dohobu District for about hundred years. It became Suncheon-gun in 1895 during the reign of Joseon King Gojong (1852-1919) (고종, 高宗). In 1949, the town was separated as Suncheon-si City and Seungju-gun County, and then reintegrated in 1995 as the present day Suncheon City.
Though administrative changes were made in the past, Suncheon has always been a livable town for its citizens. According to records, 12,039 people lived in Suncheon and Yeosu in 1618 during the reign of the Gwanghaegun of Joseon (1575-1641) (광해군, 光海君). Some 30,847 people lived there in 1881 during Gojong's reign. The population surged to 108,779 by 1923, to 208,085 by 1960 and to some 236,362 people in 1993.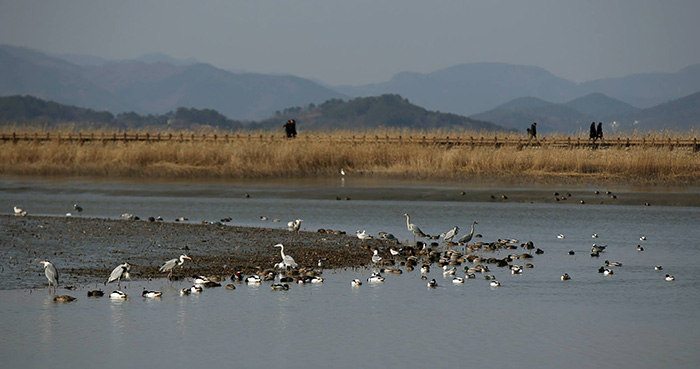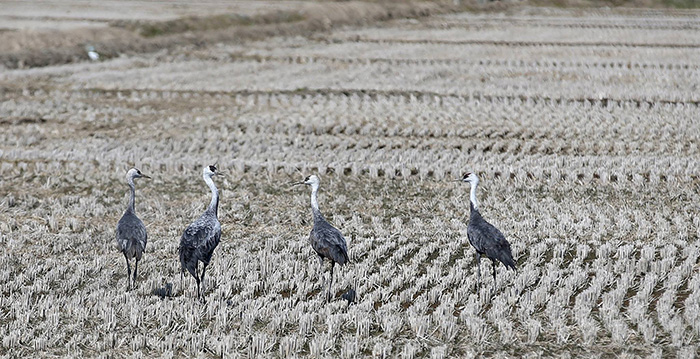 In the winter, Suncheonman Bay (top) is home to rare migratory birds. About 230 varieties of migratory birds, including hooded cranes (bottom), are observed in Suncheonman Bay every year.
A stop for migratory birds, Suncheonman Bay
Suncheon is not only human-friendly. It is also animal- and plant-friendly. Following the Dongcheon Stream through downtown in the southeast part of the city, you will eventually meet wide mud flats and dense fields of reeds that stretch out to the sea. This is the winter stopping point for varieties of rare migratory birds, like hooded cranes and swans. This explains Suncheon calling itself "Korea's ecological capital," as well as the Suncheonman Bay Ecological Park.
To protect this home for migratory birds, as well as for crabs (Macrophthalmus japonicus) and bluespotted mudhoppers (Boleophthalmus pectinirostris), the city government created a garden that's quite a site to see. Korea's first national garden and the venue for the 2013 Suncheon Garden Expo Korea, the Suncheon Bay National Garden is a complex of small gardens with different themes. The Suncheon International Wetlands Center is a must visit site for people who love flowers and plants. The Suncheon Lake Garden, designed by landscape architect and designer Charles Jencks, was inspired by the city's topography. It creates humorous scenes as visitors go up and down the hills in the middle of the lake, inside the national garden.
Ongoing traditions and history in Naganeupseong village and at Seonamsa Temple
Suncheon is not only nature-friendly. It's also a city where tradition and history are well-kept and ongoing. In Nagan, in southwest Suncheon, the well-preserved Naganeupseong Fortress and village sit under Geumjeonsan Mountain, a mountain which according to local myth brings fortune to those who venture there. The well-kept traditional thatched cottages in the village are, in fact, real homes for its residents. It's no Potemkin village for tourists, but it's a living village, thriving and preserving Korean tradition and history to this day.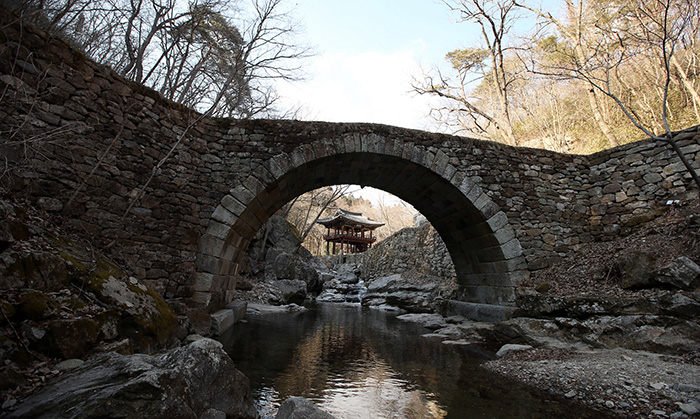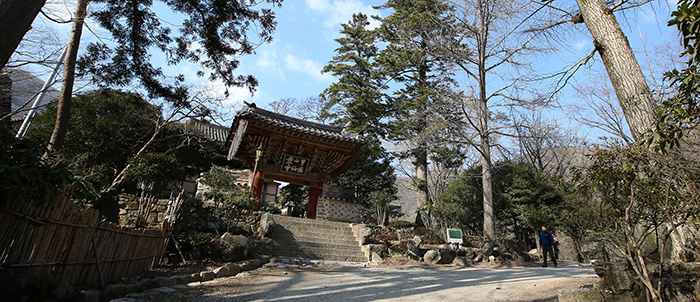 One of Suncheon's top heritage sites is Seonamsa Temple. A walk toward Jogyesan Mountain passes the Seungseongyo Bridge (top) and soon takes you to the entrance of the temple (bottom).
Some 17 kilometers northward from the Naganeupseong Fortress are the more-than-1,000-year-old Seonamsa and Songgwangsa temples, set in the midst of Jogyesan Mountain. Seonamsa Temple welcomes visitors to the mountain first. It is known across Korea for its apricot flowers in March and its Osmanthus fragrans in autumn which together balance the color-faded wooden eaves. In fact, one of Korea's bestselling writers and former head of the Cultural Heritage Administration, Yu Hong-jun, chose this temple as the best item of Korean cultural heritage on a TV talk show a few years ago. Seonamsa Temple is currently listed on UNESCO's tentative list of World Heritage items for Korea.
Deeper in the mountain is located Songgwangsa Temple, known for being home to 16 great monks throughout the history of Buddhism in Korea.
Urban, modern Suncheon
Being blessed with both beautiful and clean nature and well-kept traditions, the city still never settles, as it pursues modernity and convenience for its urban residents. With the geographical advantage of being located in the middle of southern Korea, Suncheon aims at developing a south-central belt with geographically close cities like Yeosu, Jinju and Namhae, eventually to create jobs and to expand the tourism industry across the region. The city has taken off with the launch of wireless Internet access on its inner-city buses, and this is after having provided free wireless Internet in all public spaces some years ago.
With urban life, nature, the present and traditions all coexisting, this can only be Suncheon.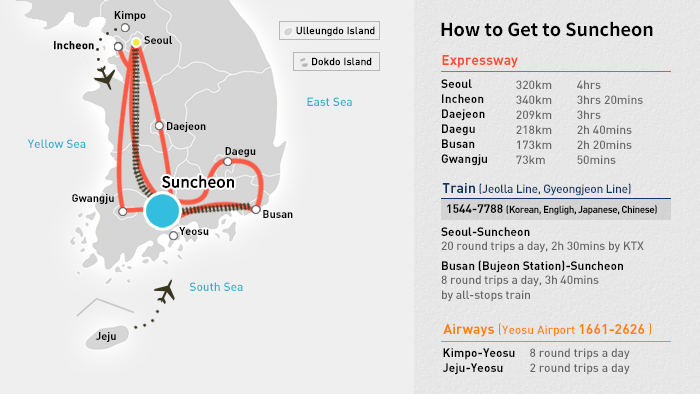 By Chang Iou-chung
Korea.net Staff Writer
Photos: Jeon Han
icchang@korea.kr
RELATED TOUR 
K-Travel Bus:South Jeolla Province