Fish cake: a must-eat snack
Fish cake, or eomuk in Korean, used to be a frequent element in a school kid's lunch box. Students would taste the food item all the time, if not from their own lunch box then from their friends'.
As people grew up, they would long for winter to come, the only season where a hearty bowl of fish cake soup could fully satiate their taste buds in the cold. With winter now in full swing, many people are enjoying fish cake skewers on a street corner as they give off enticing steam in the biting cold.
Eomuk is a processed seafood product that uses various cuts from white fish, such as pollack, cutlassfish and yellow corvina. The meat is pureed, salt is added, and then it is steamed until fully cooked. The ingredient has long been beloved as one of the most favorite national food items, as many people have enjoyed it in many ways: as a soup, on skewers or fried.
The history of the food traces back to Joseon times. Its traces can be found in Joseon-era primary documents, including the "Jinyeon Uigwe" (진연의궤, 進宴儀軌), a royal protocol guide for court banquets, and in the "Sanrim Gyeongjae" (산림경제, 山林經濟), a book published by scholar Hong Man-seon during the reign of King Sukjong (1661-1720). The records show that people boned fish and then pureed the meat, with the addition of other meats, vegetables and starch.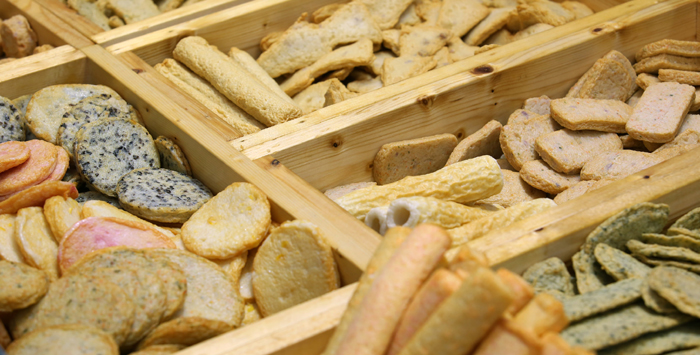 The Bupyeong Kkangtong Market in Busan serves a range of fish cake,
including varieties made with super-spicy chili peppers, cheese and even octopus.
Busan, Korea's second largest city and a metropolis abundant with fishery resources, serves as a national hub of the eomuk business. Fish cake plants and stores have sprung up across the port city over the past few years. The industry there has boomed to a point where any fish cake product stamped with "Busan Eomuk" is regarded as being some of the best fish cake on the market today.
The Bupyeong Kkangtong Market, a traditional wet market in Bupyeong-dong, Busan, is testament to this dish's popularity. The market is home to an alley that specializes in fish cake. The food comes in various shapes and sizes, both triangular and circular, and in various colors and flavors, with such additives as mushrooms, carrots or cheese. Shoppers stop by one of these stores to appease their hunger with some fish cake. There are people who travel far from other parts of the nation just to visit the market and to taste some "original" Busan eomuk.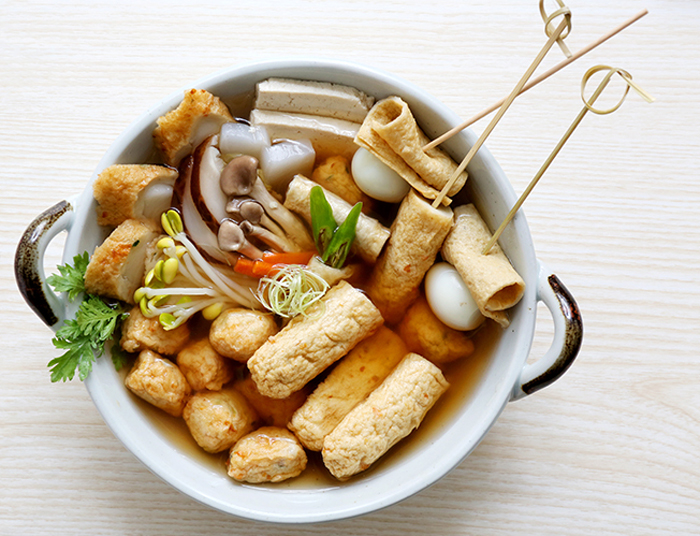 One of the most popular fish cake dishes is eomuktang, a fish cake soup brewed
in a hot broth with different-shaped fish cakes, konjac jelly and vegetables.

Starting in the late '70s, the eomuk manufacturing industry grew dramatically with the development of advanced manufacturing equipment, including fish meat separators, dehydrators that drain the fish meat of most liquid and slicers that cut the meat into fine shreds.
Currently, hundreds of fish cake types are available on the market, and they can be fried in hot oil to be eaten on skewers and as side dishes, as well as steamed and broiled for other uses.
Eomuk never stops evolving. The popular snack's various ingredients — vegetables, tofu, curry powder, flying fish eggs, squid ink and the list goes on — can even be used to create new fusion foods, such as eomuk croquettes.
With this evolution, eomuk has removed itself far from its long-tagged image of being a cheap street food. It can now appeal to many taste buds as part of a healthy diet with natural ingredients.
By Sohn JiAe
Korea.net Staff Writer
Photos: Jeon Han, Samjineomuk, Yonhap News
jiae5853@korea.kr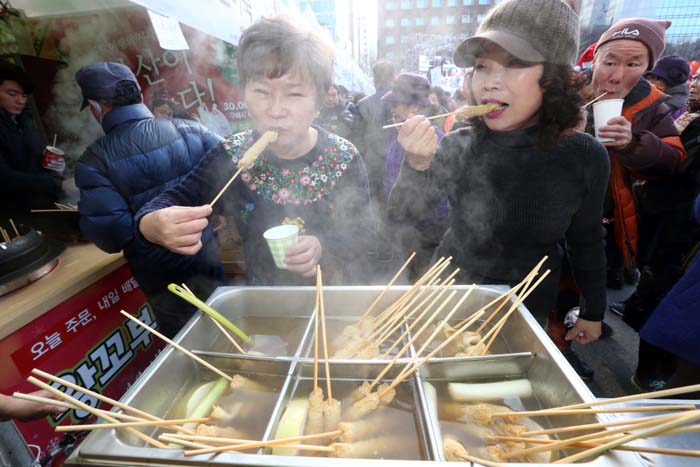 RELATED TOUR (Street food experience)
Full Day Shopping Tour
Night Shopping Tour
Night Market Tour