Enjoy a merry Seollal together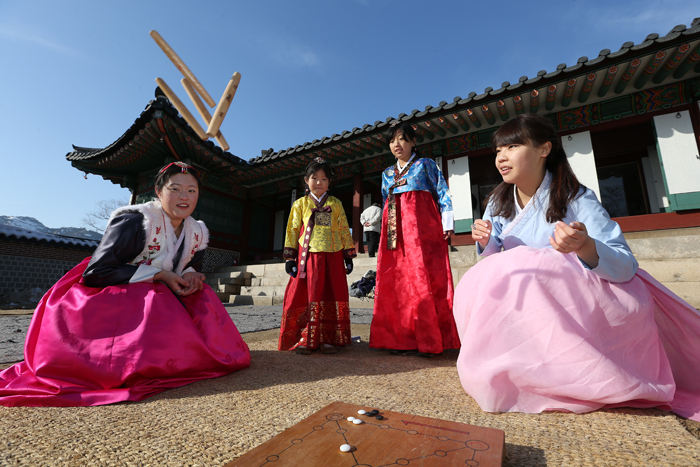 Children in Hanbok play yunnori, a traditional four-stick board game, on Seollal Lunar New Year's.
Seollal Lunar New Year's Day is just around the corner and tourist attractions are gearing up to welcome holidaymakers throughout the five-day national holiday.
From Feb. 6 to 10, a series of events will take place across Seoul allowing family members, friends and loved ones to experience traditional Seollal activities firsthand. The capital's four main royal palaces — Gyeongbokgung, Deoksugung, Changdeokgung and Changgyeonggung — will stay open throughout the holidays. The Jongmyo Shrine, where the royal family and other retainers worshiped past Joseon kings, and the Hyeonchungsa Shrine, dedicated to Admiral Yi Sun-sin, will also be open during the holiday. On Feb. 8, the day of Seollal itself, all the palaces and shrines will be open to the public for free.
Gyeongbokgung Palace, one of Seoul's must-visit tourist spots, will heat up some of its ondol rooms equipped with traditional under-floor heating systems. Taking off their shoes and huddling together in the ondol rooms, visitors will soon forget how cold it will probably be outside.
Palace-goers will also be able to learn how to perform the sebae, the traditional Seollal bow that members of the younger generation make toward their elders and in return for which they receive some sebaedon money.
The National Folk Museum of Korea, located at the palace itself, will greet vacationers with a range of traditional performances. On Feb. 7, there will be a Bongsan-talchum masked dance. Dancers will perform in monkey masks in celebration of 2016 being the Year of the Red Monkey. More is to come on Feb. 9 with a special exhibit about monkeys and another traditional masked dance, the Gyeonggi-do Yangju-byeolsan-daenori.
On Feb. 7, Deoksugung Palace will host a Yeonjong-jae (연종제, 年終祭), a traditional court ritual performed on the last day of the year to ward away evil spirits from the palace. Performers will walk through the palace wearing various masks with a range of facial expressions and playing shamanic instruments, such as the jegeum cymbals and drums.
Inside the palace, visitors will be encouraged to participate in some traditional Seollal folk games, such as yunnori,tuho, a traditional arrow-throwing game, and the shuttlecock-kicking jegichagi.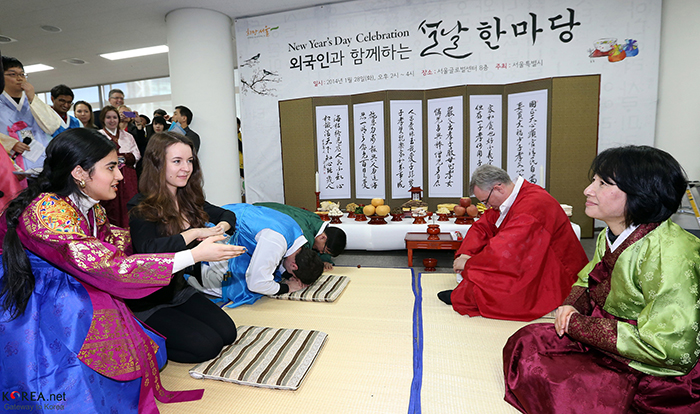 Tourists dressed in Hanbok perform the sebae, a Seollal ritual where the younger generation bows to the older generation.
At the Namsangol Hanok Village, a section of Jung-gu District where traditional Hanok homes have been kept intact all these years, visitors will be able to sample some tteokguk, a hearty bowl of soup made from fresh rice cake traditionally eaten during the Seollal holidays. They will also have a chance to make their own rice cake by pounding steamed rice into a paste. There will also be traditional performances such as nongak, farmers' music, and some pansori epic singing, adding to the holiday amusement. Across the Hanok village there will be chances to try folk games such as tuho, jegichagi and the top-spinning paengi chigi game.
For museum-goers, the National Museum of Korea in Yongsan-gu District should be the place to go. The museum will open its doors throughout the holidays, and on Feb. 8 an all-female nongak troupe will perform some exhilarating farmers' music.
Finally, a similar degree of fun and excitement will be up for offer at Seoul Plaza, the Seoul Museum of History, the World Cup Park in Mapo-gu District, the Seoul Children's Grand Park in Gwangjin-gu District and at the Seoul Grand Park in Gwacheon-si, Gyeonggi-do Province, as each site will host its own range of festive events throughout the holidays.
By Sohn JiAe
Korea.net Staff Writer
Photos: Jeon Han
jiae5853@korea.kr
Scenes from the Seollal Lunar New Year's holiday.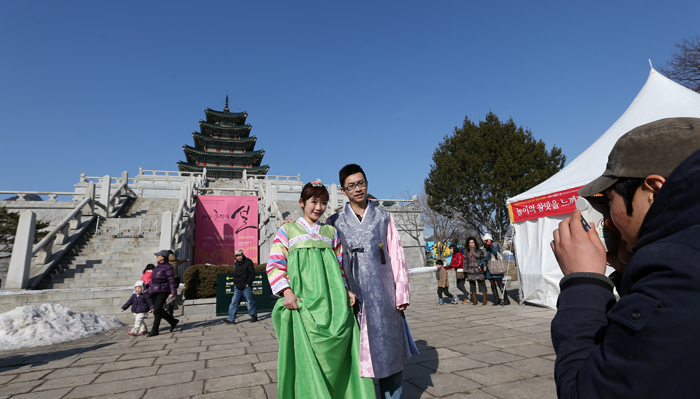 Tourists, dressed in Hanbok pose for a photo at Gyeongbokgung Palace.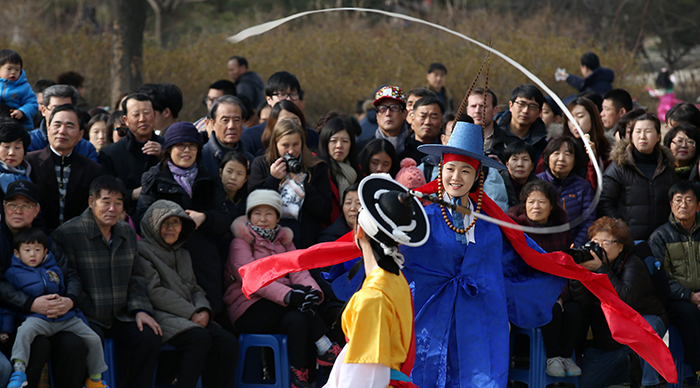 Visitors enjoy a traditional dance at the National Folk Museum of Korea.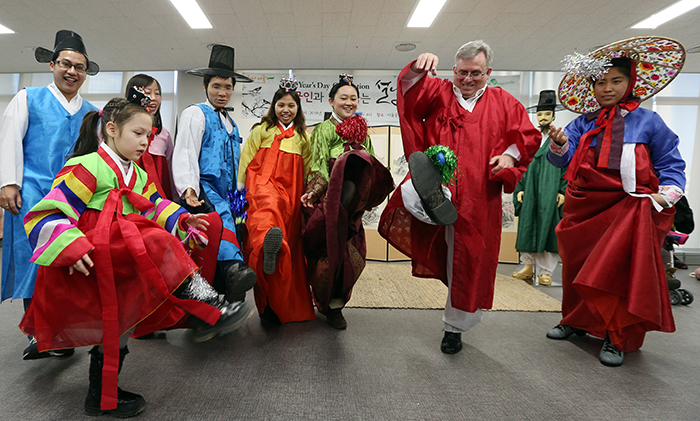 Tourists dressed in Hanbok try the shuttlecock-kicking jegichagi game.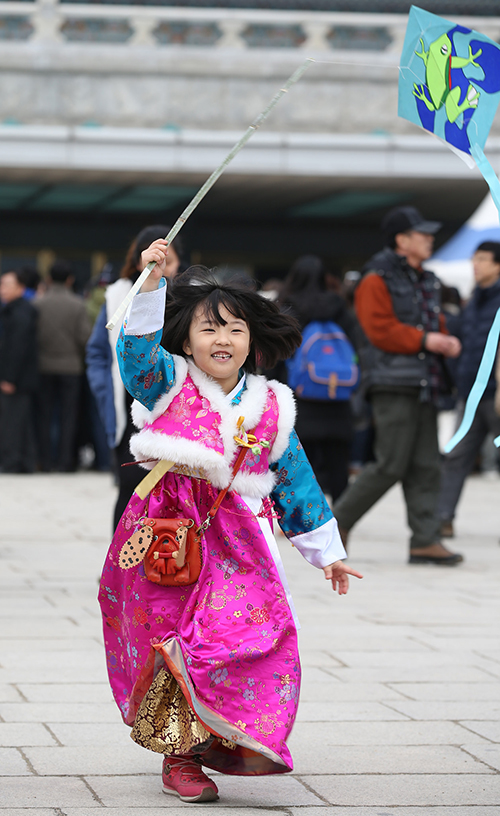 A child in Hanbok flies a kite on Seollal.
RELATED TOUR 
Top Attractions of Seoul Tour
Palace Morning Tour
Full Day Palace Tour
Morning Seoul Tower Tour