Eat your way across Korea: codfish soup
At its core, Korean cuisine is based on the geography of the Korean Peninsula itself. The land creates the cuisine; or, to put it another way, the cuisine evolves from the Earth. Surrounded by water on three sides, and mountainous from top to bottom, the Korean Peninsula is home to a wide, wide range of fish and vegetables.
The peninsula is home to cod (대구), red snapper (붉돔), halibut (넙치), yellow corvina (참조기), sea bass (농어), walleyed pollack (명태) and many other types of fish, all migratory seasonal animals that live in or around Korean waters. This leads to a plethora of deliciousness: within the grander universe of Korean cuisine, there is a whole galaxy of fish soups.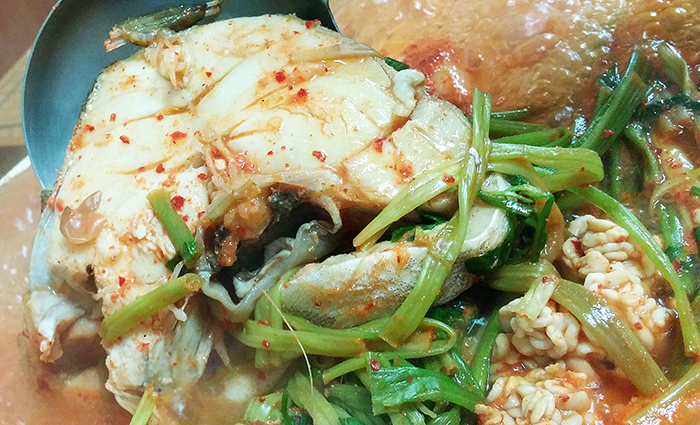 Codfish soup is a delicious and healthy way to enjoy the wide range of fish available on the Korean Peninsula.
Each province has its own variant of fish soup, and the dish varies from the mountain peaks of Hamgyeongbuk-do (North Hamgyeong Province) in the north all the way to the seashore flatlands of Jeollanam-do (South Jeolla Province) in the south. The most common fish soup is probably spicy fish soup, or mae-oon-tang (매운탕), which generally uses red snapper. Today, however, we're going to try a codfish soup.
The standard Pacific cod, Gadus macrocephalus, is an autumn/ winter fish in these waters. It has a flaky white flesh and its liver oil is full of vitamins A, D and E. It's also a good source of omega-3 fatty acids. In Korean, cod is called daegu (대구, 大口), no relation to the name of Korea's fourth-largest city. Literally, the name of the fish in Korean means "big mouth," and today we're going to eat "big mouth fish soup," or daegu tang. It's refreshing to the palate, low on calories and high on health.
Codfish soup can be enjoyed in all seasons of the year. In the spring and summer, it can replenish lost minerals and vitamins, and in the fall or winter it is comforting and medicinal. Also, the dish works to clear out the refrigerator: you can use most any leftover vegetables and toss them into your broth with some fresh, seasonal fish.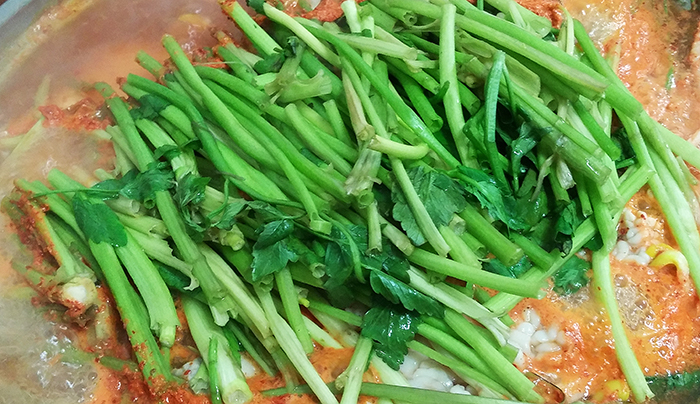 Water parsley, or minari, is added to the otherwise red codfish soup to give it a bit of green and to add some nutritional value.
Daegu tang, or codfish soup, is made with delicious white cod meat, cod roe and cod liver. Added to it is Asian radish, bean sprouts, a lot of water parsley or minari (미나리) — which is "good for the blood," they say — onion, red chili pepper, green chili pepper, tofu, enoki mushrooms and edible chrysanthemum or ssuk gat (쑥갓). The broth, as with most Korean broths, is made with cubed Asian radish, dried anchovies and kelp or dashima (다시마), all three of which are discarded before preparing the soup itself. Some chefs marinate the fish meat beforehand. Some chefs pan-fry the fish meat before adding it to the soup. All in all, this delicious codfish soup can be enjoyed in Seoul and in Korean restaurants around the world.
As we eat our way across Korea, there are many, many restaurants around the country and across the capital that serve codfish soup. Today, we chose one near the War Memorial of Korea and the Ministry of National Defense. This is along Codfish Soup Alley (대구탕 골목), a side street off the Samgakji intersection.
The restaurant is called "Real Original Big Mouth Fish Soup," or 참 원조 대구탕. It's located at No. 3 along Hangang-daero 62-gil in Yongsan District, Seoul (02-798-7380). It's at the head of a back alley that runs from Samgakji Station (subway lines No. 4 & 6) along the side wall of the Ministry of National Defense. The restaurant serves codfish soup, steamed codfish and boneless codfish slices rolled in batter and deep fried. This last is particularly delicious in a greasy, deep-fried sort of way, though it's not particularly authentic or Korean. Maybe this is where the British got the idea to batter and deep fry cod for their national dish.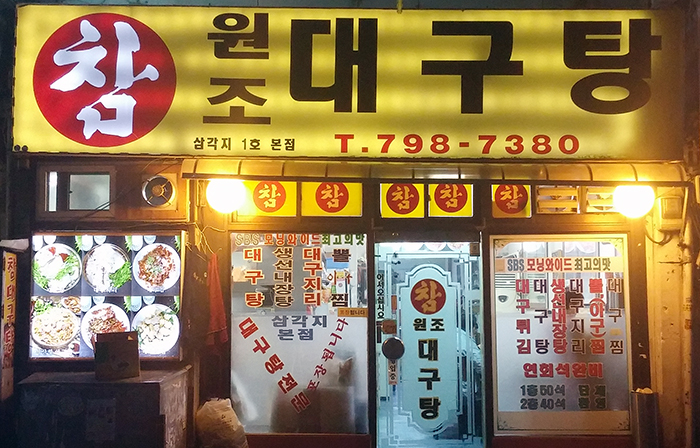 Codfish Soup Alley, near Samgakji Station, has a line of delicious codfish soup restaurants. Try the deep fried cod there, too.
All in all, Korea's galaxy of fish soups is epitomized by codfish soup. It uses a fish species native to these waters, it's heavy on the vegetables, particularly water parsley, it's high in vitamins and it cleanses the palate across all four seasons. So let codfish soup, or daegu tang, be your introduction to the vast variety of somewhat spicy Korean fish soups. It's doubtful you'll ever want to eat anything else.
By Gregory C. Eaves
Korea.net Staff Writer
Photos: Gregory C. Eaves
gceaves@korea.kr