Eat your way across Korea: stone pot bibimbap mixed rice
The delicious world of Korean cuisine is broad and deep. From the vast vegetable varieties of kimchi, through to the three pillars of Korean cuisine — red pepper paste, soy sauce and soybean paste — Korean cooking encompasses the expansive geography and habitats native to the Korean Peninsula and is the result of this land's millennia-long history of interplay and trade with the tribes, nations and kingdoms around it.
As with other global cuisines, Korean cuisine is no longer solely delineated by the peninsula's natural bounty. During mid-Joseon times (1392-1910), new crops began to appear from the New World and elsewhere: corn, tomatoes, squash, zucchini, almonds, sweet potatoes, potatoes and, of course chili peppers. The world of kimchi we know today, and rural Korea's seasonal kimchi-making, would not be the same without chili peppers. Nonetheless, even though Korean cuisine has adopted such ingredients and inputs from all around the world, at its core, the cuisine is based on rice and vegetables. Take some of whatever you have lying around from yesterday's meal. Cook up some fresh rice. Mix it all together. Thus is born one of Korea's most famous, most varied and most iconic dishes: bibimbap.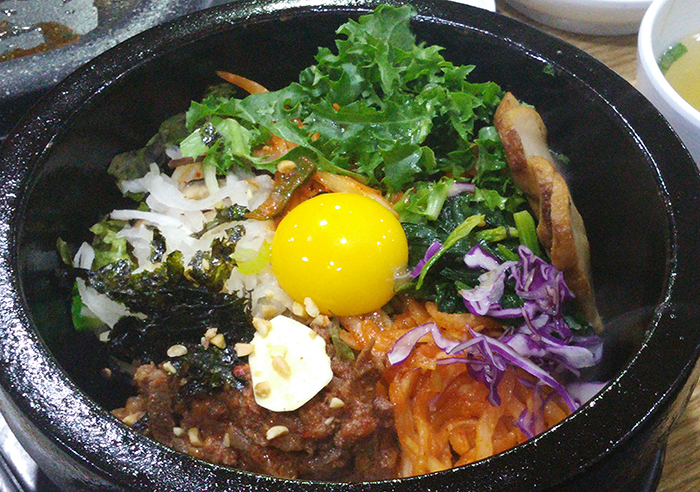 Stone pot bibimbap mixed rice is a feast both visually and edibly.
Bibimbap mixed rice is, fundamentally, glorified leftovers with fresh rice, but human hands and creative chefs have transformed it into a fine art. Bibimbap mixed rice can include anything: beef, seafood, lots of red pepper paste, no red pepper paste, or it can be completely vegetarian and purely vegan. Literally, bibim bap means "mixed rice." There are many kinds of bibim dishes. There're mixed noodles (bibim guksu, 비빔국수), cold mixed buckwheat noodles (bibim naeng myeon, 비빔 냉면) and even mixed dumplings (bibim mandu, 비빔 만두). Each province has its own variant, too, and the dish varies from the mountain peaks of Hamgyeongbuk-do (North Hamgyeong Province) in the north all the way to the seashore flatlands of Jeollanam-do (South Jeolla Province) in the south. Even Korean Air serves an overly-processed airline food version of bibimbap.
Today, we're going to look specifically at one kind of mixed rice: stone pot bibimpab mixed rice, or dolsot bibimbap (돌솥 비빔밥). It is the representative food of Jeonju, the capital of Jeollabuk-do (North Jeolla Province), but it can be enjoyed in Seoul and in Korean restaurants around the world. There's no better way to enjoy bibimbap than to serve it in a scalding-hot stone bowl.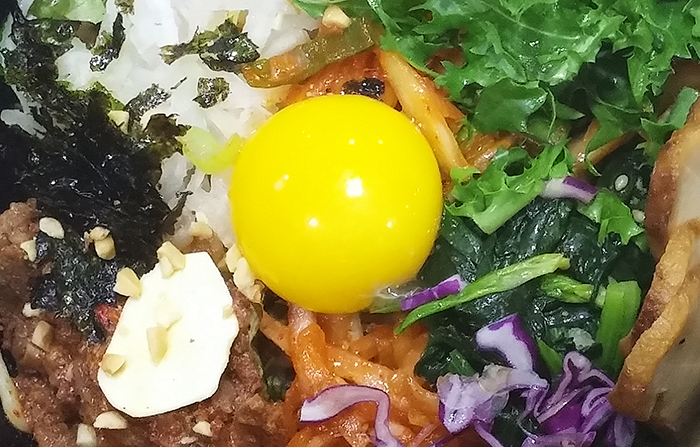 The five colors of traditional East Asian philosophy can be found in most bibimbap dishes.
As mentioned in a previous article in this series, traditional East Asian philosophy was organized around the concept of five "elements," and this plays a role when preparing your bibimbap. The five "elements" were wood (목, 木), fire (화, 火), earth (토, 土), metal (금, 金) and water (수, 水). Each is closely associated with a color: green, red, yellow, white and black. Those are the colors of bibimbap as it's served at your table. Just as the interplay between these "elements" was closely associated with many beliefs — musical composition, writing, painting, feng shui (풍수, 風水) — it was also important in health, cuisine and cooking. All types of bibimbap mixed rice try to "balance" these five "elements." This makes for a visually stunning meal. Look at any photo of any type of bibimbap. The colors are glorious.
The colors green, red, yellow, white and black are represented by lettuce and spinach, red pepper paste and carrots, Asian radish and egg yolk strips, rice and egg white strips, and laver seaweed and fernbrake. Adding this variety of vegetables not only makes the rice more interesting to eat. Our ancestors truly believed in these five "elements" and they incorporated each color, in balance, into the final dish. Such balanced dishes bring health to the body.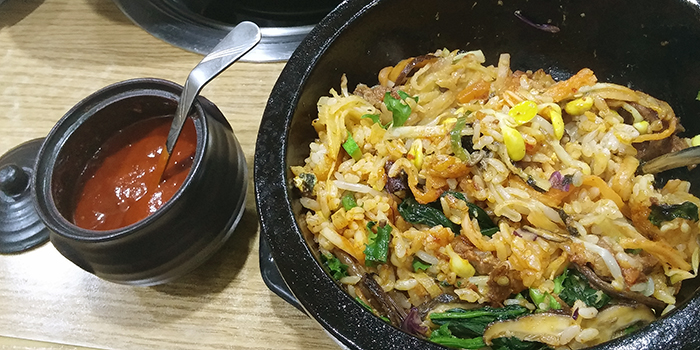 Red pepper paste is added to make the dish even more delectable.
Ordering your bibimbap mixed rice in the stone pot makes the rice on the bottom crunchy and keeps the dish hotter for longer. Sometimes, thin slices of meat are added, so-called "fire meat," or bulgogi, but it can also be served purely vegetarian, with mushrooms taking the place of any meat. Stone pot mixed rice is normally served with a raw egg broken over the top. The super-hot stone pot cooks the egg right in front of you as you mix all the ingredients together. Added to the steamed rice are some pre-cooked vegetables: usually spinach, bean sprouts, zucchini, carrots, shitake mushrooms, fernbrake or bracken fiddleheads and lettuce. Add some beef. Many people also add soy sauce, garlic, sesame seeds, sesame oil or vegetable oil. Add a dollop of that staple of Korean cuisine, red pepper paste, or gochu jang (고추장), for the final kick. Mix it all together with the standard long-handled Korean spoon. Voilà! Dinner — or breakfast or lunch — is served.
As we eat our way across Korea, there are many, many restaurants around the country and across the capital that serve stone pot bibimbap mixed rice. Today, we chose one near Seoul City Hall and near Namdaemun Market. Jeonju Hwaegwan, or "The Jeonju Meeting Hall," is a large tourist- and lunch-focused Korean restaurant located at No. 90-1 Bukchang-dong, in Joong-gu District, Seoul (Tel: 02-778-6689). It's in a back alley within sight of the newly rebuilt Sungnyemun Gate and it serves up savory pancakes, Korean barbecue, raw beef, small octopuses in a red sauce and Jeonju-style stone pot bibimbap mixed rice.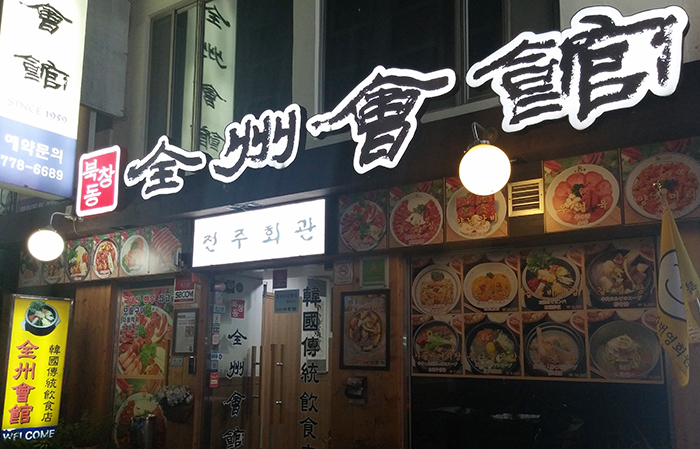 'The Jeonju Meeting Hall' is but one of the many restaurants across Korea and around the world that serve stone pot bibimbap mixed rice.
So let stone pot bibimbap mixed rice, or dolsot bibimbap, be your introduction to Korean cuisine. It's doubtful you'll ever want to eat anything else.
By Gregory C. Eaves
Korea.net Staff Writer
Photos: Gregory C. Eaves
gceaves@korea.kr